HTC Jetstream Hands-On [Video]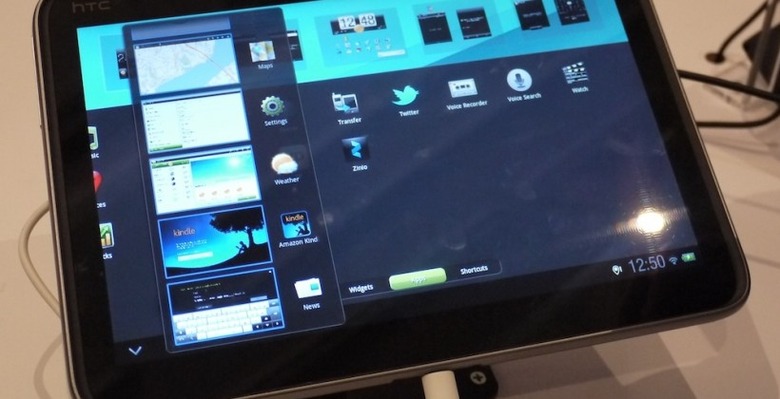 Providing the grunt inside of various gadgets lets you take certain liberties, and in Qualcomm's case it's an HTC Jetstream on its Snapdragon stand, flown into Istanbul especially from AT&T. The 10-inch Honeycomb tablet was sharing deck space with its 7-inch Flyer sibling, though aesthetically it's more reminiscent of the harlequin-style Salsa to our eyes. Read on for some first impressions.
Neither as thin nor as light as, say, Samsung's Galaxy Tab 10.1, the Jetstream does feel more expensive in the hands thanks to the metal used in its casing. Unfortunately we soon missed the Galaxy Tab's only minor heft, since one-handed use of the HTC quickly became a chore. On the back is an 8-megapixel camera, which puts the slate at the top of the pack for tablet optics, and HTC's Photobooth app for mangling your images uses the front-facing webcam.
HTC hasn't been able to resist reskinning the Jetstream's Honeycomb OS, and the result is a sometimes curious mixture of smartphone UI and core Android. The five pane desktop – which can be pinched down to a helicopter-view of all of the panes – can be filled with HTC's phone-style widgets, each roughly the same scale as you'd find on the Sensation's display, and not really taking advantage of the larger panel on the Jetstream. The Notes app looks good, though, with a cute ripped-paper animation when you start a new page, and there's support for clipping images, adding audio recordings and making handwritten or text notes.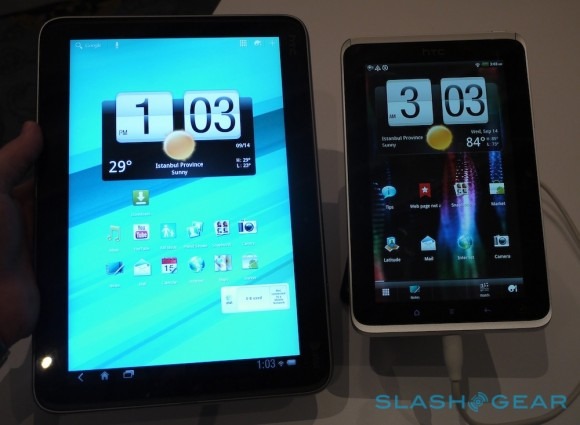 Unfortunately, Qualcomm didn't have the special active stylus for the Jetstream, so we weren't able to check out whether or not the inking experience is better than that of the Flyer. While the 7-inch slate's pen is enough to jot down a note in a margin or quickly mark-up a screenshot, it's not precise enough to entirely replace a paper notepad. Hopefully that's all changed with the Jetstream, since our playtime with the Galaxy Note proved that Samsung is snapping at HTC's stylus heels.
Connection issues and some other problems meant we weren't able to benchmark the Jetstream and see exactly how well Qualcomm's 1.5GHz dual-core Snapdragon processor – now found inside the HTC Sensation XE, too – performs. Navigating through the apps was lag-free, and HTC's often-demanding weather animations were smooth.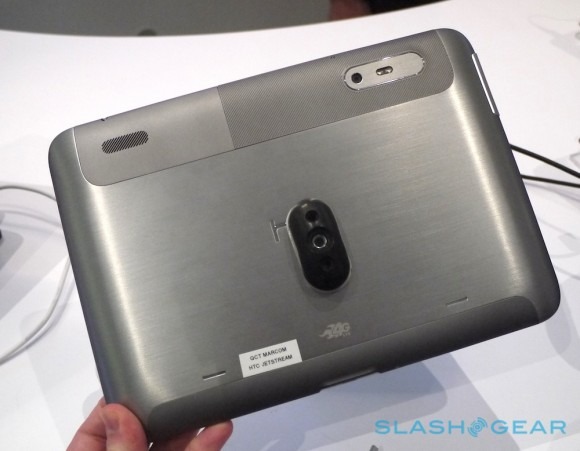 We're expecting a Jetstream review unit any time now, so will be able to run some benchmarks and generally put the tablet through its paces properly.
[vms 2706fb769f5e93667bd2]