HTC Ice Cream Sandwich update range revealed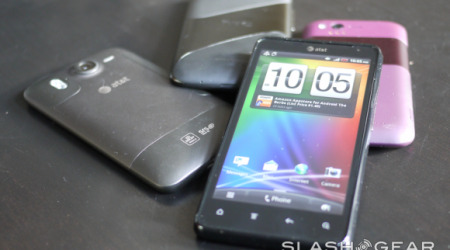 HTC has revealed the first lucky Android smartphones in line for an Ice Cream Sandwich update, though owners will have to wait until "early 2012" for Android 4.0 upgrades to actually be released. According to HTC, the new HTV Vivid - which we reviewed this weekend - is upgradeable to Ice Cream Sandwich, along with the HTC Sensation, Sensation XL and Sensation XE. More details – and models – after the cut.
The remainder of HTC's upgrade plans predominantly affect the US, with the HTC Rezound, HTC EVO 3D, HTC EVO Design 4G and HTC Amaze 4G all getting Ice Cream Sandwich too. HTC had already confirmed that at least one of those devices would be in line for Android 4.0, and now says it is "continuing to assess" its current range to see what else can handle the OS. Interestingly, there's no mention of either the Flyer or the Jetstream, HTC's two tablets, though ICS is designed to work on both phones and slates as well as include native pen input support.
HTC's timescale seemingly fits in with what are believed to be Samsung's plans for ICS, with a range of recent Galaxy devices getting the upgrade in Q2. That's a whole lot of time for engineers to do their magic, though in HTC's case we're certainly expecting a new port of HTC Sense on top of 4.0.
More on Ice Cream Sandwich in our full Google Q&A.
"HTC knows how excited our fans are to get their hands on Google's latest version of Android, Ice Cream Sandwich, so we're thrilled today to announce the first wave of HTC phones that will receive upgrades: We can confirm the brand new HTC Vivid is upgradeable to Ice Cream Sandwich. In addition, Ice Cream Sandwich is coming in early 2012 to a variety of devices including the HTC Sensation, HTC Sensation XL and HTC Sensation XE, as well as the HTC Rezound, HTC EVO 3D, HTC EVO Design 4G and HTC Amaze 4G through close integration with our carrier partners. We're continuing to assess our product portfolio, so stay tuned for more updates on device upgrades, timing and other details about HTC and Ice Cream Sandwich."