HTC Hero next-gen Android smartphone escapes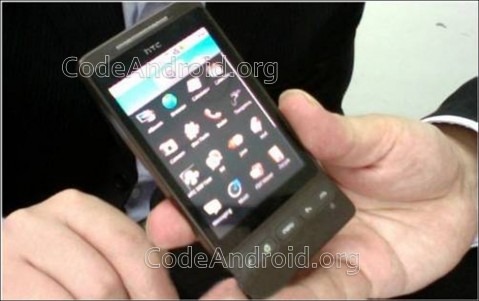 HTC's third Android device, the HTC Hero, has seemingly been snapped in the wild.  Previewed as part of HTC's 2009 smartphone leak back in January – then rocking an eye-wateringly vivid pink color scheme – the Hero seems to have adopted a more subdued casing for its public appearance; we're also noticing that, as the render suggested, HTC really have dropped the trackball.
That leaves the touchscreen for navigation, which will likely frustrate and please would-be buyers in equal measure.  The angled "chin" seen on the T-Mobile G1 and HTC Magic is still present (looking a little Photoshopped in image four, though that could be a side-effect of the poor lighting and low-resolution), but a welcome addition is the 3.5mm headphone jack on the top.
Unlike some of the handsets in their roadmap, HTC gave no launch carrier suggestion for the Hero.  Without a hardware QWERTY keyboard it doesn't look to be a replacement for the G1, and it's not as consumer-friendly as the Magic; it's also not mentioned in T-Mobile's leaked 2009 roadmap.
[via Android Community]