Android roadmap tips T-Mobile G1 v.2 "Bigfoot" and Samsung Houdini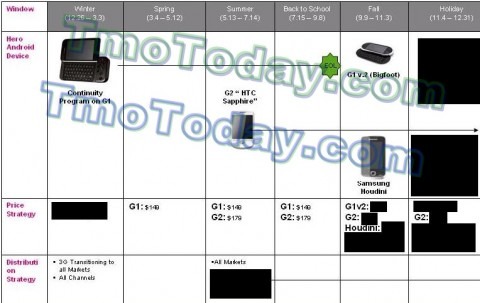 T-Mobile USA's roadmap for Android devices has leaked, suggesting that the HTC Magic – aka T-Mobile myTouch 3G - will hit the market over the summer, priced at $179, and be followed in the fall by two new handsets.  Firstly, for QWERTY lovers, the G1 v2 "Bigfoot", and also the Samsung Houdini.
According to the roadmap, the T-Mobile G1 will remain on sale until the end of the "back to school" period, which the carrier defines as September 8th.  After that, it will be replaced by another hardware-QWERTY device, the hitherto-unknown G1 v.2; the picture, which is likely more a representative mockup than a true likeness, suggests a Helio Ocean 2 styled slider, with distinctly rounded ends.
At the same time, T-Mobile USA will launch the Samsung Houdini.  It's unclear whether this is the same device as the Samsung I7500; again, the roadmap could well have been prepared before official pictures of the AMOLED-touchscreen I7500 were available.  Prices for the latter two devices have been blanked out, unfortunately.
[via Android Community]