HTC HD7 and HTC 7 Trophy leak; Windows Phone 7 devices coming October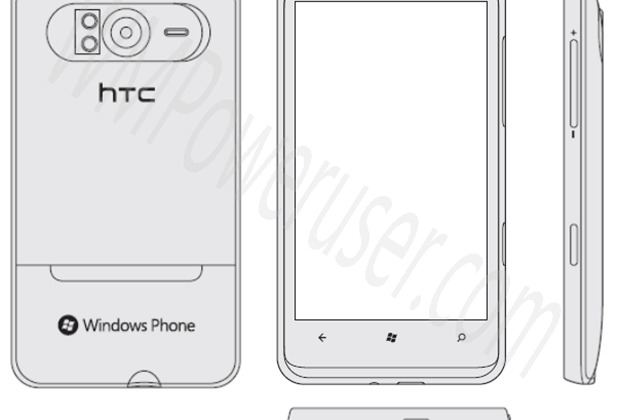 Two new HTC Windows Phone 7 device leaks this morning, with the HTC 7 Trophy being spotted in the wild in prototype form, and a very interesting diagram of what's said to be the HTC HD7.  Pocketnow scored the Trophy goodness, and confirm that it does indeed run the new version of HTC Sense that leaked last week (though their pictures don't show it).  Meanwhile WMPowerUser's trusted source sent them the HD7 diagram, showing what's expected to be the spiritual successor to the much-loved HTC HD2.
With nobody talking publicly about launch devices, there's plenty of confusion over which handsets HTC is bringing to market and under what name.  The company is expected to release three smartphones running the new Microsoft OS, at least in its initial wave of launch-day products, but we've heard numerous codenames and seen several prototypes from several angles.  There's talk that the HTC 7 Trophy could in fact be the same device as the HTC HD7 (aka the HD3), but the prototype and the diagram don't exactly match up.
Specifications for both devices are still mysterious, beyond the minimum requirements for Windows Phone 7 that Microsoft lay down, but the HD7 is expected to get a 4.3-inch display like its HD2 predecessor.  With the company confirming it plans to launch Windows Phone 7 handsets in October – as part of a push for around five more smartphones (either WP7 or Android) by the end of the year – we don't have long to wait.