Windows Phone 7 devices from Dell, ASUS, LG, HTC & Samsung confirmed; HTC Salsa, Swing & Tango all spotted in ROMs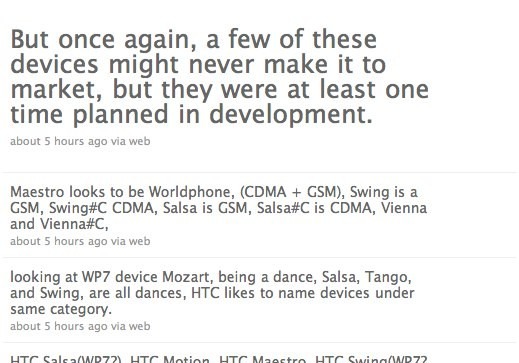 Now that KIN is kaput, all eyes are on Windows Phone 7 and the partners Microsoft has lined up for their heavily updated smartphone OS.  The company has confirmed which manufacturers will be initially releasing devices in Q4 2010, telling Pocket-lint that Dell, ASUS, LG, HTC and Samsung would all be pushing out at least one device apiece; more interesting, however, is news from arch ROM-fondler conflipper as to various HTC devices he's pulled from leaked firmware, three of which are believed to run Windows Phone 7.
Those three are the HTC Salsa, HTC Swing and the HTC Tango – all codenames, of course, and likely to launch under different titles if indeed they do reach the market – with both GSM and CDMA versions of the Swing and Salsa indicated.
Microsoft has said that they plan to make Windows Phone 7 as broadly available as possible across US and UK carriers, rather than ink exclusivity deals that could limit sales; it's likely we'll see barely-modified versions of the same handsets showing up with different connectivity.
Of course, it's possible that HTC could end development on any of the devices – which also include the HTC Motion, Maestro, Blitz, Sage and Vienna – before they reach the market or even prototype stage.  Still, given the company's barnstorming past 18 months and longstanding commitment to Windows Mobile, we wouldn't be surprised to see them attempt to corner the market in WP7 with a number of different devices.  For more on Windows Phone 7, check out our technical preview.