HTC CEO Reaffirms Support For Google-Motorola Deal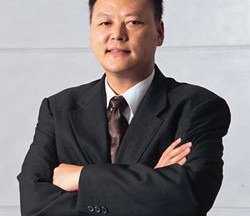 HTC CEO Peter Chou has reaffirmed the company's support for the Android platform following Google's announcement to purchase Motorola Mobility for $12.5 billion. Google's PR had posted the very generic congratulatory remarks from its platform partners earlier this week, but Chou elaborated more on HTC's stance during his interview today, revealing that the company has no plans to bail nor to start its own mobile platform.
Although Google's purchase of Motorola Mobility seems like a move that would pit it against its Android partners, the company has insisted that its intentions are only to protect the Android platform by securing Motorola's massive portfolio of over 17,000 patents. This has been communicated to its platform partners, including HTC, LG, Sony Ericsson, and Samsung, but that doesn't mean these manufacturers are completely comfortable with the purchase as it does have the potential of creating an uneven playing field with Motorola set as the lead.
It's been rumored that Samsung publicly supports the deal but is furious behind the scenes that it may lose its competitiveness in Android. The company now wants to ramp up efforts in mergers and acquisitions and may even re-focus on its own mobile OS, Bada.
HTC's Chou, however, plays down any possibility that his company would develop its own mobile platform. It intends to continue extracting value from its partnerships with Google and Microsoft and to differentiate itself by adding its own special touches to the interface as it has been doing with HTC Sense.
Chou also expressed that they see a long future with Android because what ultimately matters is not so much the operating system, but instead, the ecosystem. He emphasizes the great relationship HTC has with both Google and Microsoft and also reiterates that the acquisition will help Google support and protect its Android partners.
Given Chou's staunch support for Android, it doesn't seem like it will be one of the contenders for webOS, which has just been abandoned by HP. Recent speculation has suggested that HTC could be a potential suitor for webOS.
[via TNW]