HTC 7 Pro Review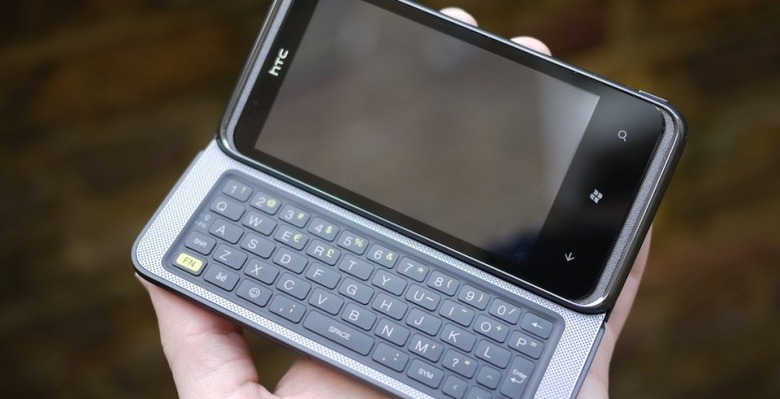 Of all Microsoft's launch partners for Windows Phone, HTC led the pack from the gate with the most devices. The HTC 7 Pro has taken the longest to arrive, frustratingly given it's the model we were most interested in, pairing Windows Phone 7 with a solid physical keyboard and a handsomely purposeful design. Worth the wait? Check out the full SlashGear review after the cut.
Hardware
Thanks to Microsoft's stringent hardware requirements, the HTC 7 Pro is pretty much par for the course when it comes to specifications. Up front is a 3.6-inch WVGA capacitive touchscreen, while inside is Qualcomm's 1GHz Snapdragon processor paired with 576MB of RAM, 512MB of ROM and 8GB of user storage. Connectivity includes dualband HSPA/WCDMA (900/2100) and quadband GSM/EDGE (850/900/1800/1900), along with WiFi b/g/n, Bluetooth 2.1+EDR, a 3.5mm headphone jack and microUSB port.
There's also GPS, an accelerometer, digital compass and both proximity and ambient light sensors, while the 1,500 mAh battery is removable but only hides the SIM card slot: there's no microSD reader for expanding storage. On the back is a 5-megapixel camera with autofocus and an LED flash, which can shoot 720p HD video.
The 7 Pro measures in at a chunky 117.5 x 59 x 15.5 mm and 185g, finished in sturdy plastic with metal touches like the battery door. Of course, the main bulk is because of the slide-out physical keyboard, triggered with a firm shove on the left edge. It flicks out – and angles the screen automatically – with a convincing snap, and the mechanism feels as reassuring as the rest of the handset.
The keyboard itself consists of five rows, with dedicated number buttons and various secondary characters triggered with the function key. HTC chose to give an emoticon shortcut its own dedicated button to the left of the spacebar; we'd rather have that for the @ symbol. Unlike HTC's physical keyboard phones running Windows Mobile or Android, there are no app shortcuts. A button to at least get to the mail app would've been useful.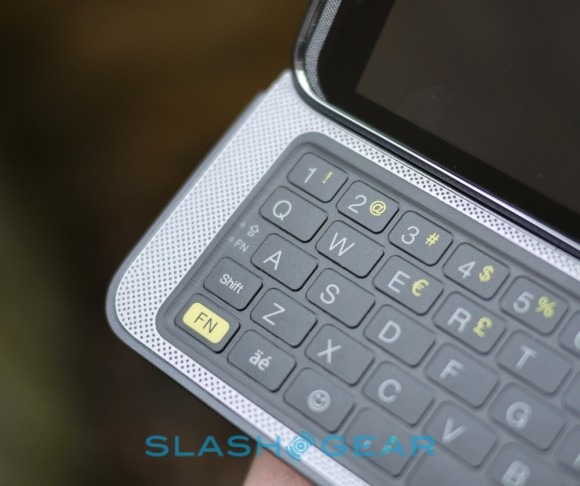 HTC let itself down with the display on the HTC HD7, a subpar panel that marred what should've been a brilliant media device, and there's a little of that in evidence on the HTC 7 Pro. Viewing angles are, thankfully, okay for the usual angle you'll hold the smartphone in landscape orientation, when typing, but the screen is prone to washing out if overly tilted in portrait. Colors can be washed out as well, though to be fair it's not as bad as we found on the HD7.
Software
Windows Phone 7 may not have taken the market by storm, but we have a sizeable soft spot for what Microsoft has done with its smartphone platform. Still waiting for its first significant update, the OS as on the HTC 7 Pro is exactly as it was on its platform counterparts when they launched in Q4 last year.
That means a clean, panel-based homescreen with dynamically updated Live Tiles that show Facebook images, recent photos snapped with the camera, and more. A tap to the side shows a full list of available apps. It's far cleaner – some have said sparser – than Android or iOS, a love-it or hate-it design that, though flawed in places, has plenty of promise.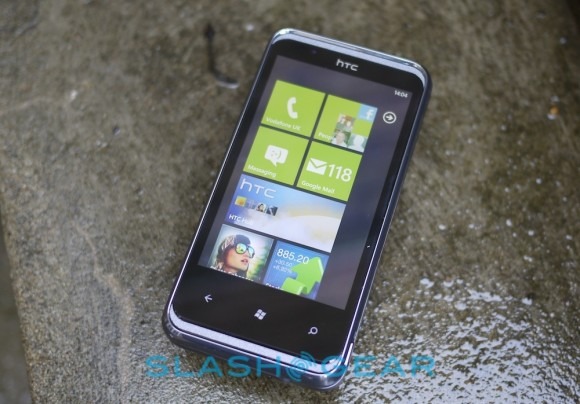 Microsoft's vision is of so-called Hubs, splitting down categories like Music + Videos, People, Pictures, Games, Office and Marketplace. Each segment scrolls both vertically and horizontally, showing different degrees of information and allowing you to dig deeper at various stages. So, in the People Hub, after you've logged in with Facebook you see a pane of recent updates from friends – from which you can read comments, Like a post or leave a comment of your own – but also pan across to see your amalgamated address book which pulls in entries from Facebook, Gmail Contacts, Exchange Contacts and any other services you've registered.
People's contact entries can be pinned to the homescreen as individual Live Tiles, and because of the interlinked nature of the various data sources, you're alerted to new updates – status changes, new photos, etc – straight away. There's also the HTC Hub, but it's a far more minimal affair than Sense ever was on Windows Mobile or is on Android. Instead, it's a suite of mini-apps and animated weather reports that don't really fit in with the rest of the minimal Windows Phone theme.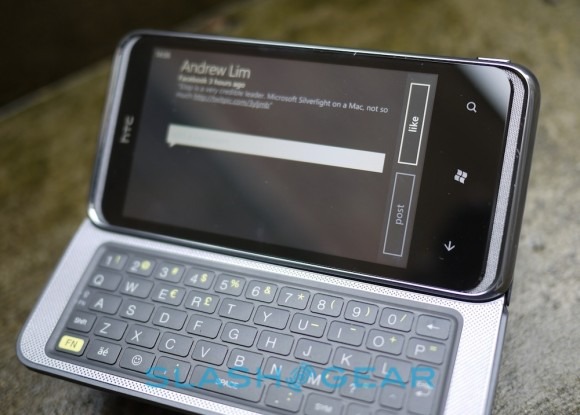 In general, Windows Phone 7 is a very portrait-friendly device. The homescreen stays resolutely portrait even if you pop out the keyboard, and a few screens simply don't have landscape counterparts. Only some of the buttons rotate, too, though we quite like a platform that doesn't treat you like you're stupid and assume you can't get up to speed with, say, the "Send" and "Cancel" buttons on a new email being rotated 90-degrees (and, no coincidence we're guessing, neatly falling underneath your right thumb). What does rotate does so with an endearing amount of animation, going to show that just because Windows Phone isn't brightly colored or full of 3D icons, it doesn't have to be a drab experience.
What it is right now is a relatively limited experience, at least when it comes to third-party software. Microsoft has been working hard to build up a showcase of titles with key developers, but there's still not the extent of apps you'll find on iOS and Android. We were already expecting that to improve over time, but Microsoft's recent partnership with Nokia should hopefully see the developer situation accelerate.
Camera
HTC's track record with cameras hasn't been brilliant, and the HTC 7 Pro produces solid, if uninspiring stills. While the test shots in the gallery below were taken on a relatively overcast day, they're darker and more subdued in color than rival handsets have managed. Thankfully there's little noise, and with some post-processing you can eke out more usable shots; unfortunately, given the display's shortcomings, it can be tricky sometimes to tell if the photo you've just taken is good or mediocre until you've transferred it using Microsoft's PC or Mac software. On that note, it's still frustrating not to be able to mount Windows Phones' memory as a mass storage drive, as most other smartphone platforms allow.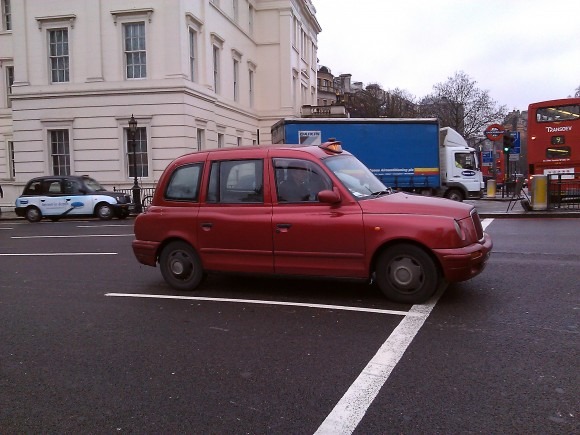 Still, there's a dedicated camera shortcut button, which is welcome, and the app itself loads quickly, even bypassing the lock screen for those perfect Kodak moments. Video bizarrely defaults to its medium setting, rather than the maximum 720p HD, though even then the results are only average, as you can see in the clip below.
Phone and Battery
Audio quality using the HTC 7 Pro's earpiece was strong and clear, and we could easily see ourselves using this as a business device. Unfortunately, HTC's strong speakerphone heritage from handsets like the HTC Touch Pro2 hasn't carried over, and in fact the 7 Pro proved to have a relatively anaemic speaker.
Battery life from the 1,500 mAh pack was strong, lasting a full day of use with Gmail regularly updating and with a mixture of social networking, media playback, camera use and browsing. As with the majority of modern smartphones, you'll be recharging the HTC 7 Pro nightly.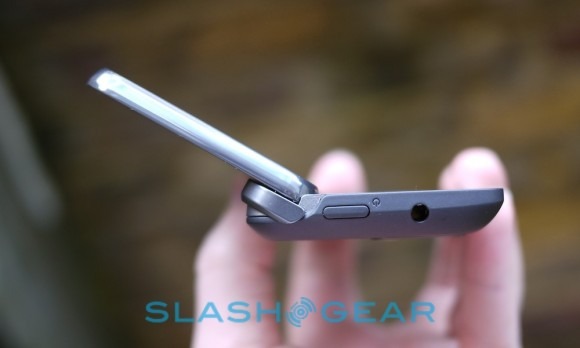 Wrap-Up
There's a lot we like about the HTC 7 Pro. Windows Phone 7 is a solid platform with plenty of promise, and while the third-party app selection pales in comparison to what Android and iOS offer, that's not to say you won't find the titles to suit you among the line-up. We also appreciate Microsoft's clean-slate style, which – in combination with the no-nonsense hardware HTC has produced – adds up to a distinct and unique device.
That's not to say there aren't issues, however. Key elements of the software experience – not least copy & paste – are still missing from Windows Phone 7, while key aspects of the hardware experience – like the middling camera and subdued speakerphone – mar the 7 Pro's overall showing. As it stands, though, your options for physical QWERTY on Windows Phone 7 are pretty limited, and the HTC 7 Pro is the model we'd choose today.
Nokia's announcement on Friday, however, throws another issue into the ring. The company has already told us to expect keyboards as on the Nokia E7 to appear on its incoming Windows Phone devices, and side-by-side we have to say we prefer the E7's hardware 'board to the HTC's, and Nokia's camera skills for that matter. Still, with no solid release dates in sight, it's tough to recommend holding off on the decent HTC in favor of a Nokia Windows Phone that, right now, is still mythical. If you want QWERTY and you want Windows Phone, then the HTC 7 Pro's appealing keys outweigh its shortcomings.
Many thanks to Clove for the loan of the HTC 7 Pro