HTC 2009 smartphones get detailed, including Snapdragon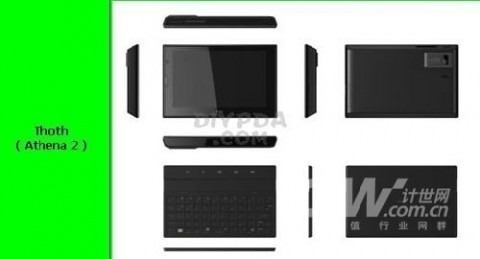 Further details about HTC's leaked 2009 smartphone range have emerged, with details of hardware and carriers.  As rumored, at least one of the devices uses Qualcomm's 1GHz Snapdragon chipset, with the 4.8-inch 480 x 800 touchscreen Thoth (shown here) using the high-power chip.
The Thoth also gets a 5-megapixel camera, Windows Mobile 6.1 and 512MB ROM/256MB RAM.  It should arrive in September.  Elsewhere, the Topaz and Rhodium are outed as the Touch Diamond2 and Touch Pro2 respectively, and going by the image labels they're headed for both GSM and CDMA carriers in the US in an unspecified timeframe.
Meanwhile the Whitestone and Firestone are tipped as relatives of the HTC Touch HD, with the former getting a 528MHz Qualcomm 7600 CPU, 512MB ROM and 256MB RAM, plus a 5-megapixel camera, A-GPS and both GSM and CDMA connectivity.  The Firestone will have a bumped Qualcomm 8250 CPU running at 600MHz, with an 8-megapixel camera, 3G GSM and possibly an August launch.  The HTC Whitestone is expected to land on Verizon in September 2009, while the HTC Firestone's US plans are unclear.
[via coolsmartphone]