HTC Touch Diamond2 hands-on: Gallery and Video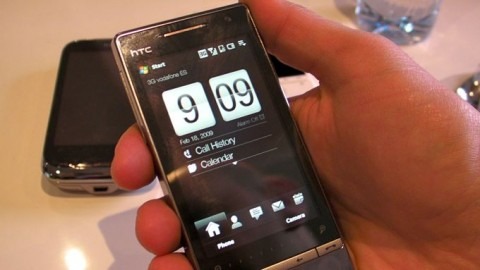 At a Mobile World Congress where headline-devices have been relatively sparse, HTC have done themselves proud with not only their second Android device, the HTC Magic, but two new Windows Mobile handsets that already look to be best of breed.  SlashGear sat down with HTC's Dave Catt and Eric Lin to discuss both the Touch Diamond2 and the Touch Pro2; in the first of two articles, we have hands-on feedback and a huge image gallery of the HTC Touch Diamond2, plus a video.Update: Video now added – in HD!
To recap the specs, the Touch Diamond2 has a 32.-inch 480 x 800 WVGA resistive touchscreen, dualband 3G/HSDPA, WiFi b/g, Bluetooth and GPS, together with a 5-megapixel camera, FM radio and accelerometer.  There's 512MB ROM and 288MB RAM, together with a touch-sensitive zoom bar and microSD port, all in a package 107.85 x 53.1 x 13.7mm in size and 117.5g in weight.
In terms of physical design, the one of the more obvious changes from the original Diamond is the newly-flattened back panel.  According to Eric, customer feedback didn't score as highly as HTC themselves felt about the faceted design, and as such the phone is flat – and also sits flat on a table.  Up front there are four hardware keys – send and end, Windows and back – while there are volume controls along the top left side and a lock key on top.
HTC have used the two new Touch smartphones to debut the latest version of TouchFLO 3D.  There's now greater integration between different tabs, so that you can for instance go into a recent contact, immediately see emails and IMs you've exchanged, and trigger any of a number of responses.  It's much easier to watch and understand than it is to explain in text, hence our hands-on demo video.
Something we've certainly wondered about is what difference users will notice after the transition from Windows Mobile 6.1 to 6.5, especially given the latter's more obvious changes are in the launcher and new lock screen.  According to Eric, the device will offer the choice of using the new Microsoft GUI or the existing TouchFLO 3D GUI; otherwise there'll be little obvious difference.  HTC had no real input into Microsoft's GUI development; when I suggested that this might be to the detriment of both companies, in terms of time and duplicated effort, Eric countered that in fact HTC see it as offering greater flexibility to the end-user rather than a one-size-fits-all product.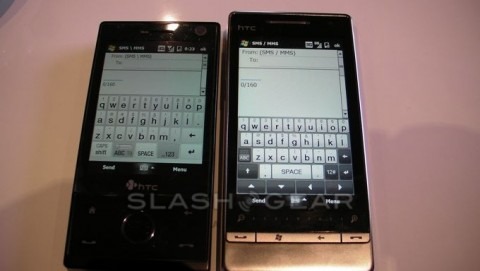 What HTC have done, in fact, is design the Touch Diamond2 with 6.5 in mind.  There's a Windows flag key, just as required for the new version, and even in 6.1 it now calls up the TouchFLO 3D Programs menu, rather than the drop-down Start menu, to preview what 6.5 users will see with the new launcher.  As for the upgrade process, according to Eric it will be "as simple as flashing a new ROM"; whether that's something most Windows Mobile users have ever done, we might argue with, but we imagine there'll be a more streamlined upgrade path once the new OS arrives.
Headed for a Q2 2009 release, the Diamond2 will still get some fettling before its launch.  That should make it even faster, though I noticed very little lag in the pre-production unit today.  The touchscreen is even better than that on the Touch HD, which if you've read our review you'll know was a revelation in resistive panels; when I asked HTC about this, they told me that they're at a point where they can produce resistive and capacitive touchscreens with pretty much the same responsiveness and finger-feel.  Therefore the decision goes beyond simply technology, and instead asks which is the right panel for the implementation; since Windows Mobile is not fully finger-friendly, that means a resistive display is the obvious choice.
Also carried over from the Touch HD are the camera and optics, a 5-megapixel unit with autofocus but no flash.  Rather than change the hardware, HTC have tweaked the software to improve quality; we discussed the absence of a flash, but according to Eric the company believes it can make a bigger difference at this point by refining code rather than anything else.  HTC admit that, thanks to their enterprise background, they're playing catch-up in some consumer functionality, such as imaging, so they prioritized their development as to what would make the biggest difference in the timescale available.  We'll have to wait and see what image quality is like, but taking a shot was certainly quicker than it was on the Touch HD.
Overall, it's hard not to like the HTC Touch Diamond2.  The screen quality is superb, and we imagine the Diamond2 will make for a great media player during your downtime.  The latest incarnation of TouchFLO 3D might not match the interconnected intelligence of Palm's webOS Synergy, but it's finally more than a glorified launcher and you can now do many common tasks without dropping into Windows Mobile.  It's still pretty rare to see a device in which the software usability has been as well developed as the spec sheet.  We'll obviously save our final judgement until we get the HTC Touch Diamond2 in to review – it's expected in around a month, HTC tell us – but we're already confident that it'll be a strong performer.