HTC Touch Diamond2 and Touch Pro2 hands-on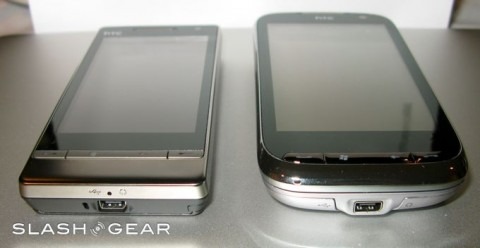 We caught up with HTC this morning to check out their new Windows Phones, the HTC Touch Diamond2 and the HTC Touch Pro2, as announced yesterday.  Say what you like about the Microsoft OS, HTC have put together a pair of slick handsets, taking the best of the original Diamond and Pro and packing in extra screen size, more sensible hardware controls and higher-capability media functionality.Full hands-on gallery with both HTC handsets, the Touch Diamond2 and the Touch Pro2, after the cut
Despite running Windows Mobile 6.1 at launch – they're expected to hit the market before 6.5 is available, though HTC will offer all buyers before that point a free upgrade once the new OS is available, HTC's updates to TouchFLO 3D go some way to disguising the less than ideal platform.  Particularly impressive is the new level of integration between software – contacts, calendar, location and media such as photos – with less app-hopping required to carry out typical tasks or locate contact-related information.  We particularly like the links between email and contacts; you can pull up a list of recent messages from someone calling, allowing you to check correspondence while still on a call.
The Diamond2 is a huge improvement over the original Diamond, keeping the slim form-factor and high-resolution display, but cranking up the panel size so that it's now even more usable without the stylus.  Although it still uses a resistive touchscreen, HTC have obviously learnt from the Touch HD feedback and used a glass backplate to minimize touch-panel flex.  It's still not quite as zero-pressure usable as a capacitive panel, but sweeping between tabs in TouchFLO 3D is easier than ever; we'd say it's one of the best resistive panels we've encountered.  We didn't have a chance to shoot images with the new, 5-megapixel autofocus camera – HTC are still tweaking it prior to the smartphone's launch – but we've got reasonable hopes assuming it uses a similar sensor to the HD.
As for the Touch Pro2, it's obviously bigger to accommodate the slide-out keyboard, but we're glad to see the tilting display making a return to HTC's portfolio.  Unlike the Nokia N97, the Pro2's display can be adjusted for angle, which makes longer typing sessions far more flexible.  The keys themselves are very comfortable and have great typing feel, and that's been paired with a screen that's just as impressive as that on the Diamond2 in terms of tactile feedback, and even larger in terms of screen-estate.  This could well be the executive's best friend once it hits the market; we'll need more time with it for a full review, obviously, but so far we're impressed and Windows Mobile 6.5 will make it even more compelling.
Best of all, both devices feel like they're in far more of a market-ready state than, say, the Samsung Omnia HD.  That's a good thing, as they'll be on the market relatively soon too: the HTC Touch Diamond2 is expected in Q2 2009, while the HTC Touch Pro2 will follow early in the Summer.  We're hoping to get review devices in asap.
We've got live video of both devices that needs editing and processing; we'll add it as soon as it's done.  Until then, enjoy the gallery!