Microsoft announce Windows Phone 6.5, My Phone and Marketplace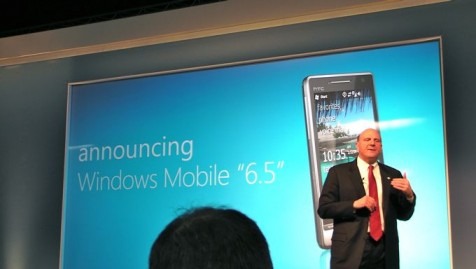 No great surprise, but Microsoft's Steve Ballmer has officially announced the latest version of Windows Mobile, version 6.5, today at Mobile World Congress, complete with a new name: Windows Phones.  The newest version of the platform, as we've already seen in leaked screenshots, introduces a honeycomb launcher GUI which can be organized with often-used applications to the top of the screen, has customizable widgets and improved browsing via Internet Explorer Mobile 6.5 with the same browser engine as IE on the desktop.
One of the areas of significant change is the Windows lock screen, which now has indicators for missed calls, messages and IMs, calendar entries and the time, together with the usual battery and signal strength icons.  The new Windows Phone homescreen shows – via small numbers next to each menu option – how many missed calls, voicemails and new emails there are, as well as access to photos and web favorites.
There's also provision for a new hardware Start button, which all upcoming Windows Phones will have, that calls up the new honeycomb launcher.  Microsoft have added extra gesture support, including paging between inboxes with a horizontal swipe, and scrolling between photos on the launcher homescreen.  There's also been some work in better integrating different communication methods – such as IM, SMS, and voice-chatting on Windows Live Messenger – into single panes, so you can be notified of missed calls from contacts in the threaded conversations on Windows Phones.
Ballmer predicted that smartphones would take 50 to 70-percent of the market in the coming years, with users looking for single devices that can handle all of their information.  That prompted Microsoft's nomenclature change, to describing the range of handsets running their mobile OS as "Windows Phones", bringing more of the desktop Windows functionality, together with the internet, onto devices that have ever-increasing screen sizes.  For instance, thanks to the same underlying browser engine – which includes Flash support – webpages look the same on a Windows Phone display as they do on a PC screen.
Microsoft have also officially announced Microsoft My Phone, an online backup service for Windows Phones, which streamlines the flow of information between cellphones and other devices.  It offers around 200MB of storage, for contacts, text messages, calendar entries, photos, videos and other media, as well as offering the ability to send out content from the My Phone web interface.  My Phone will allow you to back-up text messages online, freeing up space on the Windows Device but keeping a record.  Finally, the company launched Windows Marketplace, an on-device app store.  There are, Ballmer said, over 20,000 apps already for Windows Mobile; now Microsoft will give developers a way to better distribute and publicise their software.
Availability on new Windows Mobile devices is still unclear.  HTC have confirmed that their Touch Diamond2 and Touch Pro2 smartphones, announced earlier today, will be eligible for free upgrades to WM6.5 when it is released later this year; LG have also signed a deal with Microsoft to produce multitple Windows Phones between now and 2012, as well as merging R&D teams.  We're expecting other vendors will offer free upgrades, in an attempt to bridge the gap between WM6.5's launch and now.  As for Windows Mobile 7, Ballmer said not to expect its arrival simultaneously with Windows 7, but instead following on with an unspecified timeframe.