HTC 10 Review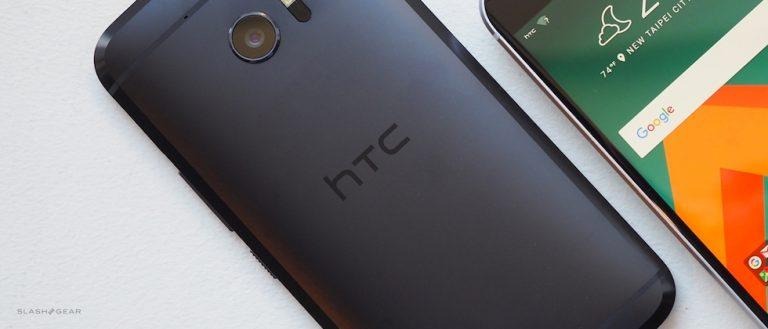 If everybody loves an underdog story, why aren't more people buying HTC phones? That's the question the Android stalwart must be puzzling over, having spent the past four to five years trying to figure out how to be "critic's choice" rather than "also-ran" in the smartphone space. The answer for 2016 is the HTC 10, but is this new flagship enough to stand out amid behemoths like Apple and Samsung?
Design
You fall into one of two camps with the HTC 10's design. On the one hand, you have the admirers – they're usually long-time HTC device owners, I've found – who appreciate the gradual evolution of the company's unibody design language and its commitment to premium-feel metal. Sure enough, the HTC 10 feels solid and cohesive; hewn from a single chunk of metal that's thrown into the CNC machine and emerges polished, chamfered, and refined.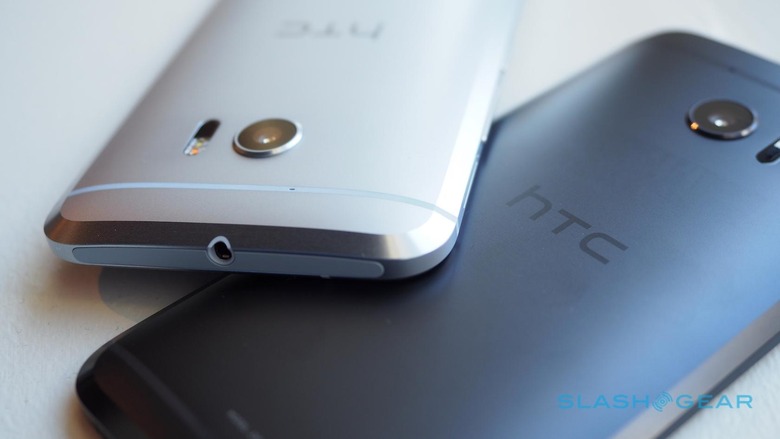 It also comes out plump, slippery, and lacking waterproofing, the critics aren't slow to point out. You can't really argue with that, either: compared to the Galaxy S7, the iPhone 6s, or any number of even slimmer Android devices, the HTC 10's 9mm thickness is positively chubby. The good news is that, thanks to the edge treatment, it doesn't feel so thick in the hand, but make sure you're gripping tight since it's a fairly easy phone to drop.
Deceptive hand-feel isn't going to help if you encounter water, either – well, unless your hands are so vast that they completely enclose the HTC 10, which seems unlikely – since in contrast to the Galaxy S7 it's not waterproof. HTC has made the phone splash-proof, but we're talking about the occasional droplets from leaving it too close to the sink as you wash dishes, not withstanding submersion.
Overall, though I'd not argue with it losing a millimeter or two, I like the HTC 10's look. I've always been a fan of the One series aesthetic, however, and I'm still somewhat concerned that HTC isn't innovating fast enough compared to its rivals. The company always used to be the style choice in Android, while Samsung was the geeky option; now, the Galaxy S7 has demonstrated that Samsung can do premium design and construction too, and I suspect the HTC 10 won't do enough to stand out from that shadow.
Display and Audio
HTC continues to eschew OLED, opting instead for a 5.2-inch 2560 x 1440 Super LCD 5 screen covered with a sheet of Gorilla Glass 3 with neatly curved, meniscus-style borders. It's a great panel head-on, crisp and with a nice color balance, though move off-center and there's a tendency to a slight red-pink tone and a fall-off in brightness that rivals don't suffer.
What you notice more, however, is that – unlike One phones of previous years – the display isn't swimming in a vast fascia.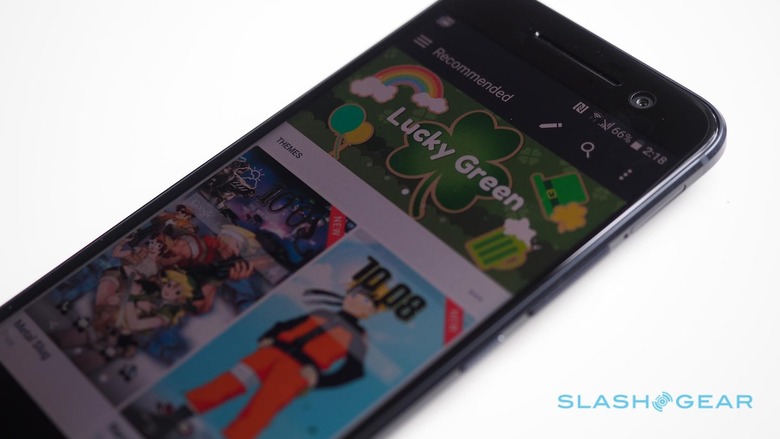 Those smaller bezels are possible because of the change in BoomSound. Previously, HTC put stereo speakers on the front of its phones, squeezing drivers above and below the screen. It sounds great, but it also demands compromises from the industrial design when it comes to size and shape.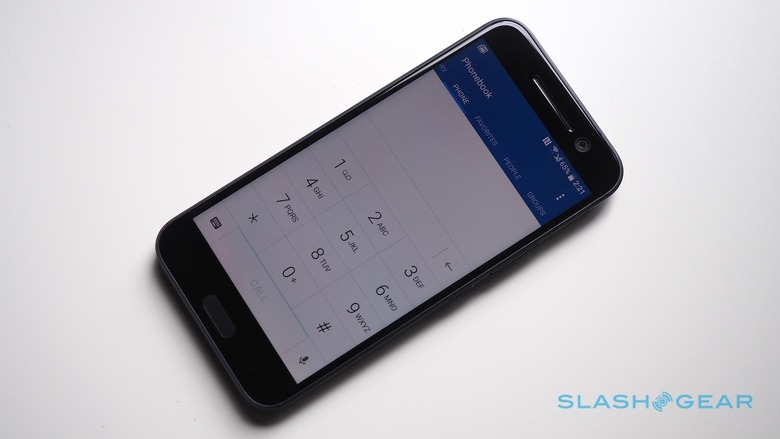 For the HTC 10, that system gets a makeover BoomSound HiFi Edition ditches the stereo in favor of putting a tweeter in the earpiece and a woofer at the bottom. Each gets its own amplifier, and it means the HTC 10 is certainly loud. Music sounds great, though I did miss the stereo soundstage from earlier One series phones.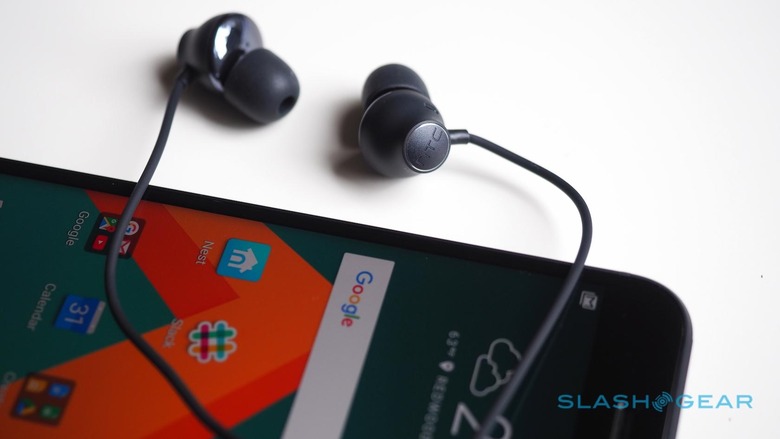 Plug in headphones, meanwhile, and the second audio trick shows itself. HTC is playing up its 24-bit DAC – complete with upscaling for lower-res tracks you might have – and the more powerful than average amplifier, and they certainly help, as does the audio tuning system.
That basically tries to shape the EQ intelligently, based on how you hear sounds and the sort of music you listen to. There's a quick setup, where you pick genres and tell the HTC 10 a little about the sort of environments you normally listen in, or a more complex one, where each ear is played different low, mid, and high frequencies and you adjust depending on your sensitivity to them.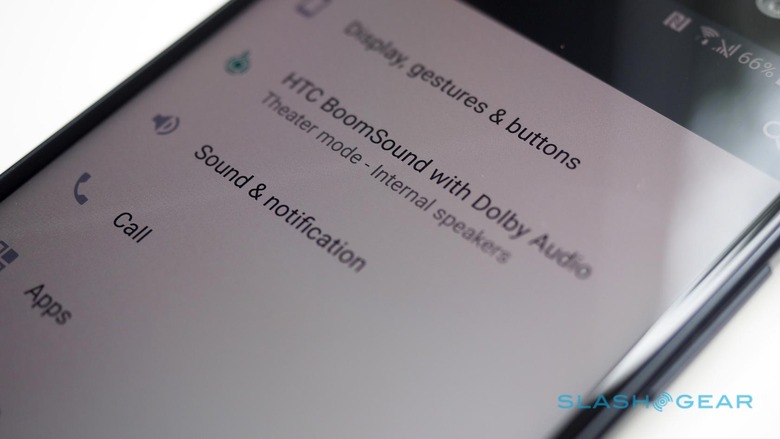 Multiple profiles can be stored for different sets of headphones, and at the end of setting up each the phone plays music so that you can do A/B testing to hear the difference. Sure enough, things sounded brighter and a little warmer after HTC's tweaks.
There's a caveat of sorts, though, and it's that you'll need a decent set of headphones in order to hear the difference versus other phones. Luckily, HTC has just such a set; unluckily, those in the US will have to buy them separately, as unlike in other regions they won't be included in the box.
Performance and Software
If you've been keeping up with what's cutting-edge in the mobile processor space, the guts of the HTC 10 shouldn't come as too great a surprise. Qualcomm's Snapdragon 820 is its beating heart, paired with 4GB of memory and – in the US at least – 32GB of storage. Some other countries will get a 64GB version, but either way there's a microSD slot with support for Android's adoptable storage to blend the memory card's capacity in with the phone's.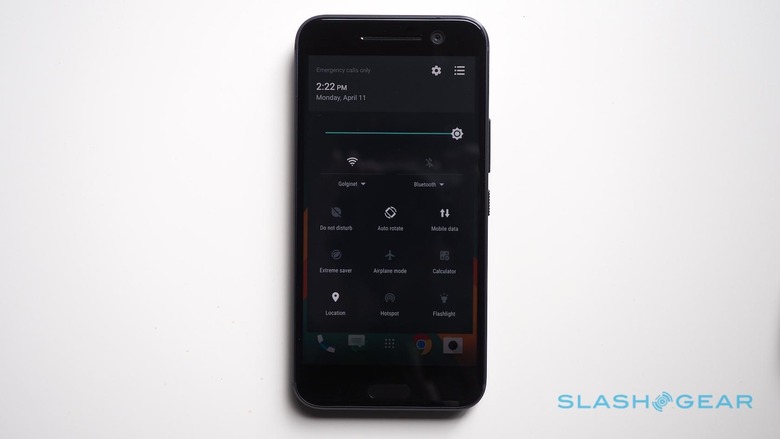 Android 6.0 Marshmallow takes center stage, with HTC Sense – now up to Sense 8, though HTC says it's playing down version numbers these days – adding a little of its unique feel. It's a far less domineering experience, however, and that's down to some welcome restraint on the part of the software team.
The standard Android experience, for non-Nexus devices at least, is usually filled with extra apps, "branded experiences", and bloatware. First the device maker throws in its contribution, often duplicating native apps in the process. Then the carriers get their turn, sometimes tripling that duplication, or trying to push their own premium services for music, video, or navigation.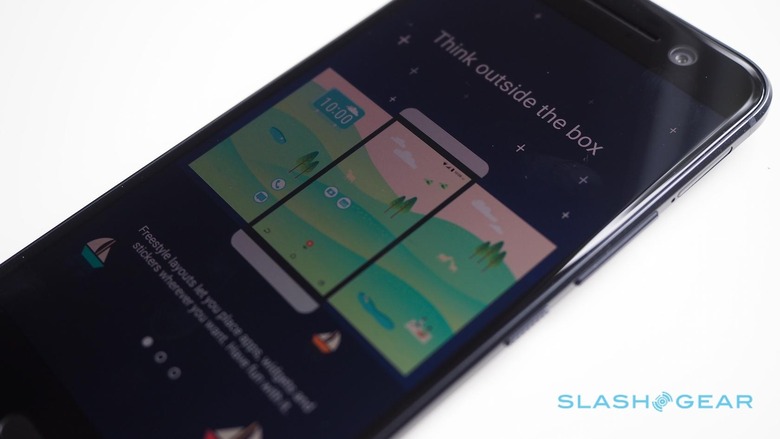 At best it's just frustrating; at worst, it's downright confusing, and certainly off-putting for those new to Android. HTC's answer was to take a long, hard look at exactly what was being preloaded on the HTC 10, and force a "one purpose, one app" decision.
So, HTC Gallery is gone, with Google Photos the "official" gallery software on the HTC 10. Conversely, HTC's own email app is the default, since it's more full-featured than Android's native version. HTC says that the choice is based on functionality, and will be evolving over time as its own developers and those at Google refine their wares.
There's a reprieve if you're a fan of some of the old HTC apps, however. The company is releasing them individually on the Play store, so that rather than having them forced on you, you're able to install them piecemeal.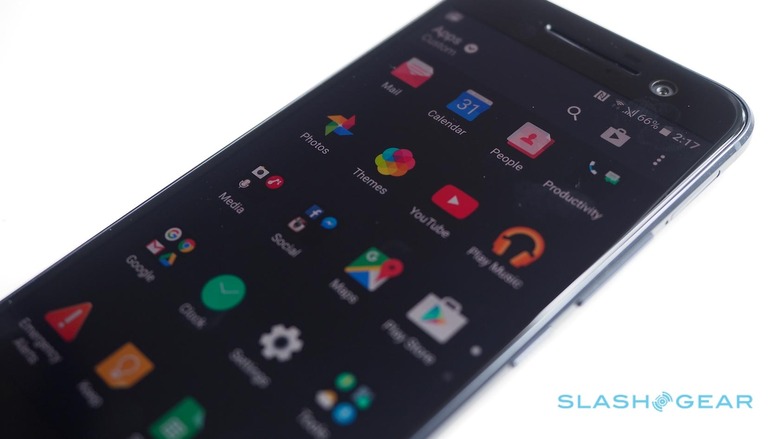 The result is a phone that feels far cleaner to us, though it hasn't been a total success. Thanks to a lingering deal with Facebook, my unlocked review unit came with Facebook, Facebook Messenger, and Instagram not only preinstalled but refusing deletion. Carrier versions get whatever the operators decide should be foisted on users, too.
At least it's snappy. The Snapdragon 820 has handled everything I've thrown at it without hiccup or slowdown, with apps loading snappily and multitasking without lag. The feeling of perkiness may well be aided by HTC's own work refining the touchscreen responsiveness; the claim is that it's faster than any of the Android alternatives from Samsung or Sony. I don't have HTC's high-speed cameras to test it out scientifically, but it's definitely smooth in everyday use.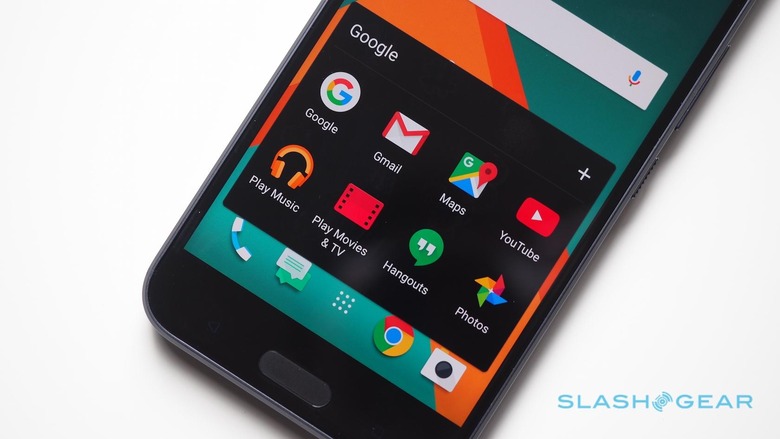 The same can be said for the new fingerprint reader, integrated into the touch-sensitive home key below the display. Again, HTC has the numbers on just how quick it is to recognize your digits, but I'm content with the fact that there's only a split-second pause as the phone unlocks. The same scanner can be used to authenticate Android Pay and, usefully, securing access to individual apps.
Perhaps the biggest software surprise on the HTC 10 is AirPlay. In fact, it's the first Android device to support Apple's streaming technology out of the box, where it joins alternatives like DLNA, Miracast, AllPlay, and Google Cast, summoned with a three-finger swipe down the screen.
It's a real boon if you live in a multi-platform house as so many do, though it's worth noting that HTC doesn't offer the complete AirPlay experience as you'd get on an iPhone or iPad. In fact, the HTC 10 will do music streaming but not photos or video; since I most often use AirPlay via the Apple TV to show recent iPhone photos I've taken on my TV, it's not been as useful on the HTC 10 as I'd expected.
Camera
The HTC 10 marks the return of UltraPixel, now a second-generation sensor with 12-megapixels, an f/1.8 optically-stabilized lens, dual-tone LED flash, and 4K video recording. As with UltraPixel of old, HTC's emphasis is on larger individual pixel size than you might find in the average smartphone camera, all in the name of greater sensitivity to light, though the need to up the overall megapixel count has meant they're not quite as big as those on the One M7.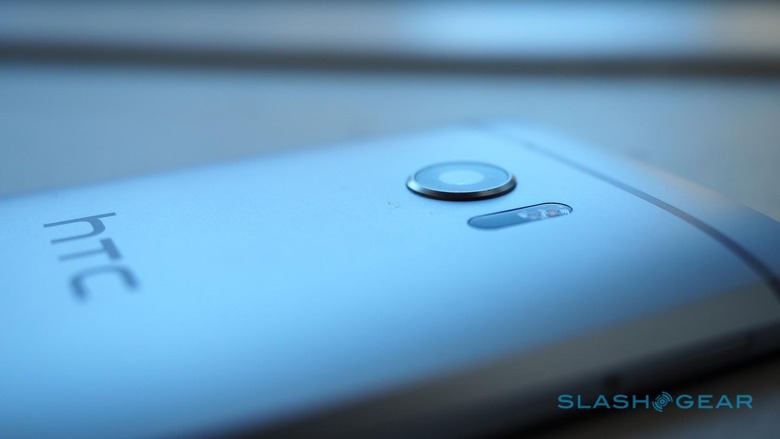 It's fair to say I've been left frustrated by the HTC 10's camera so far. On paper, it gets everything right. Combining UltraPixel 2 with a laser-autofocus system for greater speed along with OIS should add up to fast, accurate shots whether it's daytime or night. The reality is that, right now at least, the HTC 10's real-world experience doesn't quite live up to the hardware's promise.
I've written about that more conclusively already, but the short of it is that HTC clearly has work to do on its camera software. The autofocus is finicky – often it'll tell you to move your finger out from blocking the laser, even if your fingertips are nowhere near – and slow in low-light; the initial exposure lock tries to satisfy the entire frame, which I found often left everything too dark, but tapping a point in the scene only sets the focus there not the exposure.

Instead, you have a slightly fiddle little slider to adjust, which is all well and good until you're outside in direct sunlight, trying to get a balanced picture when you can't quite see the display properly, and wishing that HTC had just gone with the crowd and set AF and AE with a tap like all the other phone makers.
SEE MORE: HTC 10 Camera Review
HTC clearly agrees with me that not all is quite right yet, as it's working on a camera update now which will apparently address at least some of these issues. I'm fairly confident that, with the right tweaks, the HTC 10 could be an excellent shooter: tying for first place with the Galaxy S7 in DXO's camera tests is no small thing, but I suspect the folks there may have been a little less generous had they taken the phone out of their testing lab and into the real-world.
As for the front-facing camera, I suspect HTC is leading the gang in where selfies will go next. 5-megapixels isn't especially notable these days, but optical image stabilization is, and with the rise of streaming video platforms like Periscope and Facebook Live – not to mention the fact that we as humans will apparently never tire of Snapchatting ourselves with animal faces – will make that all the more important.
Battery and Accessories
HTC suggests two full days from a full charge of the HTC 10, which seemed like witchcraft to me given the 3,000 mAh, non-removable Li-Ion battery. Sure enough, exactly how much use you'll get out of it depends heavily on how intensive a user you are, and while two days is possible it's not commonplace.
I'm fairly demanding when it comes to my phone, with plenty of email and messaging, browsing, some photography, Google Maps, and other use in the typical day. The HTC 10 generally kept up from coming off the charger at 6am to making it into mid- to late-evening, but an overnight charge was a must. Scale back your expectations, though, and you could likely get through a weekend with more casual use.
To be fair, that's pretty much what I found with the Galaxy S7, while the iPhone 6s usually requires a late-afternoon top-up under my typical use.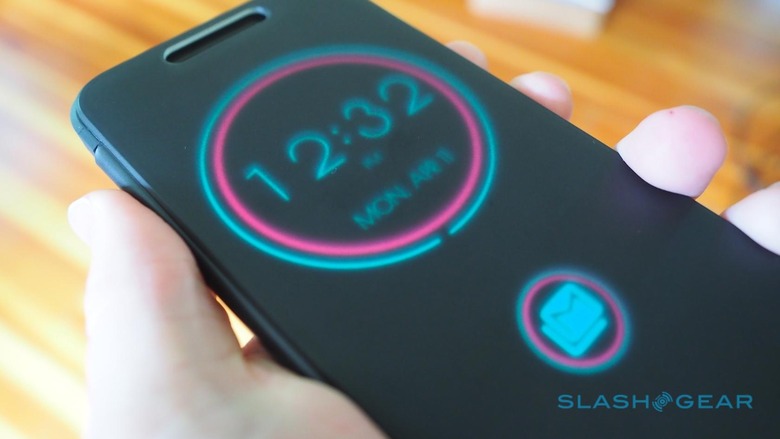 There's no wireless charging option in the HTC, but you do get Quick Charge 3.0. That can take a dead HTC 10 to 50-percent in about half an hour, which is great for last-minute top-ups. Happily, and unlike in previous years, HTC is including the necessary Fast Charger in the box rather than making it an optional accessory.
Save your money instead, therefore, for the new Ice View case. Like the Dot Cover before it, it's a flip-fronted case through which the phone can show basic information – time and date; missed calls; and message previews – but with the HTC 10 it's all done in entertainingly neon-esque graphics rather than 8-bit style.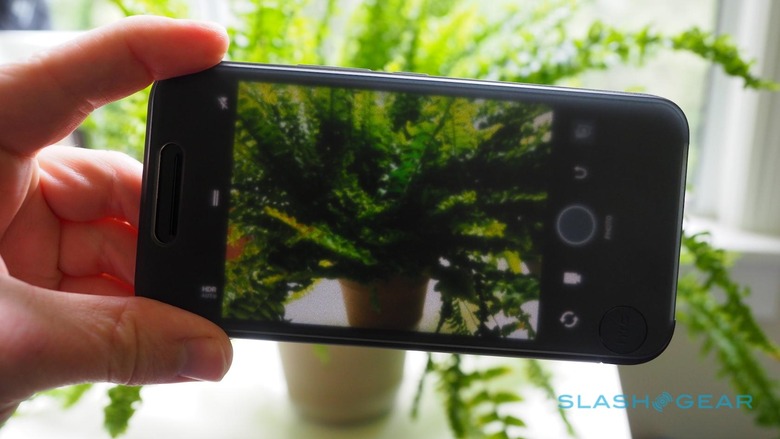 Better still, you can use the camera with the flip closed, since the UI glows through and your focus-taps are still recognized. That's the theory, anyway; I struggled to get HTC's camera-launch gesture to work consistently, so all too often I had to unlock the phone to launch the app manually.
Wrap-Up
I suspect you already know whether you're going to buy the HTC 10. "I suspect you already know whether you're going to buy the HTC 10." In many ways, HTC is playing to the crowd with its latest flagship: an industrial design that's a refinement on the familiar, along with an evolutionary camera. That's not always a bad thing, per se, but it does leave me asking a question that's also become familiar from HTC reviews: just how many people will jump ship from their Samsung, iPhone, or other brand-of-choice, wowed by what the HTC 10 has to offer.
If there's the vaguest glint of a silver lining, it's that HTC has something that – currently, anyway – no other smartphone brand does, a serious virtual reality platform. Samsung may have got to mobile VR first with the Gear VR, but HTC Vive is another level of immersion greater. It's a whole new world for HTC to explore, though for the moment integration between the two is limited to pairing your phone via Bluetooth and fielding calls, messages, and calendar reminders as you pace the virtual environment.
ALSO SEE: HTC VIVE Review
My hope is that HTC capitalizes on Vive where it can, though I suspect it's ambitions will be primarily hamstrung by the depths of its pockets. Still, a Re 360 camera for shooting 3D content seems like it would be a good place to start, and it might kick off an ecosystem within which buying a device like the HTC 10 would make more sense than simply wanting something different from the Android or iPhone status-quo.
For the moment, though, the HTC 10 stands alone: a handsome phone, and a well-constructed one, with no shortage of speed and a camera that, while flawed, has legitimate potential. Problem is, that's not an unfamiliar position for the company to find itself in, and the smartphone segment is even more aggressive than in previous years, not to mention jam-packed with a bounty of highly capable alternatives.