HP's Amazon-rivaling cloud plans leak: Backbone of webOS media store?

HP has made no disguising its plans for the cloud, with CEO Leo Apotheker confirming earlier this year that the company had software-as-a-service ambitions among other things, but now the full scope of HP's plans to take on Amazon Web Services has been revealed. Scott McClellan, chief technologist and interim vice president of engineering for HP's new cloud services business, prematurely confirmed the proposals on his LinkedIn profile, and The Register spotted the details before HP whipped them down. Among the tidbits: an HP "object storage" service that could form the backbone of the HP Music Store and HP Movie Store.
According to the now-deleted information, the "object storage" service is a purpose-built cloud store that will work with "compute", "networking" and "block storage" to enable, in McClellan's words, "An innovative and highly differentiated approach to "cloud computing" – a declarative/model-based approach where users provide a specification and the system automates deployment and management." Amazon's AWS system – which suffered significant downtime recently, resulting in a small amount of data loss for customers – relies on storage blocks that are maintained on virtual servers, scaling according to demand, and it seems HP's system would follow suit.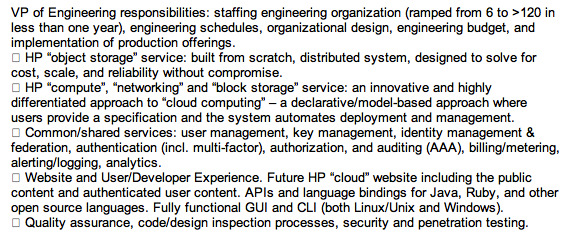 Developers would also eventually be able to use the HP cloud to host sites and services, with Java, Ruby and other code support along with GUI and CLI interfaces. There will also be various user-management systems, including identify management and authentication. No word on when the system might launch; HP has declined to comment.