HP Topaz webOS tablet detailed plus Touchstone v2 wireless plans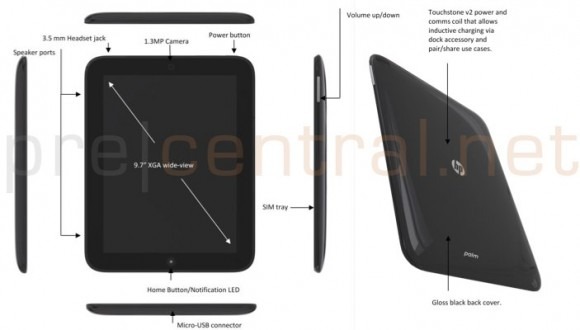 Further details on HP's Topaz webOS tablet have emerged, detailing the specifications of the 9.7-inch XGA slate we're expecting to hear about at the event on February 9. According to documents finding their way to PreCentral – and which date back to sometime in 2010 – Topaz will use Qualcomm's dual-core 1.2GHz MSM8660 CPU with Adreno 220 graphics, together with dual-band WiFi b/g/n, optional HSPA and, eventually, LTE and CDMA, and a battery good for over 8hrs. More interesting, though, is the Touchstone v2 dock.
Processor Dual-core Qualcomm MSM8660 at 1.2GHz
Graphics Integrated Adreno 220 GPUScreen 9.7" XGA 1024 x 768Dimensions 190mm x 240mm x 13.7mmWeight 700g / 1.5lb (estimated)RAM 512MB DDR2Storage 16g / 32g / 64g eMMCCamera Front-facing 1.3mp camera for Video ChatBluetooth 2.1 + EDRWiFi Dual-band 802.11 b/g/nOther Radios Optional WWAN for HSPA, LTE, perhaps CDMA laterSensors Accelerometer, eCompass, Gyro, Light Sensor, MicrophoneSpeakers 2 integrated speakers with Beats Audio, 3.5mm audio jackBattery 24WHr for >8hrs, using two 3150mAh cells
As with the Palm Pre and Pixi, the Topaz will support the Touchstone inductive charging technology, though it will use a second-gen version of the dock that offers far more than simply rejuicing the slate. Instead, it will support wireless picture, site and contact sharing, audio streaming via Bluetooth to a speaker dock, wireless access to mapping and directions, music sharing from a Palm smartphone to the Topaz slate, wireless printing, wireless video streaming to an HDMI/VGA output, and even wireless video gaming via the video dock.
There'll be Flash support and various cloud services – including Snapfish for photos, Melodeo music, HP Cloud Drive and HP Cloud Canvas. The images also show both HP and Palm branding, though it remains to be seen whether that will survive now that Palm has been fully subsumed into its new parent. SlashGear will be at the February 9 event with all the details, so join us there next month!