HP Slate 7 Review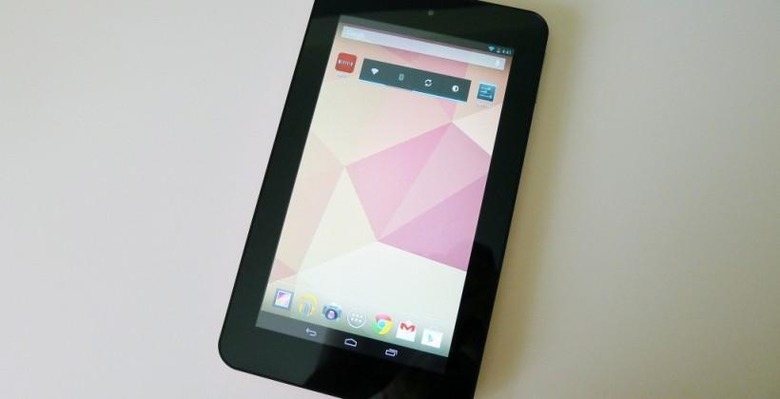 HP's first go-around with a tablet didn't actually go so well. The webOS-based TouchPad didn't last long and was quickly discontinued. However, the company is back with another slate, only this time it's running the more widely-adopted Android operating system, and it seems as though HP wants to give tablets another whack with its first-ever Android tablet, the Slate 7. We took a peek at it during CES 2013 back in January, and it's a metal-infested 7-incher that looks to take on Google's Nexus 7 with a relatively stock user interface in a clean and simple package. Let's see how it fares.
Hardware & Design
Unlike the company's previous TouchPad, the HP Slate 7 is lined with aluminum for a solid build. Of course, that makes it a bit heavier to hold, but with the added weight, it makes it feel more rugged and solid in our hands. Other than that, one of the biggest things you'll notice is the bright red backing that gives the tablet a unique look (it also comes in gray if the red hurts your eyes). Plus, it has a soft-touch grippy texture that feels good in the hand and makes it easy to hold.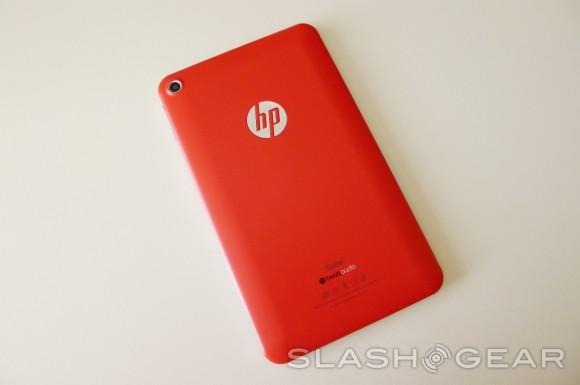 As for ports, the Slate 7 has the usual buffet available: power button on the top; volume rocker on the right side; microUSB jack and speakers on the bottom; and the headphone jack, microphone, and microSD card slot packed in tightly on the top opposite the power button. The positioning of the microSD card is a unique one. Rather than being situated on the side covered by a flap, it sits on the top edge like a slot-load optical disc drive. It's odd at first, but we rather like the design of it.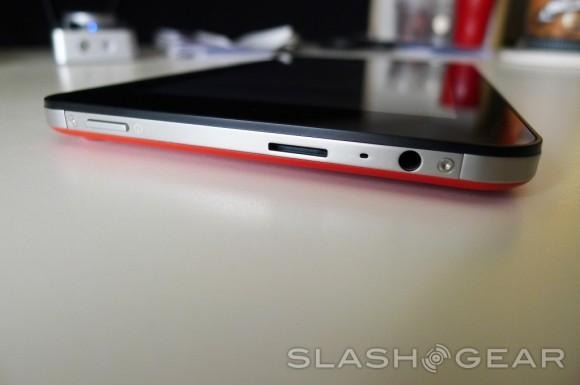 On the inside, the Slate 7 runs on an ARM Cortex-A9 dual-core processor clocked at 1.6GHz paired with 1GB of RAM and 8GB of internal storage. As for radios, you have a WiFi chip and Bluetooth 2.1, which means there's no GPS and not even Bluetooth 4.0, let alone 3.0. Running the show, however, is a fresh version of Android 4.1 Jelly Bean (more on that later), and it's all covered with a 7-inch HFFS LCD display that has a resolution of 1024x600. Yes, the display is rather underwhelming, and the low resolution leaves a lot to be desired, but viewing angles were decent, and I think a lot of casual users won't mind the lower-quality display in the long run.
Software
As previously mentioned, The Slate 7 comes out-of-the-box with Android 4.1 Jelly Bean, so users will get all the bells and whistles in this almost-latest version, including improved notifications, Project Butter performance enhancements, Google Now, and an improved keyboard. The best part is that this tablet is running a rather stock version of Android, so for those who aren't into the custom skins that other Android device makers put on and want more of a Nexus experience, we would suggest at least checking out the Slate 7 while you're dabbling with the Nexus 7.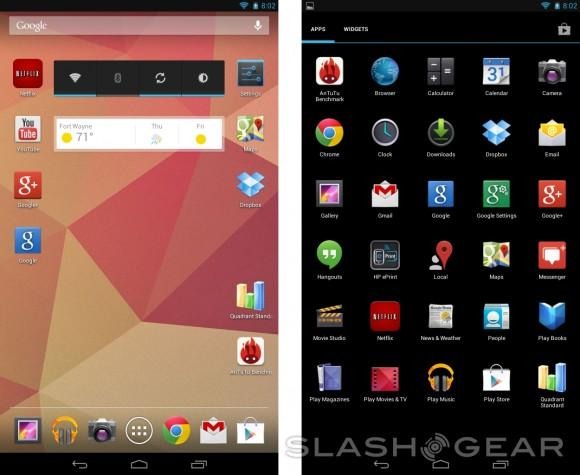 The only bloatware that you'll find on the Slate 7 is an HP ePrint app that you can use to wirelessly print documents from the tablet. However, you have to have an HP printer that supports the ePrint app, so it's not exactly useful in all situations, but it's there for your convenience if you're deep into HP's ecosystem.
Other than that, the Slate 7 comes with Beats Audio, of course, so there's a dedicated Beats Audio control panel in the settings pane, but at this point, Beats Audio integration mostly just feels like a marketing gimmick rather than a real feature that significantly boosts audio quality. There's also custom sounds for the keyboard that HP dubbed over the default ones, which I kind of like, but they can easily be disabled in the settings as well.
Camera
The Slate 7 has a rear camera with a 3MP sensor, as well as front-facing shooter that shoots VGA-quality selfies. Both cameras are fairly poor quality, with the rear camera not having adequate autofocus and extremely bad low-light capabilities. Most of the photos I was able to take lacked any kind of contrast or saturation, and ISO noise was always a big issue. Of course, it works in a pinch if you only have your tablet on hand and need to get a snapshot of something, but don't expect anything great out of the Slate 7's camera. Video quality was the same, as you can see. Although, the more light that you have at your disposal, the less noise you'll get, but we still ended up getting a lot of fogging in photos from the bright sunlight.
Performance & Battery
The HP Slate 7 doesn't rock the fastest internals for a 7-inch tablet, but it at least holds its own against similar slates, most notably the Nexus 7, which the Slate 7 scored almost near to what the Nexus 7 could earn, with an 11,800, compared to the Nexus 7's 12,700 in AnTuTu. However, that's mostly where the surprising figures end.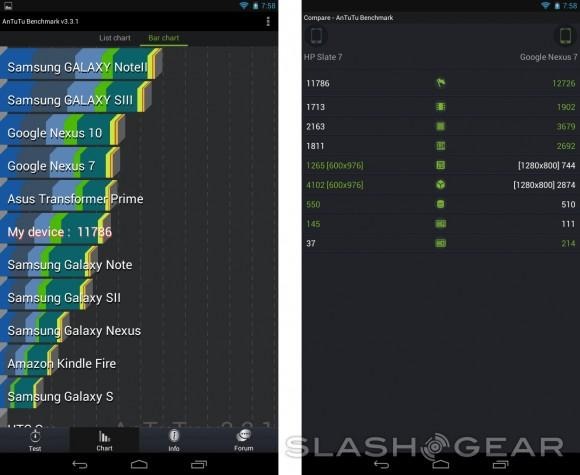 Day-to-day performance of the tablet is pretty sluggish, and I noticed a lot of stuttering on tasks that should be fairly easy to perform, like exiting apps back to the home screen and even rotating the screen to either vertical or horizontal stance. Games are another story entirely. You won't be able to play most of the graphic-intensive titles without a lot of lag and stuttering, and even casual games like Fruit Ninja or Angry Birds had the tendency to show a little bit of slow down.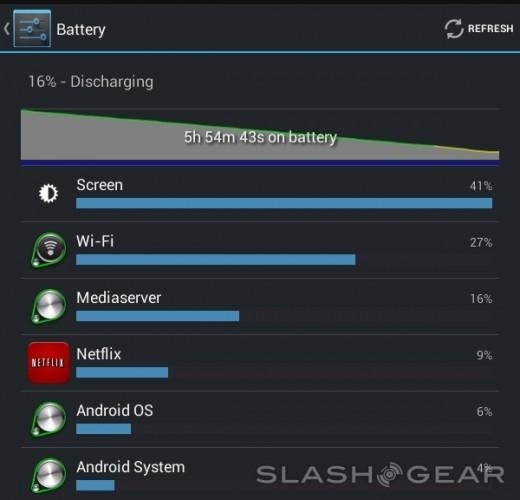 HP says that the battery in the Slate 7 can last for up to five hours, which is pretty disappointing, but we were actually able to get six hours out of it before it hit 15%. This was when we repeatedly playing Netflix television shows on 50% brightness, so we'd reckon if you're just a casual user, you'd get a few more hours out of the battery before it begged for more juice.
Wrap-Up
In the end, the HP Slate 7 is just an OK tablet, and it would be a good option for casual users who don't need the greatest device, but want something just to play around on. It's low $169 price tag is definitely something to keep in mind, but we'd really just recommend saving up only $30 more to buy the Nexus 7. It comes with all-around better performance, a better-looking display, and the latest version of Jelly Bean. If the price of the Slate 7 was lowered to around $149, we'd maybe consider it ($99 would be a deal), but the Nexus 7's extremely-attractive $199 price tag is just simply hard to beat at this point.