HP goes Android with the Slate 7 tablet for $169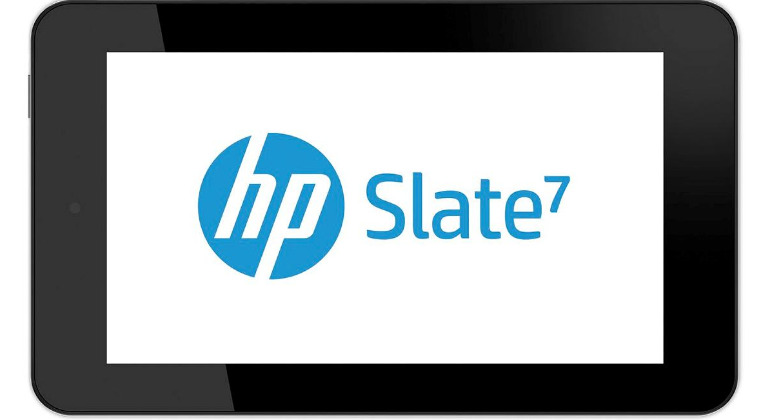 Today in Barcelona, Spain for Mobile World Congress 2013 the folks from HP have officially announced they'll be entering the Android tablet market. A few weeks back there were rumors regarding a high-end Tegra 4 HP tablet in the works, but instead the company is aiming for the 7-inch budget crowd. Today they detailed the all new HP Slate 7 running Android 4.1 Jelly Bean, and it will be available in April.
HP has finally entered the Android tablet market with their new HP Slate 7 tablet. The specs leave a little to be desired in this day and age, but the price should entice a few potential buyers. It's clearly aiming for the Nexus 7 here regarding design and price, and they'll have to compete with the just announced Galaxy Note 8.0 as well.
You'll be working with a 7-inch 1024x600 resolution multi-touch display. Then HP went with an unknown 1.6 GHz dual-core Cortex-A9 processor with 1GB of RAM, instead of the rumored Tegra 4 quad-core. Those two downfalls aside the tablet sounds decent. You'll get 8GB of storage and micro-SD slot for expanded options, and Android 4.1 Jelly Bean is also on board with Google Now. They've added a 3 megapixel rear camera, and VGA front for Google+ Hangouts. Dimensions come in at 10.7 mm thin, 197mm x 116mm, 13.05 ounces, and HP promises 5 hours of video playback.
HP has a well rounded tablet here, but the low resolution could be the achilles heel. This will also be the first Android tablet with Beats Audio integration for superior sound. The build quality sounds top notch and the entire slate is made from stainless-steel. They'll be offering the device in steel silver, black, as well as a red flavor. Today HP also announced their ePrint Android app for printing on the go, and we'll be getting hands-on time with both as soon as possible.
Hopefully HP can complete in this market. They state this is the first step in offering their customers the Google experience, so we have a feeling that rumored top-tier Tegra 4 device could still be in the works. The new HP Slate 7 will be available in April for the low price of $169.