Honda Sports EV Concept has the charm electrification needs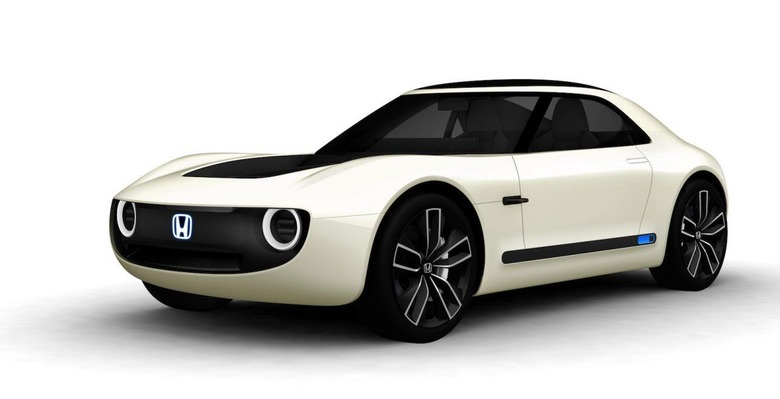 Ask electric car skeptics what turns them off about EVs, and one of the most common criticisms is that electrified powertrains simply lack the emotional appeal of a gas engine. Certainly, there's nothing quite like the roar of a V8, or the increasingly rare burble of a V12 to strum the subconscious, but what if an electric car had charm in some other way? That's Honda's approach with its latest concept, the fairly-adorable Honda Sports EV.
Revealed for the first time at the Tokyo Motor Show 2017 today, the curious little coupe is Honda's latest vision of a future electric car. Details are fairly scant at this point, unfortunately, and the automaker isn't talking about potential drivetrains or performance numbers. We don't even know what it looks like inside.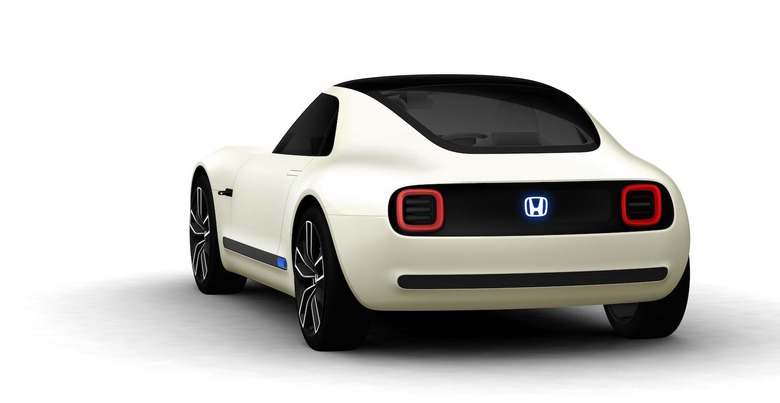 What Honda has said is that it hopes the concept could combine both the performance of an EV with an artificial intelligence. The former is presumably a reference to the instantaneous torque which can prove fairly addictive for electric car drivers. Tesla, for example, has used that to great effect with its "Ludicrous mode" and other performance iterations of its EVs.
As for the latter, that's slightly more nebulous at this stage. According to Honda, the aim is "to realize the joy of driving the user can feel with a sense of unity with the car," presumably meaning some sort of customized, driver-specific assistant much in the way that the Google Assistant promises to deliver timely and personalized information on an Android phone. In the context of an electric vehicle, that might include suggestions on when and where to charge, as well as hints on power-economical driving.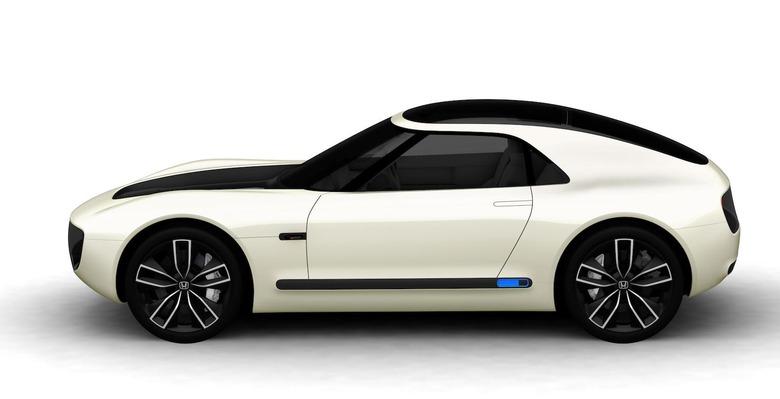 The styling, of course, is the most instantly appealing aspect of the Honda Sports EV Concept. It bears a strong resemblance to the Urban EV Concept which the automaker revealed at the Frankfurt Motor Show a couple of months back, with its cheerfully retro circular headlamps, contrasting black and cream bodywork, and curving lines. It was met with generally positive feedback, and Honda has already said that it plans to make a production version – in some form – within the next two years.
Whether that means we can expect to see a commercial launch for something that looks like the Sports EV Concept at some point remains to be confirmed, though already the early feedback has been glowing. Although Honda has coupe versions of the Civic and Accord in its current line-up, after the demise of the CR-Z earlier this year there's a conspicuous gap where a small, enthusiast's car might sit in the US market. If Honda could bake some of the prototype 4-motor EV action we tried a couple of years back into such a model, it would probably have a hit on its hands.