HERE WeGo Maps App Aims For "Effortless City Navigation"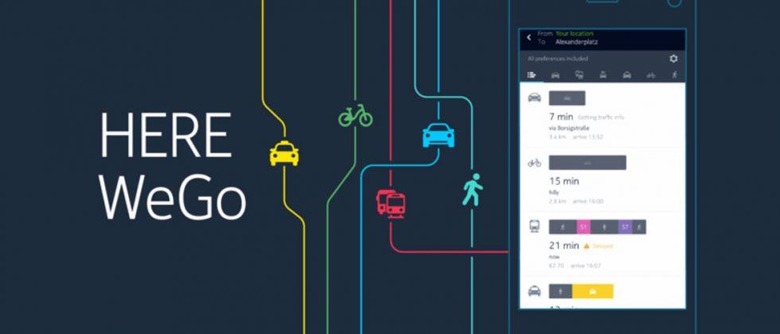 This week the folks at HERE Maps have changed the name of their most prominent app, HERE Maps, into HERE WeGo. This new app is centered on "working out the best way to get to where [people] want to go." This is for people who want to navigate their own city as much as it is for people that are visiting a city they've never been to before. With HERE WeGo, users are invited to type in their destination and are very quickly delivered a variety of routes and means of travel.
This update works with the car sharing group Car2Go, which operates worldwide – and inside the United States in many major cities. A number of major cities also have taxi information for the user's route, including fare, wait time, and a call button. This update also improves the HERE bicycle routing feature – up close and personal!
Above you'll see how this app works. The folks at HERE have made their app experience a smooth one, made to battle not only the giants at Google with Google Maps, but every other mobility app on the market. You'll find the app ready to roll for both iOS and Android in either app store right this minute.
SEE HERE: Why every car maker wants HERE
You might remember the company HERE being part of Nokia. That was indeed a reality before December of 2015, when Nokia sold its mapping unit to German automakers: BMW, Audi, and Mercedes. The company continues today to create a software experience that can be found both in and out of vehicles – HERE WeGo is the biggest update to their app for many months, and represents a change in the way the app and the company are moving.
HERE WeGo is an updated version of the app HERE Maps – you can find this app through maps.here.com – for both iOS (for your iPhone) or Android.