Hennessey VelociRaptor 6x6 Is Six-Wheel F-150 Raptor Madness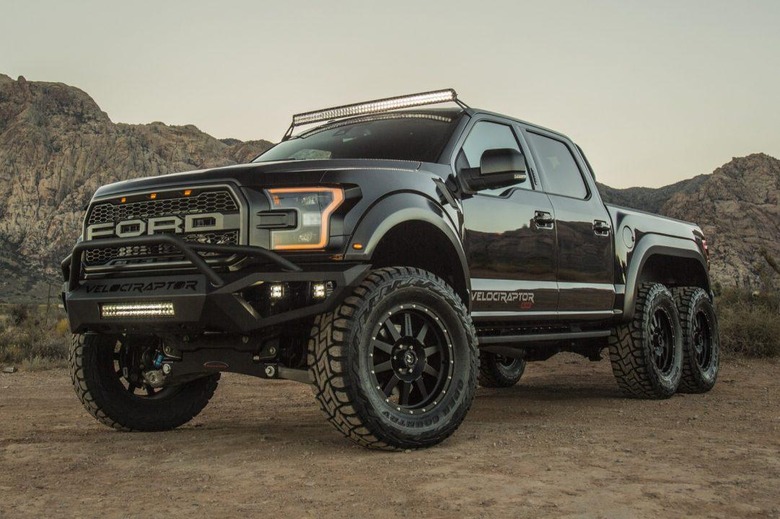 It's hard to imagine a time when Ford's pleasingly over-the-top F-150 Raptor isn't enough, but for those rare occasions tuner Hennessey's six-wheeled upgrade is going into production. The Hennessey VelociRaptor 6x6 takes a "regular" F-150 Raptor SuperCrew and then sets about turning it into something fit for escaping tyrannosaurs in. That means an engine upgrade along with an extra set of wheels.
It was previewed back at SEMA 2017, the annual tuners show, where Hennessey was playing fairly coy about just what its plans for the truck might be. Now, the company has confirmed that it has indeed begun producing the VelociRaptor 6x6, albeit in very small numbers. Indeed, only fifty of the twin-turbo trucks will be produced.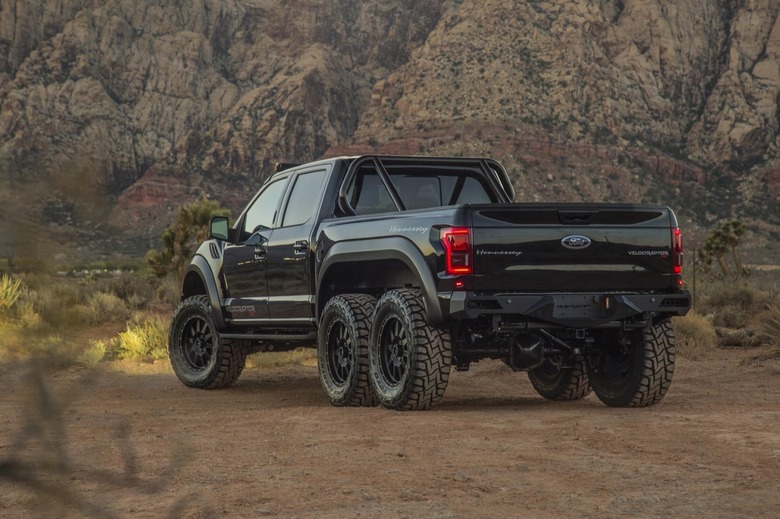 They'll each be something special. The engine gets a twin-turbo upgrade taking it to 605 horsepower at 6,000 rpm, and 622 lb-ft of torque. In contrast, the regular Raptor offers 450 horsepower, and 510 lb-ft. Hennessey says that it's enough to give the modified monster a 0-60 mph time of 4.9 seconds.
The most obvious change, of course, is the extra set of wheels. The tuners add 6x6 locking rear axels, along with upgraded Fox suspension and new 20-inch wheels. The latter are flat with Toyo Open Country off-road tires, and can optionally be equipped with a $22k Brembo brake system that throws in six-piston calipers and rotors.
On the styling front, there are custom Hennessey front and rear bumpers, together with a roll bar and LED lights. The standard Raptor's own styling is pretty in-your-face already, but the tuner's tweaks and modifications only exaggerate that. Custom badging makes it doubly clear that you're driving something special (and ridiculous).
MORE 2017 Ford Raptor SuperCab Review
The result is a truck that is going to be a nightmare to park were you foolhardy enough to take it into an urban area, but which should be plenty of fun out in the wilderness. Unusually, Hennessey is even backing things up with a three year/36,000 mile warranty. The truck is even being sold through select Ford dealers.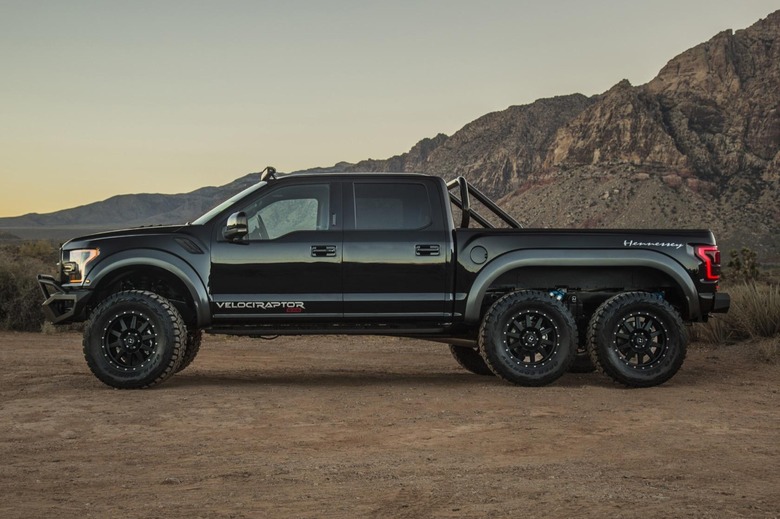 How much will this madness set you back? $349,000 gets you the VelociRaptor 6x6 (including the cost of the donor Raptor), considerably more than a stock four-wheeled version off Ford's lot would cost you or, indeed, the already expensive (and limited edition) 2018 Shelby Raptor with its 450 horsepower. Still, you're unlikely to see another on the road.