2017 Ford F-150 Raptor SuperCab Review: Really trucking good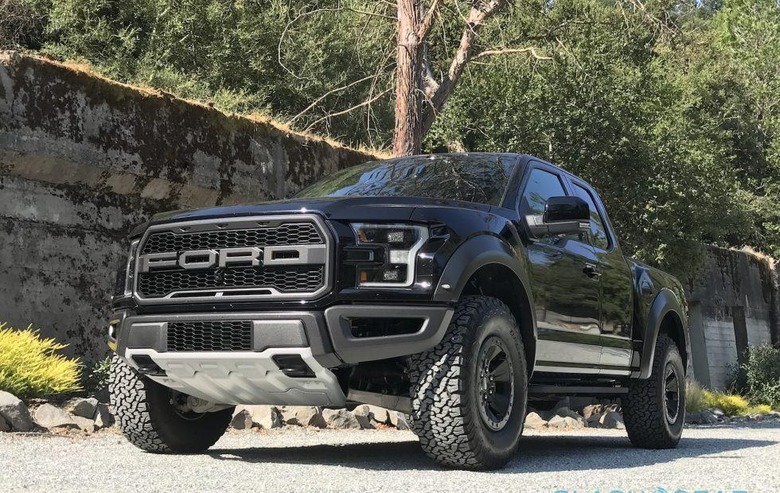 EDITORS' RATING: 8/10
The impractical is often entertaining, and little is greater evidence of that fact than Ford's F-150 Raptor. The performance truck dropped jaws back in 2010 with its first generation, and then kept mouths gaping ever since with its combination of America's best selling pickup and more horsepower in each subsequent generation. If you think that makes it misunderstood, you're not wrong.
We'd already reviewed the Raptor in SuperCrew form earlier in the year, and though the potent 3.5-liter V6 twin-turbo is just as entertaining as our off-roading experience with the truck, there's no denying that its sheer scale isn't entirely compatible with urban use. Five seats and four full-sized doors are great if you have a crew full of people, but at over nineteen feet in length it's hardly parking lot friendly. While that may seem like killjoy criticism in the face of a truck that can keep up with sports cars in a straight line, it becomes a whole lot more relevant when you're inching between the white lines cringing at the thought of wiping out parked cars.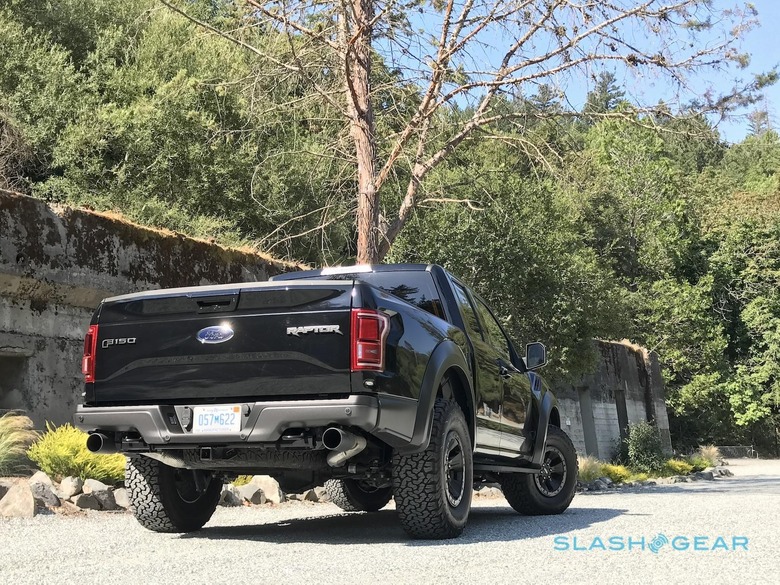 The 2017 Ford F-150 Raptor SuperCab is a compromise, therefore. You still get seating for five, and four doors; those at the back are rear-hinged, and require the front doors be opened first. You're left with a wide open space by which you can climb up into the truck. With the back doors hinging open a full 170-degrees, it's arguably even more flexible than traditional doors would be.
More importantly, it's about a foot shorter than the SuperCrew. Certainly, at 18 feet 4 inches, it's still no city runabout, and you have the 7+ foot width to take into account too (and that's not including the sizable side mirrors) but every little helps. You also save $3k and, personally, I think the SuperCab proportions look better too.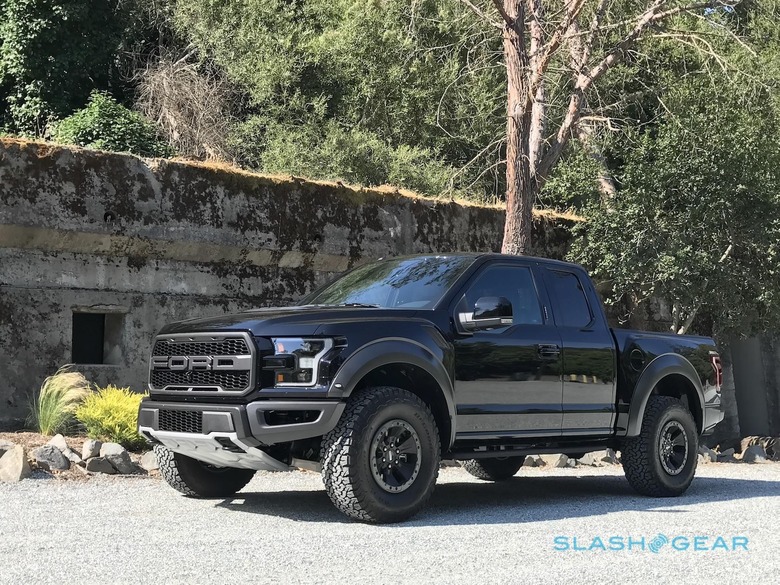 Have I been practical enough yet? Probably. The Raptor's raison d'être has always been confounding expectations. It's the truck that can embarrass mainstream performance cars on the asphalt, and then go bounding away over ridiculous terrain right after. 17-inch wheels shod with vast LT315/70R17 BSW All-Terrain rubber; all the outlets, hitches and tow hooks, and trailer control you'd need for a work site; and then 450 horsepower and 510 lb-ft. of torque to get you home after.
I'm a softly-spoken, 5'8 British man, but behind the Raptor's wheel the truck's bellow and bluster had their way with me. Traffic parts like startled minnows as the blunt grille with its oversized Ford emboss appears in the rear-view mirror. I'm not saying the Raptor makes you a thoughtless or selfish driver, but since it went back I've definitely missed its ability to cut a swathe through other road users.
Freeway lanes are just wide enough that you don't need to perpetually worry about the truck's width. Jab your right foot, meanwhile, and the 10-speed automatic shifts down eagerly while the turbos spool in a hot second, throwing the Raptor forward in a way that initially seems at odds with physics but subsequently becomes highly addictive. 0-60 mph comes in 5.3 seconds, all the more disturbing when you're in something weighing 5,525 pounds.
Performance in a straight line is one thing, but there are clear reminders that you're in a tall truck with off-road suspension should you push too hard in the corners. Snaking down a mountain back-road made up of rapidly descending sharp turns, the sound and feel of the Raptor's tail end squirreling and twitching was more than enough to have me lifting off the gas. Getting the rear out may make for excellent photos if you're in the desert, but on public roads it just means you stand a good chance of swiping whatever's unfortunate enough to be in the next lane.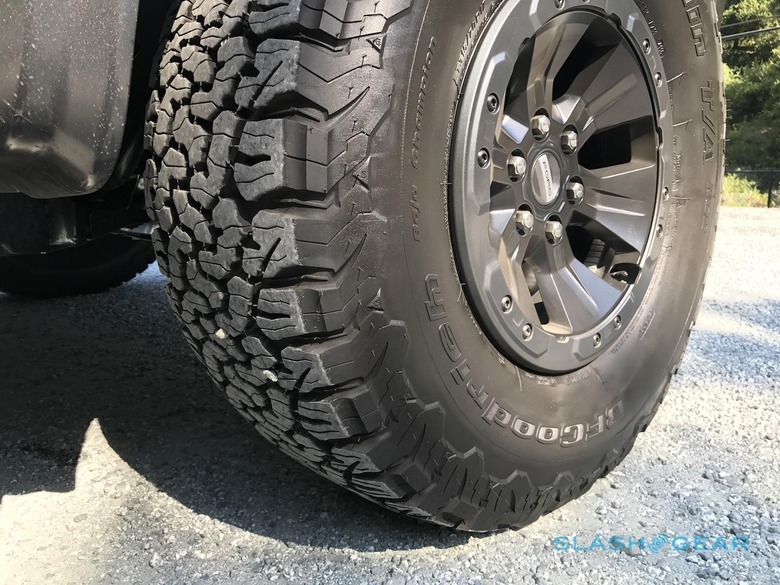 It needn't be 24/7 madness, mind. In Normal drive mode, it's as easy to pilot as a regular F-150; like that, the rise in quality of Ford's interior have left the truck a surprisingly pleasant place to be, particular for long-distance cruising. The $1,950 Raptor Technology Package adds adaptive cruise control among other things, but Ford SYNC 3 Connect is standard, as is an essential 360-degree camera, automatic climate control, remote start, and navigation. Comfortable seats – extra supportive for that Raptor bounce – and plenty of storage nooks, bins, and cubbies add to the practicality.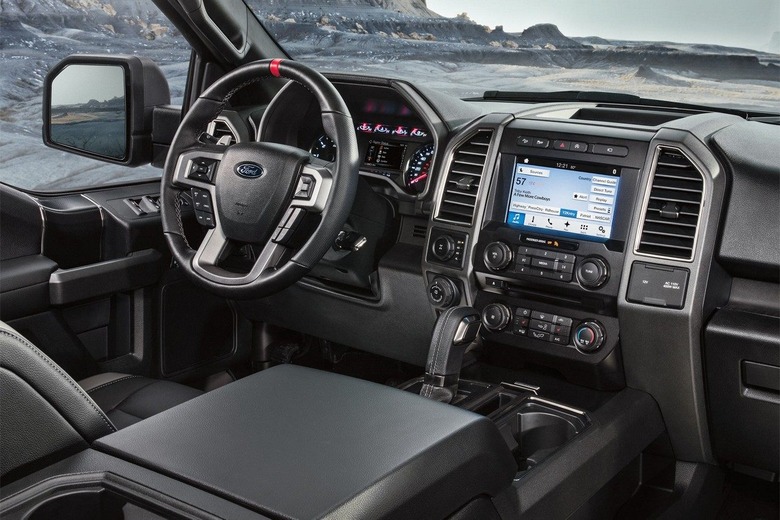 Sport mode is more playful, and where I spent most of my time. It offers a good balance between releasing the beefy EcoBoost from its shackles while still preserving some everyday control. Baja mode is a Raptor exclusive and basically keeps the truck in max-performance readiness at all times. So much as nudge the throttle and the gearbox snaps down, the engine howls, and the whole thing surges forward in anticipation of a towering sand dune.
Honestly, I question how many Raptor owners will actually take their shiny performance truck into that sort of terrain. In fact, it'd be easy to dismiss the whole thing for that very reason. The Raptor is fast, but a proper sports car will leave it behind when the first corners show up; it's pickup-practical, but a regular F-150 is narrower, and can be had with a larger bed. If you're not going off-road, and putting that epic combination of suspension and power to the test, what's the point?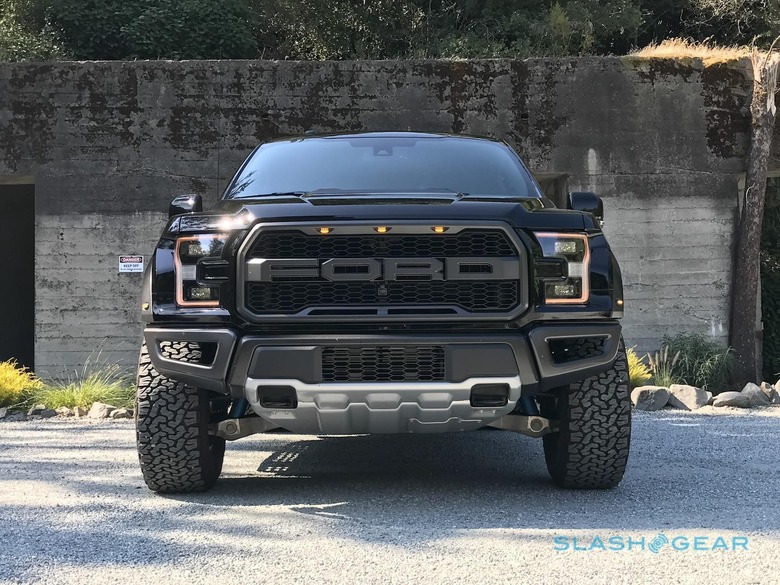 MORE We took the F-150 Raptor off-roading, and it was epic
Such a sensible question. And yet, even though I can't really argue with the premise, I find myself in total disagreement. The Ford F-150 Raptor is ridiculous and unnecessary in much the same way that a supercar is ridiculous and unnecessary, and yet, far from stopping you from wanting it, that only cranks up its appeal.
At $62,850 as tested (with a base price about $14k beneath that) the Raptor is actually a more affordable chunk of crazy than most covetable performance cars. For selfish reasons I'm glad the streets aren't full of them: it's not especially nice to be the one staring up at the towering truck, rather than staring down from it. All the same, I'm very glad that it exists.