Hang on, Nokia's Lumia 920 only records mono video?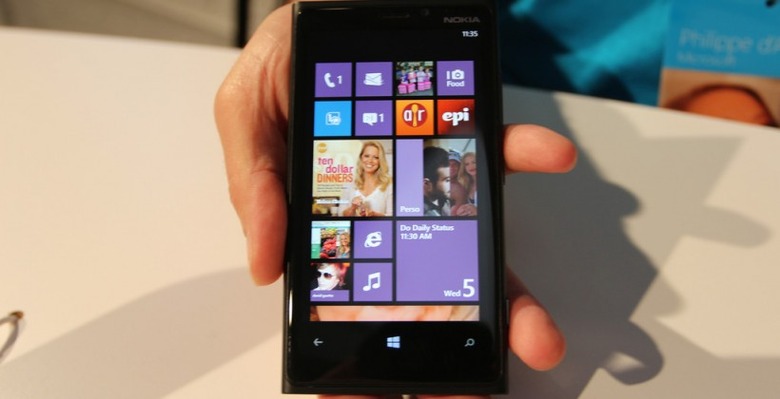 Nokia's Lumia 920 may be focused on photography with its PureView-branded camera, but the Windows Phone 8 handset's Full HD video recording will only store mono sound, despite an advanced microphone array. Detailed specifications shown to SlashGear yesterday confirmed that the Lumia 920 has three of Nokia's special High Amplitude Audio Capture (HAAC) microphones, co-developed by the company for the 808 PureView and delivering audio recording more akin to what the human ear can hear. However, according to Nokia's photography chief, the Lumia 920 won't actually record stereo sound.
Damian Dinning, lead program manager of Imaging Experience at the Finnish firm, revealed the odd decision on Twitter, saying that "in terms of audio recording, the difference is mono in the [Lumia] 920 vs 808 [PureView] which is stereo." Questioned about the disparity, Dinning revealed that "the mic and HAAC and hi-fi quality is the same as the 808, but limited to mono."
It's unclear at this stage whether that means a new, mono-breed of Nokia's Rich Recording technology, or if the company is skipping that branding altogether for the Lumia 920. Either way, it's an unusual decision given the photography credentials Nokia is attempting to push with the new flagship phone, which uses a special "floating lens" system to deliver optical image stabilization, among other things.
The one saving grace could be the fact that software, not hardware, looks to be the reason for the mono recordings, and that means Nokia could potentially address that with new firmware. Dinning himself points out that his comments on the Lumia are "based on launch SW and are intended as a general summary" though he insists that "audio will most probably sound better than anything else" even in mono.
We've got a request in with Nokia for more details, and will update if we hear more. Meanwhile, check out our extended PureView play on the Lumia 920.
[polldaddy poll=6513005]