Grand Theft Auto V promo artwork confirms spring 2013 release [UPDATE]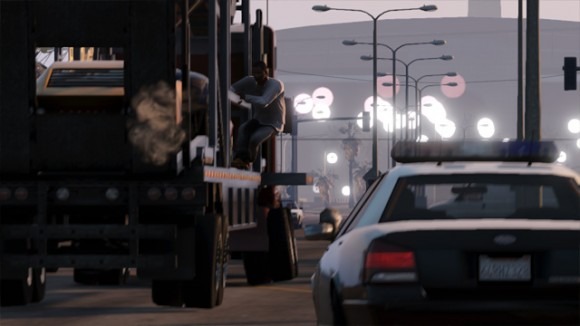 Rockstar Games is still staying quiet about a release date for their upcoming Grand Theft Auto V title, but a UK game retailer seemed to have accidentally posted up a photo of some promotional artwork of the game that had "Spring 2013" printed on the materials. The retailer originally tweeted the photo, but the tweet has since been removed.
All we've seen of Grand Theft Auto V so far is just a bunch of screenshots, with no other details to go along with them. UK retailer GAME tweeted out to its followers that Grand Theft Auto V was now available for pre-order and posted a photo of some promotional artwork of the game. GTAV isn't officially available for pre-order just yet (or so Rockstar hasn't given the thumbs up yet), so GAME ended up deleting the tweet, but their pre-order page is still live with a release date "TBC-2013."
UPDATE: Rockstar Games has officially announced Spring 2013 as the release window for Grand Theft Auto V on its website.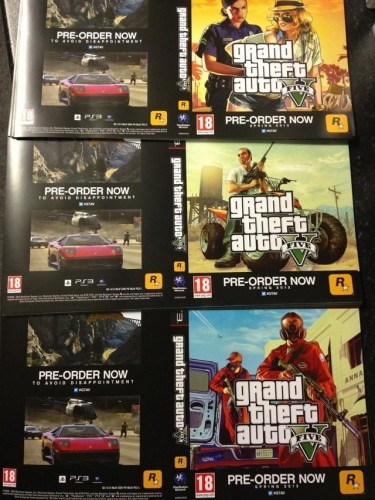 However, come December, we'll surely find out more info about the game. The December issue of Game Informer will have Grand Theft Auto V on the front cover and it will be the issue's main story for the month. The issue will no doubt have even more screenshots, and it also might be the time where the developer announces pre-orders for the game.
The leaked promo materials don't just show us the release window, but they also show off some artwork that we haven't seen yet, such as a guy sitting on a four-wheeler as well as a couple of guys holding machine guns with gas masks on their faces. Could it be that we may see more weapons and possibly chemical warfare component in the GTAV? We'll have to wait and find out.
[via IGN]