GoPro MAX 360 Camera Aims To Fix Fusion's Failings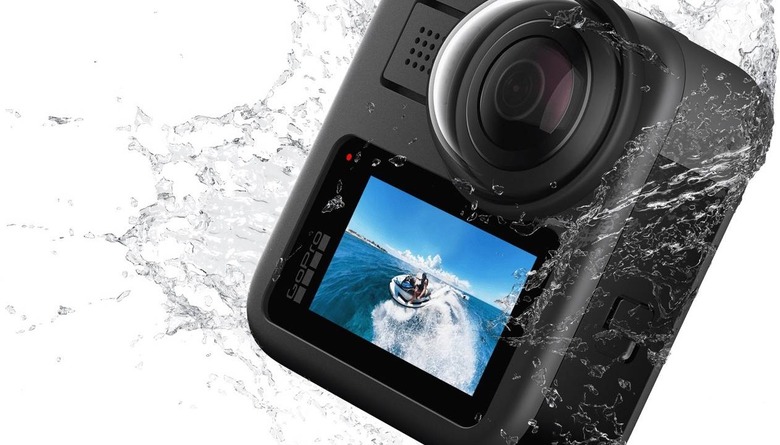 The GoPro HERO8 Black isn't the only new model from the action camera company today, with the GoPro MAX rebooting the 360-degree video idea first tried with the GoPro Fusion. Two cameras, one on each side, allow the GoPro MAX to both shoot 360 and regular HERO-style video and photos, as well as power what GoPro is calling "unbreakable stabilization."
It's been dubbed Max HyperSmooth, and it only works when you're using one of the cameras. Since that's capturing in 180-degrees, it unlocks a huge buffer for use in digital stabilization. There's also in-camera horizon leveling.
Four digital lenses can be switched between, and there's a new Max SuperView setting for the broadest view possible. PowerPano, meanwhile, shoots 270-degree panoramic photos without actually having to physically move the camera. There's also a Max TimeWarp mode, which automatically adjusts the speed based on factors like motion, scene detection, and lighting.
It'll work in both 360 and HERO modes, too. The GoPro MAX can shoot in 6K30 360 video, 1440p60 and 1080p60 HERO video, 5.5MP HERO photos, and 6.2MP PowerPano photos. It also packs six microphones, for 360-degree or stereo audio, depending on the type of video you're capturing. It's also possible to use directional audio, capturing sound from one side of the camera specifically.
In-camera stitching puts together the 360-degree video from the two cameras, and you can edit it in the GoPro app. That's also where you can find the Reframe feature, which creates traditional video and photos from 360 clips. 1080p Full HD live streaming is also supported.
Like the HERO8 Black, there are folding mounting fingers built into the bottom of the camera. That means no frame is required to use the GoPro MAX with a mount. It's also waterproof, to 16 feet, and supports twelve voice commands. GPS is baked in too.
On the front, there's a touchscreen to more easily frame shots and control the various modes. Really, though, GoPro is pitching the MAX as the best of both worlds – a 360 camera and a regular action camera – with super-simple controls to get going ASAP when you need to capture not mess around with settings and such.
It's fair to say that, despite GoPro's efforts, Fusion never really caught on as the company hoped it might. A hefty price tag certainly didn't help there, along with absent features like an on-camera preview display, while software headaches made actually extracting and using what footage was captured trickier than it needed to be. They're all areas this new camera aims to address.
The GoPro MAX is available for preorder now, priced at $499.99. It's expected to begin shipping on October 24 internationally, and from October 25 in the US.