GoPro HERO8 Black debuts HyperSmooth 2.0 plus Mods add-ons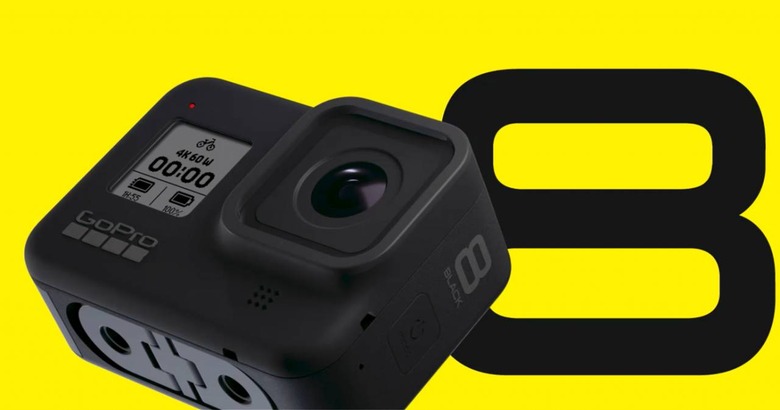 There's a new action camera in town, with the GoPro HERO8 Black arriving with the company's second-generation HyperSmooth 2.0 stabilization and new GoPro Mods. GoPro has also added an integrated mount, so that you no longer need a frame in order to attach the camera to a bracket or similar.
As you'd expect there's up to 4K60 video support, or 1080p240. The HERO8 Black also offers 1080p Full HD live streaming over WiFi, together with 12-megapixel still capture.
There's a RAW mode, together with up to 8x slow-motion capture. TimeWarp 2.0 adds automatic rate adjustment and tap-control speed ramping, making super-speed videos more straightforward as the HERO8 Black can automatically figure out the best rate. HDR has been improved, too.
It's HyperSmooth 2.0 that may get the most attention, however. That now adds multiple levels of stabilization, and includes in-app horizon leveling too. It also now works in all resolutions and at all frame rates.
There are now four virtual lenses to choose between on the HERO8 Black: Narrow, distortion-free Linear, Wide, and SuperView. Audio has been improved too, GoPro says, with better wind suppression, while there's voice control with fourteen commands.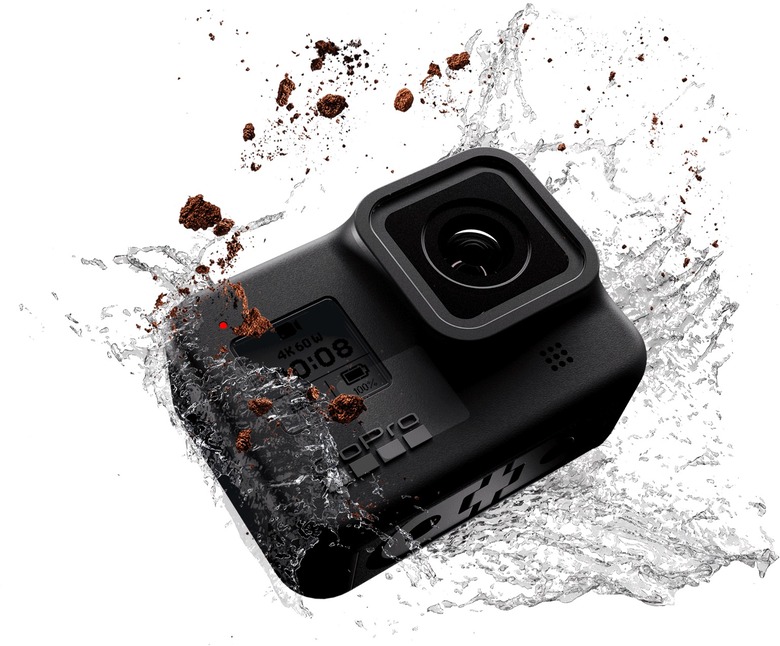 The HERO8 Black is now waterproof down to 33 feet (10 meters), but the big hardware improvement is the frameless design. Previously, if you wanted the two "tabs" to attach a GoPro to a mount, you'd need to lock it into a frame first. The HERO8 Black integrates that frame into the body of the camera, with folding mounting fingers.
The GoPro HERO8 Black is priced at $399.99 and is available now. The GoPro HERO7 Black and HERO7 Silver remain on sale, meanwhile, at $329 and $199 respectively.
GoPro Mods
The other big hardware change for the HERO8 Black is the introduction of GoPro Mods. We've seen third-party accessory makers offer add-ons for GoPro cameras before, and now GoPro itself is doubling-down on that.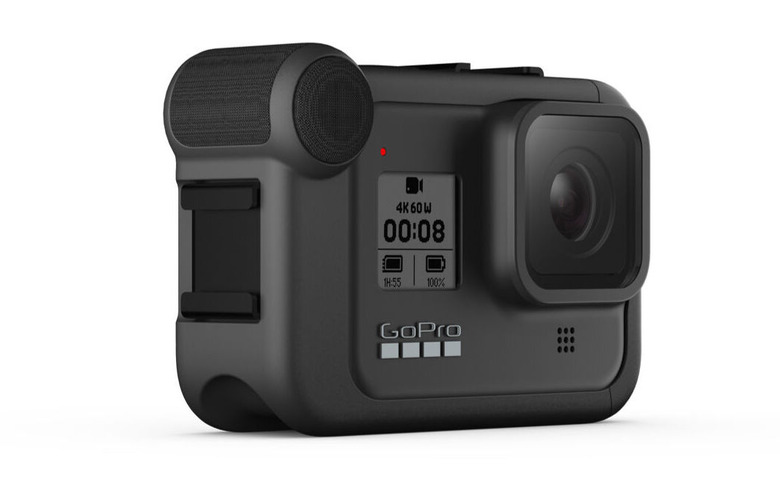 Initially, there'll be three options: a Media Mod, Display Mod, and Light Mod. The $79.99 Media Mod adds what GoPro is describing as "shotgun-mic performance" with an add-on microphone, as well as a 3.55mm mic and HDMI-out ports. There are also two cold-shoe mounts.
The $79.99 Display Mod adds a flip-up screen, so that you can see what's going on from in front of the lens. It's likely to be popular with vloggers. Finally, the $49.99 Light Mod is an LED light block that fits to the top of the camera, or can be used independently.
Cleverly, multiple Mods can be used at the same time on a single camera, rather than having to choose just one to use at each time. All three are up for preorder now, and are expected to ship in December.