Google's ADT-3 Android TV dev kit released for $80: Why to avoid it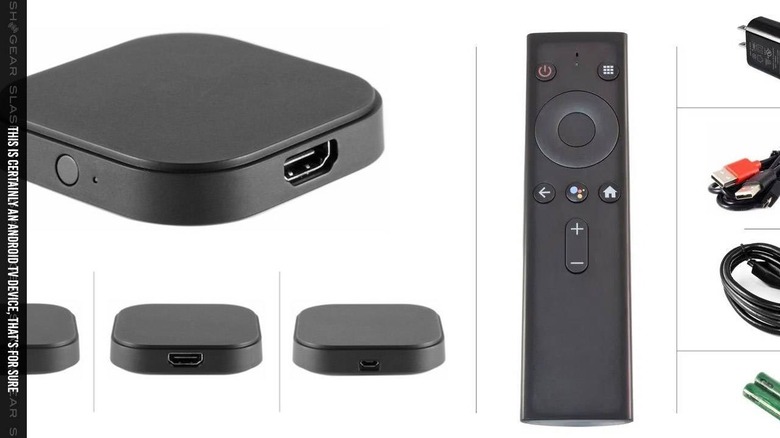 Today we're looking at the first version of the ADT-3 Developer Kit, an Android TV streaming media player device made with plans from Google by Askey, an ASUS subsidiary. This is not a device that's aimed at consumers – but you'll find consumers buying it anyway. Here's why you should avoid this device – and get something else instead.
The ADT-3 Developer Kit is an Android TV streaming media player. It connects to the internet and outputs media through an HDMI cord, like a gaming console (Xbox, PlayStation), a Blu-ray DVD player, or a desktop computer. This device is made specifically for developers to "validate their applications on the latest version of the OS."
Right out the gate, this device runs Android 10 (Android TV style) and is certified to pass CTS, GTS, and VTS. It's not meant to be a powerful example of what the platform can do – it's just meant to be a testing ground for opening and running Android TV apps.
Google/ ASKEY ADT-3 Streaming Media Player Specs:
• SoC: Amlogic S905Y2
– CPU: Quad-core 1.8 GHz (ARM Cortex-A53)
– GPU: ARM Mali-G31 MP2
• RAM: 2GB
• Internal Storage: 8GB
• Resolution output: Up to 4K Ultra HD
• Wi-Fi: IEEE 802.11ac (2.4GHz / 5GHz) 2T2R
• Bluetooth: BLE 4.2
• Connector: 1 HDMI 2.1 Port • 1 Micro-USB Port
• Interface: 1 Bluetooth Pairing / Recovery Button
• LED: 1 (Red / Green) Status Indicator
• Dimensions: 2.72 x 2.72 x 0.59 in • 69 x 69 x 15 mm (W x D x H)
• Weight: 1.76 oz • 50 g
ADT-3 Remote Control Specs:
• Voice Assistant Support: Google Assistant
• Bluetooth: BLE 4.2
• LED: 1 (Red) Status Indicator
• Dimensions: 5.91 x 1.54 x 0.75 in • 150 x 39 x 19 mm (W x D x H)
• Weight: 2.10 oz • 59.6 g
Google suggested that this device would not be for consumers when they first introduced it in late 2019. Askey also suggests that consumers should not use this device – specifically they suggest that the device "is not intended for consumer use and should only be used by developers." While it may have been created much in the same way an old Google Nexus smartphone was back a half-decade ago, this new device is not meant for public use.
This device is basic. It comes in a box that has the bare minimum in simple (yet effective) graphic design, and it's certainly not meant to be seen on retail store shelves. You might instead want to look to the NVIDIA SHIELD Android TV if the most excellent Android TV device is what you're after.
But if you've read all of what's written above and you're STILL thinking this might be the device you want – maybe you're a developer, for example – you'll want to head over to Askey. There you'll find the device available for approximately $79 USD right this minute.