Google Wallet Tipped To Hit Nexus S 4G Today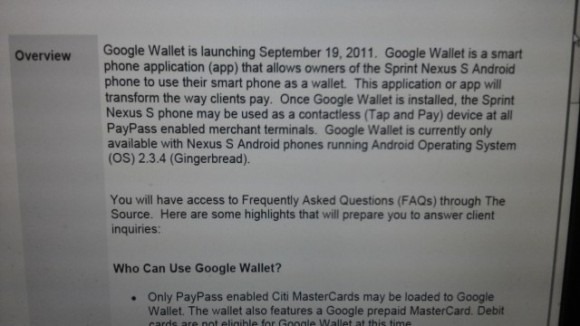 Google Wallet, the wireless payments system the search giant unveiled back in May, could well officially launch today according to a new leak. A document reportedly being sent to Google's payment partners, and leaked to TechCrunch, suggests that the NFC-based mobile money service will be enabled for the Nexus S 4G sometime on September 19.
However, it's unclear if the CDMA handset will be the only device to support Google Wallet at the service's launch. Previously, Google has promised that other Android devices will gain access to the functionality by using NFC stickers, though there's no mention of that option in the leaked memo.
Users will need a PayPass-enabled Citi MasterCard in order to register with Google Wallet; from that point, they'll be able to monitor their transactions using the free app and make payments to vendors and other Google Wallet users simply by tapping their phones together. More details on the payments process here.
There's speculation that Google's launch is timed to coincide with NFC World Congress, which as the name suggests is a show with short-range wireless as its theme. That begins today in France, and though Google is not a listed exhibitor, MasterCard is the official sponsor of the show.
[via Android Community]