Google September 29th event confirmed: New Nexus incoming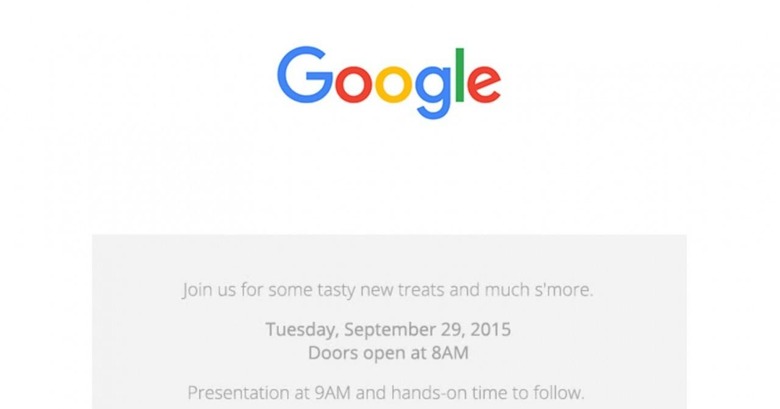 Google will hold an event on September 29, inviting media with the tagline "Join us for some tasty treats and much s'more." The launch, which had first been rumored earlier this month, is expected to feature new Nexus hardware, along with a few other tidbits.
The headline launch is more than likely to be a pair of new Android smartphones, slotting into Google's Nexus range. Said, courtesy of a leak earlier today, to be the dubbed the Nexus 5X and Nexus 6P, Google is believed to have turned to two OEMs – LG and Huawei – for manufacturing duties.
Huawei's phone, the Nexus 6P, is said to have a 5.7-inch display. LG's Nexus 5X, meanwhile, will have a smaller, 5.2-inch display.
Photo leaks of each have tipped a fingerprint scanner, likely adding biometric security to Android Pay, with the Nexus 5X also apparently having the laser focus system LG has previously used on its own handsets, such as the G4.
However phones aren't the only things likely to turn up on September 29.
A new Chromecast has also leaked recently, said to be faster – as well as larger – than the original streaming stick. It's believed to be accompanied by Chromecast Audio, a second dongle which will focus on wirelessly-enabling speakers for Sonos-style streaming music.
Whatever the news – and any surprises Google might have – we'll be there to bring back all the details on September 29th. The event kicks off at 9am PT.