Google+ is dead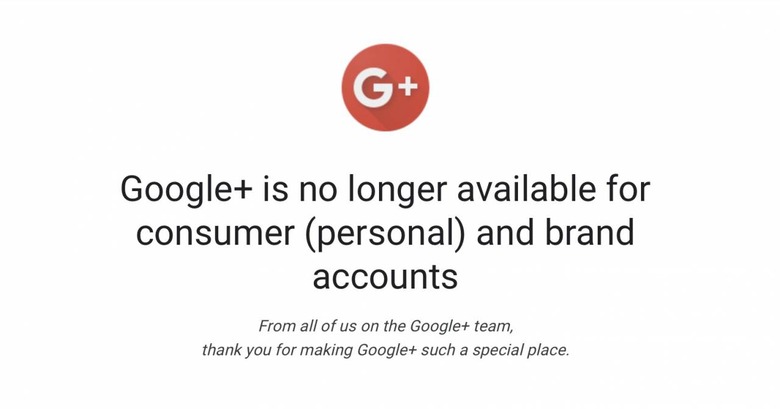 The day of reckoning for Google+ has arrived, with the little-loved – and oft-mocked – social network shutting down, at least for individual accounts. Google signed the Google+ death warrant last year, initially planning to give the remaining loyalists until August 2019 before the plug would be pulled.
An embarrassing security lapse blamed on Google+ APIs accelerated that process, however. In December 2018, Google confirmed that the shutdown would be brought forward to early April 2019 instead.
Ironically, that security goof underscored Google's reasons for ending Google+ in the first place. The social network had simply failed to get traction, despite several pivots and redesigns, and Google decided it was taking up too many resources to maintain. Part of that was the security aspect, with staff on the project better utilized elsewhere, Google said.
Despite a petition begging for a Google+ reprieve, as of today the social network has closed down for the final time. Business and enterprise users will still be able to access it, as Google is repositioning Google+ as a work tool for closed group collaboration. However everybody else will find they can no longer access their posts, circles, or media.
If you still have data saved or shared on Google+ that you would like to keep, Google's data export system can make a copy of that. The official advice was to get that started from late March, since the download process can take some time. However as of time of publication the system was able to make a backup for us, even though Google+ had officially closed its doors.
Still, it's better to act fast if you're interested. "We are in the process of deleting content from consumer Google+ accounts and Google+ pages," the company warns. "This process will take a few months to complete, and content may remain through this time."
While Google+ itself may have been a failure from a consumer perspective, that's not to say its impact hasn't been lasting. One of Google's most popular products, Google Photos, was spun off from a Google+ feature initially, for example. The Google+ chat system has been instrumental in shaping Google's instant messaging options.
That wasn't enough to encourage enough actual users of the social network, however. By the time Google made the decision to shut it down, 90-percent of Google+ user sessions amounted to less than five seconds in length. Users simply weren't interacting with the Google+ app in any meaningful way, and developers had abandoned the platform.
Meanwhile Google's attempts to force adoption, like tying Google+ into the commenting systems for YouTube and other services, had only turned users off even more.
"Google+ is no longer available for consumer (personal) and brand accounts," the site says as of today. "From all of us on the Google+ team, thank you for making Google+ such a special place." Whether Google has another attempt in mind at the difficult social networking space remains to be seen.