Google Pixel 4 last minute details leak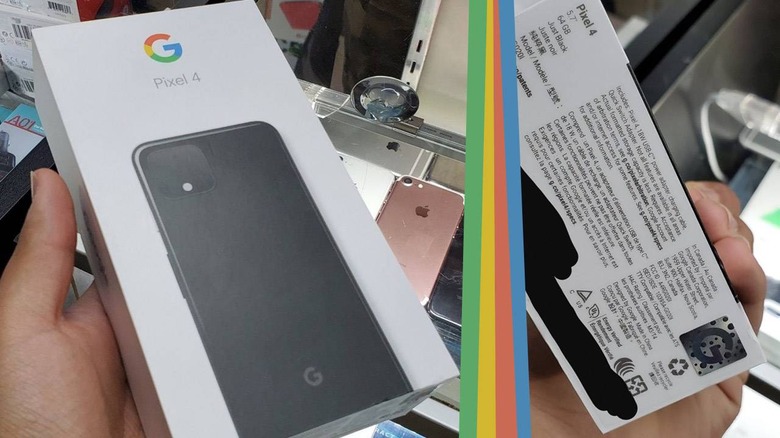 Today we're taking a peek at a few more details leaked just before the official launch of the Google Pixel 4 and Pixel 4 XL. The larger and smaller devices will likely be headlining the big event tomorrow in New York, where Google will reveal a collection of Google-made devices. Today we're getting a look at a variety of pre-launch details, including box design and launch pricing.
Today the Google Pixel 4 launch box appeared in a leak on Reddit from mseven97. The images seem to appear in Canada – or at least the box appears to be intended for Canadian retail, per its mention of Canadian import and its use of French as the secondary language for box contents. This box also shows that this is the 5.7-inch Pixel 4 with 64GB internal storage in "Just Black" color – that's black with a white power button as an accent color.
The back of the box also shows a clear(er) view of the camera array, which includes two lenses, an LED flash, and at least one other sensor. We've learned just a bit about this array of cameras in previous leaks, front and back cameras included. Low light photos should look even better than on previous Pixel devices, and the camera is apparently able to capture stars – not that other cameras cant, with proper exposure settings, but still – neat!
Starting prices of the Google Pixel 4 and Google Pixel 4 XL were rumored at approximately $799 and $999 respectively. This is very similar to launch pricing of the Google Pixel 3, which was set at $799 and $899. The difference may be only in the XL model – or it could be that rumors were wrong, and the Pixel 4 (non-XL) could get a price kick up to $899 for starters – but we shall see!
A higher set of prices could well be offset by the eventual release of the Google Pixel 4a, which was rumored to be released in 2020 in Q1, not unlike the launch of Pixel 3a in 2019. Meanwhile the Pixel 3a will likely remain on sale in the Google Store online and in some physical retail locations.
We'll be live in-effect at the big event tomorrow. This event will start at NOON Central time – that's 1PM Eastern Time, 10AM Pacific Time. You'll also be able to watch the entire event in the embedded YouTube video above this paragraph!