Google Nexus Tablet Tipped In Samsung Codes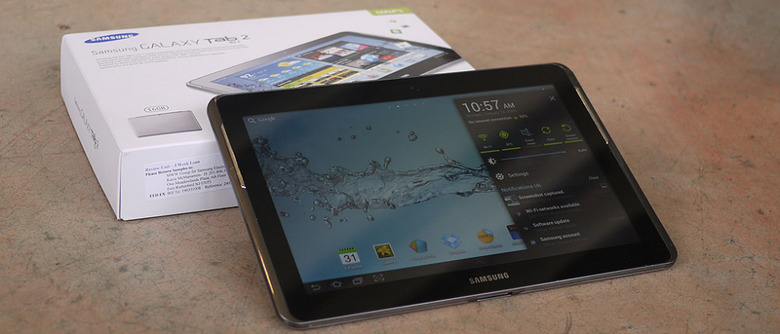 There's a whole new wave of evidence this week being revealed by none other than Google that points toward them working with Samsung on the next Android Nexus tablet. A Nexus device, for those of you that do not know, is a device that works with Google's Android in its most basic "vanilla" iteration, and with the evidence we're seeing today, we may be looking at a Samsung tablet released this summer as the next step. This next Nexus tablet will be the first tablet actually branded as "Nexus" but will be the second released in close collaboration with Google made to show off the next big version of Android, the first being the Motorola XOOM tablet which showed off Android 3.0 Honeycomb.
This next generation Nexus tablet has been tipped today via Google's source codes being worked on by Google and Samsung, kernel codes being shown off as working with Samsung's Exynos processors. This tablet has been tipped as having a Exynos 5250 (Dual core A15) and Mali T-604 graphics clocked at up to 533mhz (codename: vithar). Tipster Rawat lets us know the following information as well, as discovered in his exploration of the codes at hand:
"From poking around the kernel commits, the device they're working on together features an Exynos 5250 (Dual core A15), with Mali T-604 graphics clocked at up to 533mhz (codename: vithar). For reference, the Mali 400 found in Galaxy S II / Exynos 4210 is clocked at upto 266mhz. SGS III and Exynos 4412 feature a Mali 400 clocked higher, and _that_ GPU comes top of the smartphone benchmarks besting even the iPhone 4S, so this should be much better." – Rawat
In addition, the display has been discovered to be model number S6E8AB0, this mentioned by @Codeworkx today in a tweet as having 1280 x 800 pixel resolution, this also being a Super AMOLED panel for ultra-brightness. The back of this device will have a model S5K4E5 5MP BSI rear camera with Wolfson Micro wm8994 for sound inside (mentioned by Rawat as also being found in the Galaxy S and the original Galaxy Tab). All of these specifications add up to a rather tame tablet fully prepared to be the next Nexus tablet, and we'll almost certainly see it popping up this summer at Google I/O where we'll get one for free! Here's hoping!
This information, again, comes from tipster Rawat – thanks man!