Google Nest Wifi leaked for Pixel 4 event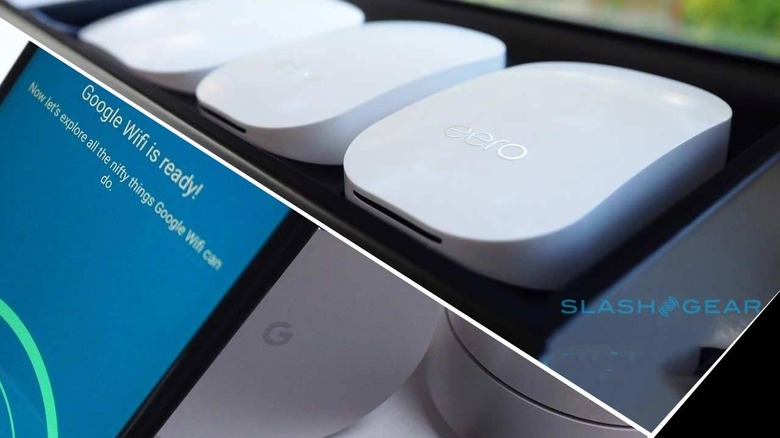 The Google-made device called Nest Wifi was leaked this morning with a few details on expansion. Nest Wifi will require a single base router and at least one (and likely several) beacons. Nest Wifi will reportedly be like other mesh wifi systems, but with the added benefit of microphones and speakers on each beacon for use with Google Assistant.
According to anonymous sources, Google will utilize an Eero-like package for Nest Wifi. That's the Eero Mesh Wifi system like we reviewed back in June of 2017. Fast forward to March of 2019 and Amazon acquired Eero.
Google's continued focus on this type of system and the Amazon acquisition of Eero earlier this year suggests that home-based mesh wifi networking hardware is here to stay. If Google does indeed expand beyond Google Wifi into Nest Wifi territory, complete with Google Assistant onboard, it'll become far more likely that Amazon will do something similar.
When Amazon acquired Eero, questions were raised on the future of data privacy in Eero's home networks. "We do not have the capability, and never have, to collect any browsing data from Eero networks," said Nick Weaver, Eero co-founder and CEO, back in March of 2019 after the Amazon acquisition. "If we add new features that require more data, we will ensure you have control over whether you want to participate in the feature."
Google's tech will apparently pair mesh wifi tech between the old Google Wifi hardware and new Nest Wifi hardware. If you happen to be a Google Wifi hardware user right now, you could potentially expand your network in your home with new Nest Wifi devices – but we shall see!
The big Google hardware event will happen on October 15, 2019. That'll be Google's annual Made by Google event, where we're expecting to see several new products. Expected there is the Google Pixel 4, Pixel 4 XL, a new Nest Mini with Google Assistant, a new device with Chrome OS (likely a Chromebook of some sort, maybe a new Pixelbook,) and other bits and pieces – join us, we'll be live in effect!