Google Maps is getting more cab options than Uber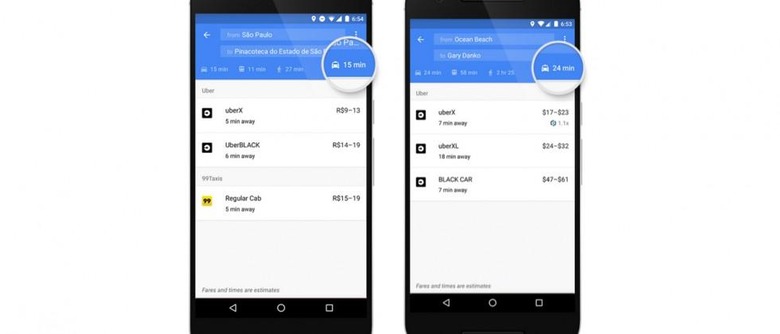 Summoning a ride is about to get even easier, with Google Maps extending its ridesharing integration to cover options other than Uber. The new version of the app will be rolling out to Android users over the next few days, though those with an iPhone will have to wait a little longer before they see it.
When updated, though, there'll be support for a broader range of cab and ridesharing options, gathered together in a new Services tab that joins the existing Car, Public Transit, and Pedestrian tabs. Currently, Google includes an Uber link at the bottom of its transit options.
It won't be a free-for-all of options, however, with Google working directly with certain cab companies on integration. Initially, in fact, the list is fairly small, with Google including 99Taxis in Brazil, Ola Cabs in India, Hailo in the UK and Spain, mytaxi in Germany and Spain, and Gett in the UK.
That means no way to, say, add your Lyft account, and indeed there are no new providers in the US to choose between.
You're stuck, instead, with Uber, though Google says the integration there has also been improved. While you still get an estimate of waiting times and fare, there are now shortcuts to individual ride services that Uber offers.
So, there'll now be options to jump straight to booking an uberX, uberXL, or UberBLACK in the company's app. Previously, only uberX was listed.
It's unclear when – or, indeed, if – Google will be adding other US services, with Uber becoming increasingly present among non-traditional ways to summon a car. Earlier this year, for instance, Amazon's Echo smart speaker gained support for ordering an Uber by voice, as well as checking how far away the requested car is from home.
Meanwhile, Google is reportedly working on a taxi service of its own. That would use autonomous vehicles, rather than human-piloted ones, and though the rumors indicate coverage would be limited to a smaller area initially – considering each car needs to have a far greater understanding of the roadways on which it operates than traditional mapping data allows – it could become a significant competitor to established cab and ridesharing options.