Google Glass sees laser-projected keyboard possibilities

This week a patent has been revealed as filed by Google for what very much appears to be a laser-projected set of controls emanating from a pair of smart glasses. This of course could mean that Google's Project Glass is about to see some amazing virtual reality controls as their two upcoming developer events come to fruition at the start of next month. And this isn't the first time we've seen wild, futuristic control possibilities for Google's Glass, either!
The patent we're seeing today looks at first to be rather similar to what we've seen in the 2012 version of Total Recall – but this phone isn't embedded into our hand, it's projected unto it. Here we're being shown a phone number dial pad as projected to a human hand as well as a series of numbers projected to a human arm. Of course the imagery is vague enough that it could be any sort of projection-friendly glasses that are making this all possible, but really, this would be a perfect fit for Glass.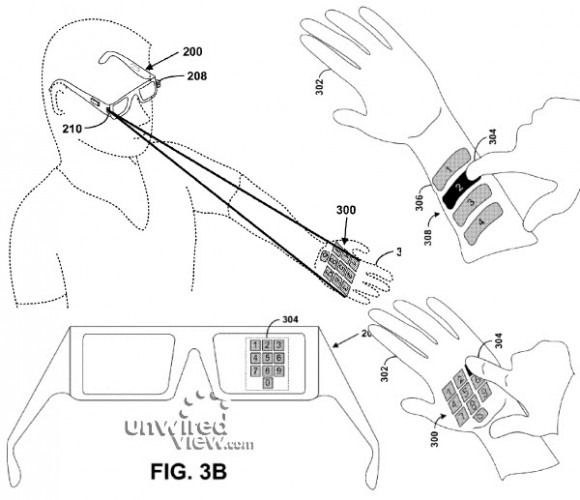 The patent includes the ability to work with such a system physically, this meaning you'll be able to use your second hand to tap numbers on your first, the system recognizing the interruption in the projected light and reacting accordingly. The above patent was found by Unwired View this week while in the months that've lead up to this have shown several other means of control for Google's futuristic pair of goggles.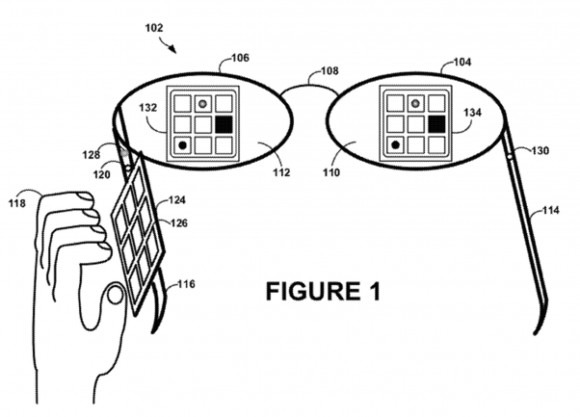 One of these instances shows a set of six patents for the near-final shape of Project Glass as well as Kinect-style motion control using rings or temporary tattoos. Another instance included a set of tap controls on the sides of the glasses as well as through virtual means with swipes across the space in front of the person wearing said unit.
You'll do well to have a peek at our archive of Google Project Glass articles while we head into our first up close and personal experience with the developer-ready unit at the start of February. Expect more action from Google at Mobile World Congress 2013 as well!