Google Glass creators talk of final consumer device release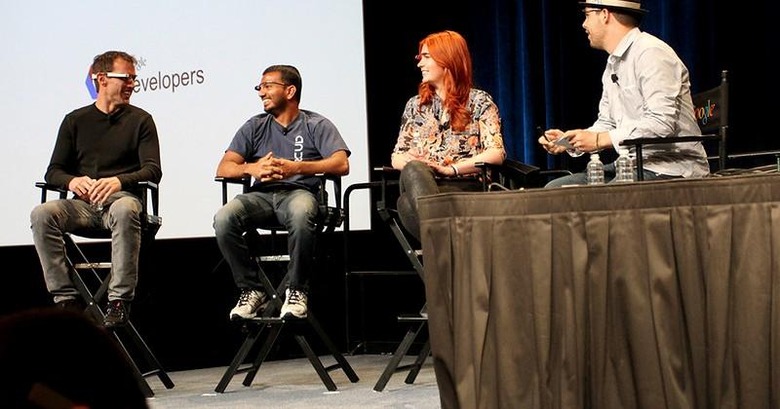 As Google's first wearable computer Glass edges in past its initial run of devices, members of the general public begin to ask: when will the device be delivered in a form that any non-developers will be able to get their hands on? At a Google I/O 2013 "Fireside Chat" with several members of the main Google Glass team, this question was addressed more than once. In short: soon, but not nearly as soon as they'd like.
It's not a matter of being able to create the device and distribute it fast enough: Google has been clear that they're perfectly able to create devices en masse and send them to customers at speed. The company now creates and distributes several hardware bits and pieces: the Chromebook Pixel, Nexus 4 smartphone, and Nexus 7 tablet to name a few. Instead, it would seem, the team of creators here only wish it were the future, past the steps they must take between here while the device is still in its developer infancy and the point at which Glass is ready for anyone to buy.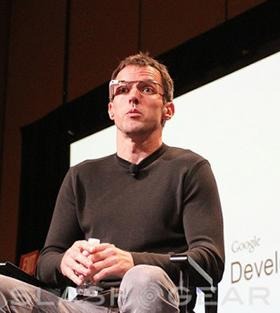 Product Director for Google Glass Steve Lee spoke to this point at length, noting the place where the project was today and where it'll be going in the very near future.
Steve Lee: With the Explorer Program, where we're at right now, is were now getting it in to the hands of thousands of other people to see what exciting things they can do with Glass. The first group of people that we're getting it in the hands of are developers. We know that to fully realize the potential of Glass, we need your help. We need innovators to develop on the platform. 
About a month ago, we started distributing Glass to our Explorers. I'm happy to say that earlier this week, right before Google I/O, we'd invited all 2,000 people that signed up at last year's I/O to come pick up their Glass device. We're very happy about that.
The next group of people that will become Explorers are those that signed up for #ifihadglass. And there were 8,000 people selected from over 100,000 people who applied. And we will soon be rolling out invites to those folks to pick up Glass.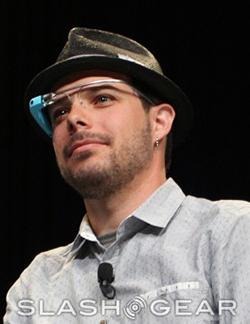 What's exciting about that group of people – they're not developers – but it's a nice cross-section of people. We have folks who are educators, teachers, we have athletes. We have DJs, dentists, hair stylists. All kinds of different people. 
And so we're really excited to see a diverse set of folks – what are they going to do with glass?
Also commenting on the situation with where Glass is today and how long it will be before the product is delivered in a final consumer form was Senior Developer Advocate at Google for Project Glass Timothy Jordan. Also acting as moderator for this fireside chat, Jordan made sure to let the audience know that it's not that Google wants to hold the device back for no good reason.
Timothy Jordan: We don't have an updated timeline for Glass release. Where we're at right now, is... lemme say this: I've had a number of people come up to me at Google I/O and be like: 'I want Google Glass, and I have this amazing idea.' And my first reaction is: 'I want you to have Glass!' 
And that's our goal. It's only a matter of time.
Right now we're selling Glass to the Explorers who signed up at Google I/O last year. Next it's the "If I had Glass" people. Next, it could be you.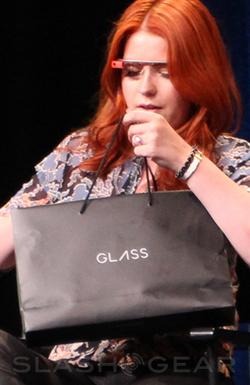 SlashGear will be continuing to explore the Google Glass environment with our own up-close look at the Developer Edition of the device at updates, during pointed moments of opportunity, and at moments when brilliance strikes from here until that day when Google decides to move forward with a general edition. Until then: courage.
At the moment it's unclear what sort of price structure will be in place or how the device will be distributed to the public once the time is ripe. It's likely they'll be picked up in bags like the one you see here held by Glass lead industrial designer Isabelle Olsson – this bag contained an original prototype, just so you know.
Google Glass is at such a point in its infancy that the company could be making major changes to every piece of the project – software and hardware included. Software updates will be pushed out to developers from this point forward on a monthly bases with changes coming based on suggestions from the public. Suggestions made by developers and the public are also being taken under advisement by the team for hardware as well as software.
This goes so far as Jordan literally writing down a Pantone color code suggested by a developer for the next wave of Glass hardware during this extended chat. This team appears serious about making a device that's both by and for its future wearers.
It was in chats like these – and in breakout sessions more like lessons for developer attendees of the conference – that the Glass team used to represent itself in California during I/O 2013. Glass may not have been discussed at length in the opening keynote on day 1, but it certainly had its fair share of attention during the week. Expect this chatter to get extra vibrant once the consumer edition arrives.