Google+ event taking place online tomorrow morning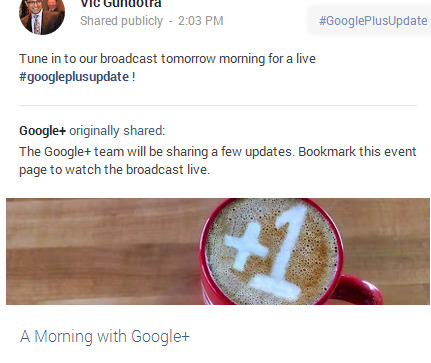 This week the folks at Google responsible for hyping up announcements have done a fine job of it – not least of all because they've got a few devices waiting in the wings. Here this afternoon we've seen Vic Gundotra also announce the appearance of a new set of Google+ social networking features to be formally revealed at a morning event held online. This broadcast will be done through Google+ itself
The event itself is set to take place at 11:30 AM PST – that's Google time, of course. There you'll find that the social network will be bringing on a variety of updates the likes of which will probably center around chat, indexing photos, and connections to Android 4.4 KitKat. In fact they'll almost certainly mention something to do with KitKat, as this system for Android is due to drop at any moment.
"Tune in to our broadcast tomorrow morning for a live #googleplusupdate!" – Vic Gundotra for Google
This update was also likely just one reason why Vic Gundotra was "struggling to fall asleep" last night. This update from the Google head was thought to mean many things over the past 12 or so hours, most of these ideas centered around the LG-made Nexus 5.
Stay tuned here on SlashGear as we continue to follow the tips and leaks as they fall. Google's next generation in software products – not to mention a couple hardware products – will be out soon! Have a peek at the timeline below to see more possibilities.