Nexus 5 Photographed In A Bar: LG G2 To The Core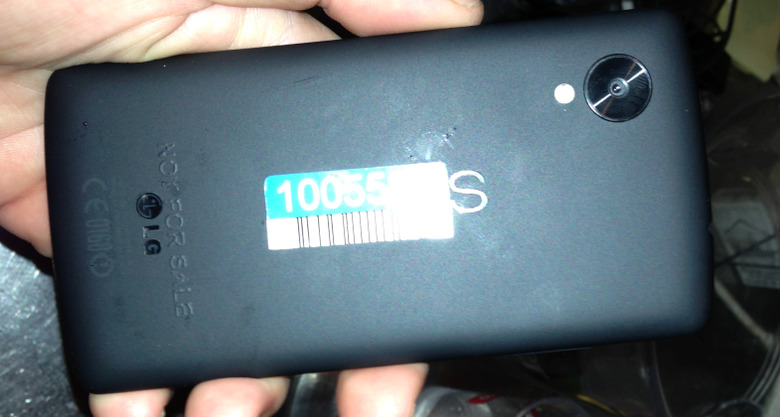 Appearing in the most classic of phone leak locations, the Nexus 5 appears to have popped up in a bar, complete with LG branding on its back. This device rings true as a device we've seen a couple of times before in early testing and/or Google public dogfooding. The specifications of this smartphone are as-yet unknown, but have been tipped to replicate those of the LG G2 rather closely.
Under the hood you'll likely find wireless charging and a Qualcomm Snapdragon 800 quad-core processor, up front a 1080p display. The display should be rather close to that of the LG G2, coming in at around 5.2-inches diagonally. The back-facing camera on this unit has been rumored to match that of the LG G2 as well, with 13 megapixels and optical image stabilization to its name.
You'll also find a single LED flash bulb back there on this Nexus device, right alongside a rather massive-looking lens. In reality the bulk of the photo unit here is metal appearing to ring round the lens – this part of the setup is often hidden by the backside case of the smartphone. You'll see something similar in the recent LG G2 / Nexus 5 FCC appearance shown earlier this month.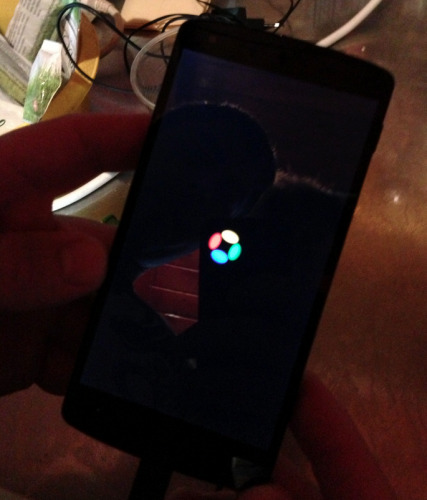 The front side of this device looks very much like a standard Android Nexus device with a centered front-facing camera, LED notification light, and a set of at least two front-facing sensors for detecting your face and the light that surrounds it. This machine very much appears to be the same size as the LG G2, that being one that's just under the "phablet" category requiring two hands, but certainly much larger than the new standard in the Motorola Moto X.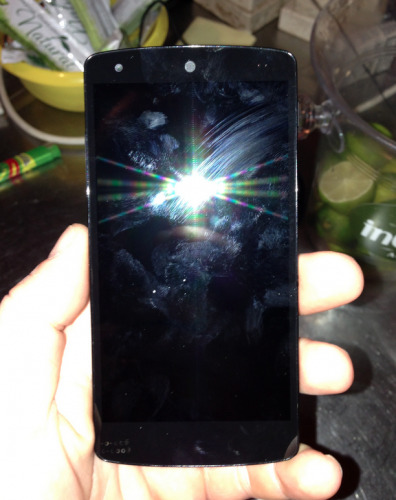 The startup screen (those four colored dots) show the same sort of intro to the device as you'll find on the HTC One and Samsung Galaxy S4 Google Play edition devices. The back also features a "not for sale" indentation and the LG branding we've seen in previous "leaks" – same goes for the Nexus logo in massive letters across the back rather cleverly covered by a sticker.
While these photos were joined by a couple of videos presented by the same leakster to 9to5Google, they're too short to actually present anything of any real value – one shows a pattern unlock, the other shows the device's display turning off. No big secrets revealed yet!