Google buys Flutter "Kinect for OS X" motion-tracking developer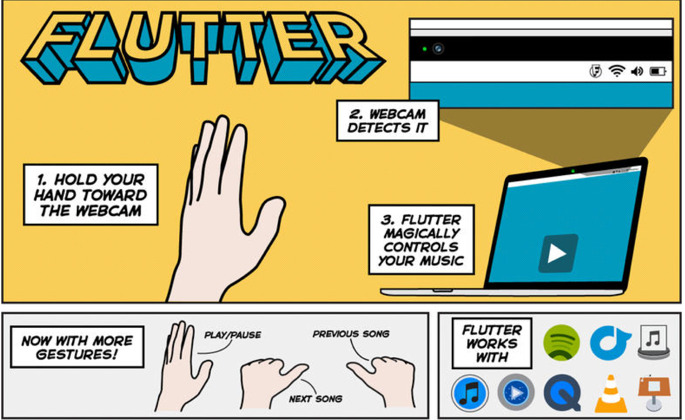 Google has acquired Flutter, the gesture-recognition specialist dubbed "Kinect for OS X", with development of the hand tracking system headed in-house at the search giant. Flutter, which offers a Mac app that turns the webcam into a remote control system for navigating media players like iTunes, Spotify, and VLC, has cooked up its own machine-vision algorithms, which Google could use for future Chromebooks, Android devices, or even baked into the browser.
Currently, Flutter is focused on media control, where it works with Spotify, iTunes, Rdio, MPlayerX, Quicktime, VLC, Ecoute, Keynote, YouTube, Netflix, Pandora, and Grooveshark. A palm gesture controls play/pause, while thumbs left or thumbs right skips backward or forward. The recognition engine even stays active when the app itself is in the background.
Neither Google nor Flutter has said exactly what the plan for the technology is, though it's not hard to see gesture recognition being integrated into several of Google's products. Select smartphones – such as Samsung's Galaxy S III and Galaxy S 4 – have added motion-tracking to the front-facing camera, something Android doesn't natively support; meanwhile, Tobii offers accurate but expensive eye-tracking that, though useful, comes in at a hefty $4,000.
What makes Flutter particularly interesting is that the machine vision technology is relatively low-power and requires no specific or custom hardware beyond a webcam. That opens the door to far broader implementation than hardware-dependent systems like Leap Motion's controller (though that is likely more accurate in its tracking).
Motion sensing is a growing field at the moment. Intel has been pushing its own camera-based system in recent months, and expects to see the technology integrated into new tablets and ultrabooks from 2014. Meanwhile, Qualcomm acquired GestureTek's gesture-recognition system backj in 2011 to bake into its Snapdragon mobile chipsets.
VIA The Next Web