Intel Elaborates On Depth Camera Tech: Ultrabook And Tablet Integration In 2014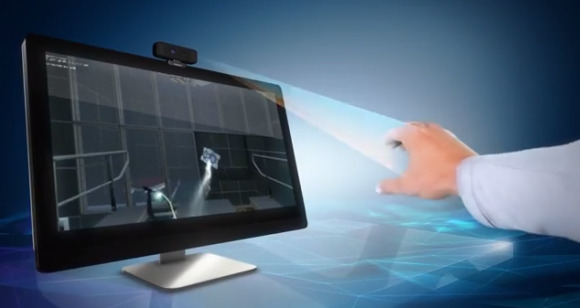 While the details of the launch of Intel depth camera Perceptual Technologies integration with the Creative Senz3D camera haven't changed all that much since our introduction earlier this year, the company has continued to elaborate on what – exactly – will be coming. What we saw earlier this year at Computex 2013 was the first Intel introduction of the Creative Senz3D camera, there with a set of features looking to take on Microsoft's Kinect technology directly. It was also there that Intel VP of marketing Tom Kilroy let known their intentions with releasing the technology on depth-sensing notebook cameras by the end of 2014.
What we're to understand today is that laptops, Ultrabooks, and tablets will be able to use this depth-sensing technology with the Senz3D external webcam first, followed by integrated cameras in the second half of 2014 – confirmed to be released as planned earlier this year. Anil Nanduri, director of perceptual products & solutions at Intel, also spoke up with NetworkWorld this week on how the technology has progressed.
"You'll add the ability to sense your excitement, emotion — whether you are happy or smiling. The algorithms and technologies are there, but they are getting more refined, and as they get more robust, you'll see them.

You are not going to look for a case anymore, you'll just point that device, and the cameras will recognize what you have. It'll know the model number... and it'll print for you, or you go to the store, they will print it for you." – Nanduri for Intel
This device will be able to help students work with projects as well. For example: utilizing eye tracking and microphones to watch a student read a paper or a book, this Intel technology will be able to evaluate how well said student was able to read the given text. This camera tech will be able to see which words the student had trouble with, and feed this information to a program that'll help the student in turn.
Using the – obviously well-tuned – state of voice recognition combined with an understanding of 3D objects with depth, this camera setup will be able to play games with users in ways never before available to the public.
"Kinect was a good initial version of a depth camera more from a long range perspective. When Intel started looking at it, we were primarily looking at it primarily as more personal interaction, short range, which is probably a meter or meter-and-a-half range of interaction. You need to have a lot more resolution for that zone.

To really scale it to volumes, you need to get to the right form factor from the optics perspective, you need to get to the right power levels and you need to have the right cost structure to help scale it into integration." – Nanduri for Intel
What you've got with this level of depth is a system that could very well out-perform the Microsoft-made Kinect system in a variety of ways. We'll have to compare the two when they're both out on the market. For now it would appear that Microsoft is going to beat Intel to the punch by about a year – unless the Creative Senz3D can take the cake a lot sooner than that – and of course, Microsoft can integrate Kinect abilities into laptops.
It's also worth noting that similar technology was axed from Intel television plans earlier this year – for the time being. There appears to be a lot more hesitation involved with tracking a user through a television than there is tracking a user through a computer – and it's all through the same set of cameras, too!