Google Ara: How the next Nexus project works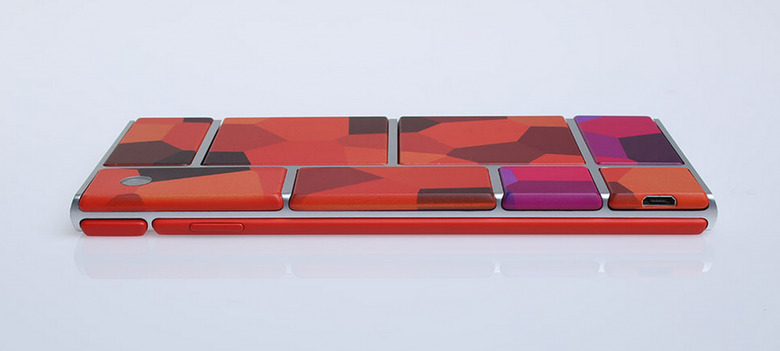 It's time to get down to basics with the plug-and-play customizable smartphone platform known as Project Ara – or Google Ara. Paul Eremenko took the stage at Launch this week to show off a non-working prototype of the device we've seen several times in the recent past. This is Google's vision, not just for the future of smartphones, but for the future of the individual parts of smartphones.
The device you're seeing here is a high-fidelity industrial design prototype. While this is called "Project Ara" now, Eremenko suggests that, should it become a real device in the future (like Google Glass), it'd become Google Ara. As Eremenko takes the machine apart, piece by piece, it's revealed that it all comes down to a piece of metal with a battery inside called an Endoskeleton.
Each slot in this Endoskeleton of Ara works with a 3 newton permanent magnet attached. Eremenko suggests that this is "just enough for you to put the modules in and be able to flip the device over without the modules falling out." You'll also notice a bit of a lip over each segment to add a bit more hold – each area is a slot instead of a cubby.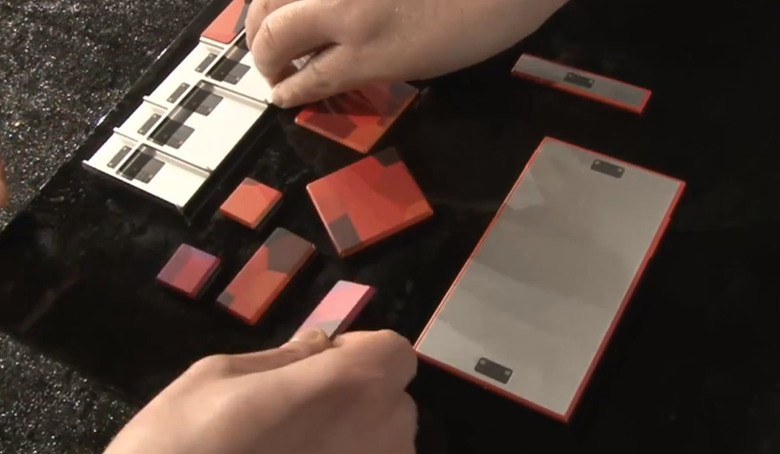 The frame for this first iteration of Google Ara has a battery inside as well as connections between each of its slots. These connections allow for each module to communicate with the other, together creating a full smartphone experience. These connections use a protocol stack from MIPI (the mobile industry consortium) called M-PHY (on the physical layer), offering 10 Gigabits per 1x1 block.
In the base frame of Google Ara is a battery that's meant only as a reserve. To make the phone function fully, one of your modules must be a more traditionally-sized battery. The only thing Google restrains is the partitioning scheme – the 1x1, 2x1, etc sizing scheme for the hardware.
"Our goal here is to create a 3rd party ecosystem of module developers," says Eremenko, "to change the way innovation happens in the hardware space, and make it a lot more like the software and app store model."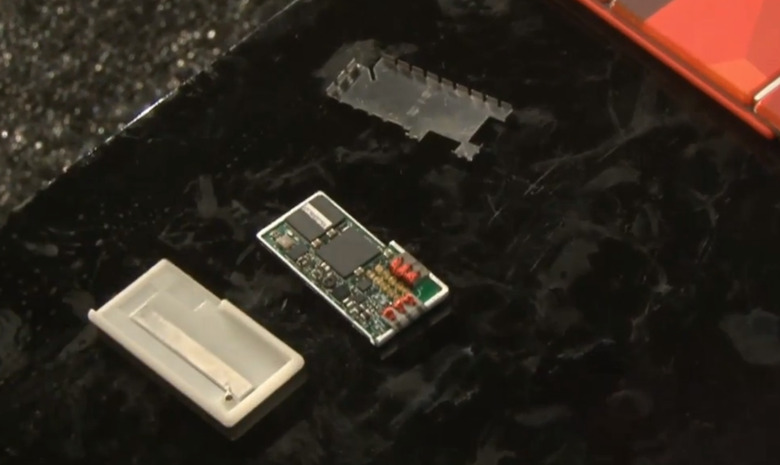 Next what you're seeing is a functional module. This module has a white enclosure – Eremenko is holding it in his hand – which is user-serviceable. This means that both the module bits inside and the casings are able to be swapped – you can make your phone look however you want as you make it function however you want.
Modules will be developed using a Module Developers Kit, that's an MDK, and we'll certainly be hearing a lot more about it as this project progresses. This includes an open platform specification and a reference implementation that allows developers to create for Google Ara. This developer program will be published in a little over a month.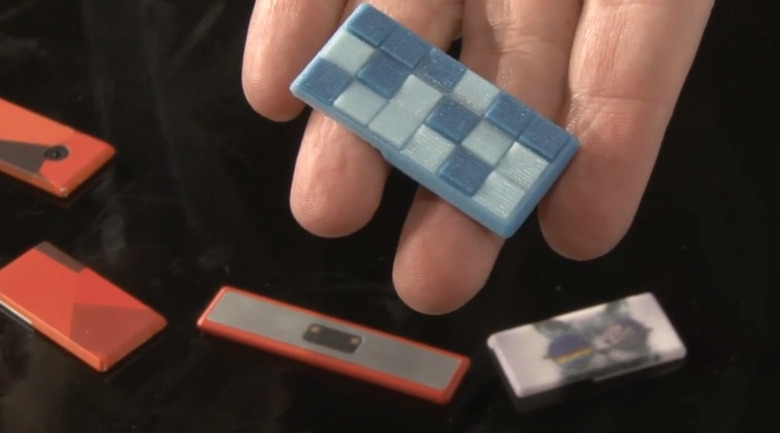 Eremenko shows off a couple of custom-printed enclosures created by 3D Systems, a group that Google is partnered with for Ara to print 3D enclosures galore. This is the same company that's 3D printing food, mind you.
"The consumer gets to decide exactly and only what functionality goes into the device," suggests Eremenko. "So if you don't want a camera, if you want a really inexpensive and stripped-down phone, you can do that. In fact you can get a Wi-fi-only device."
The $50 Google Ara phone you may have heard of is also known – by the team here – as The Gray Phone. Working with only the basics – an application processor with Android, a display, and a Wi-fi module, this device is targeted at $50 for launch sometime in the near future.
"We're less interested in people's margins than we are in the pace of innovation in the hardware ecosystem." Eremenko continues, "I think that there are plenty of opportunities to make money out of a highly competitive ecosystem, but what we are after is getting the number of brains in that ecosystem up into the tens of thousands, hundreds of thousands. Comparable to Android app development."
New modules will be able to be printed. This opens up the door for at-home innovation and community-created creativity like we've never seen in the smartphone industry before.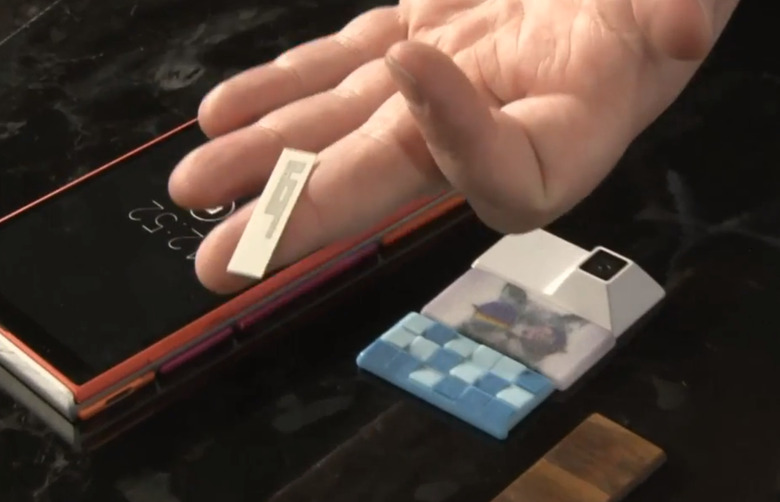 One module could have a printed casing, but also a printed radio antenna, allowing the user to create connectivity to the carrier of their choice with only a file and the correct printer materials. You could also (even without printing yourself), hot-swap out a module to move your smartphone from one carrier to the other.
Another swapping opportunity comes in the containment of your data. Your identity – all of your settings and personal data – can be contained on one memory-based module that you can pull out easily. You can use this to switch between phones, to lend your phone to a friend, or whatever other odd bit you can think of.
Stay tuned as we continue to explore this environment through our Google Ara tag portal. We'll be following this one through the future – the long, expansive future, we hope!