Gold Moto 360 hands-on - Let's talk smartwatch luxury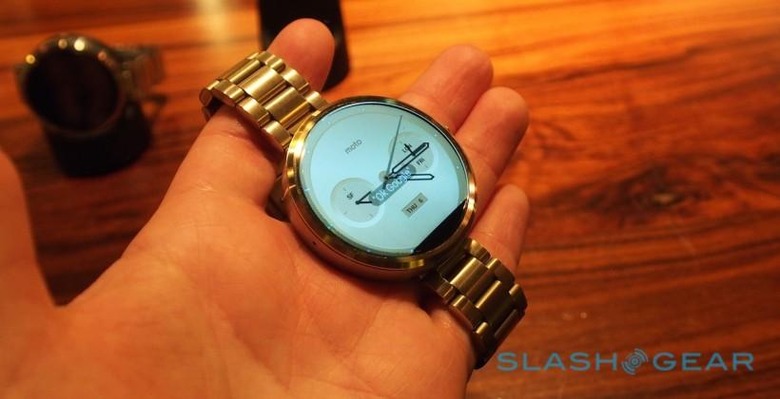 Can a smartwatch be stylish? That's an argument set to run and run, but of the options on the market right now, a majority would probably point to the Moto 360 as the poster-child for looks, even if its Android Wear OS is still a work-in-progress. It was joined today as a range with a Champagne Gold version complete with a thinner, 18mm band, along with a range of new leather straps, so I brought my very best wrist along to try out Motorola's take on an altogether glitzier wearable.
In fact, there are two new models on Motorola's virtual shelves today: the gold Moto 360 with a matching 18mm wide metal bracelet, and a light finish stainless steel version, also with a matching 18mm bracelet.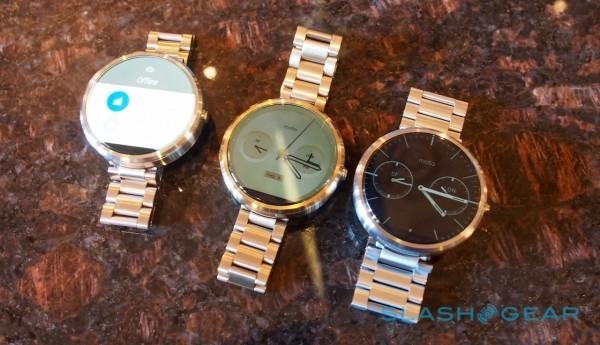 The 23mm bracelets Motorola showed us back when we toured the company's design labs are on sale today, in light or black stainless steel to match the original two finishes. According to Motorola, the 18mm versions are coming soon.
Functionally, of course, this is the same Moto 360 as we've seen and reviewed before. Google has pushed out an Android Wear update in the meantime, adding to the standalone functionality the platform offers, and Motorola itself boosted its health options, with Moto Health.
Usually, I'm not a gold watch person, but happily the champagne gold model doesn't stray into "80s Rolex" territory. The finish is relatively subtle – think along the lines of Apple's gold iPhone 6, rather than something brash and shiny.
Even so, when paired with the gold bracelet there's a whole lot of gold involved. Use the matching gold watch face and it gets even more intense. Better, perhaps, to switch out the strap for a leather alternative: the new cognac option (shown here with the light stainless steel Moto 360, not the gold) is particularly pleasing, and would counter the gold well.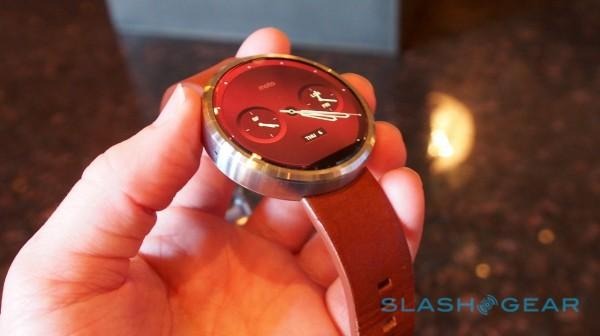 Not everyone will feel the same as I do, mind, and that's what Motorola is counting on. Switching out the straps on the Moto 360 isn't quite as straightforward as it could be, but there's still the potential to have a box full of alternatives and swap them around to match an outfit.
What's interesting is how different the watch feels with each different strap. It's definitely a masculine timepiece when fitted with the 23mm bracelet, but feels like it shrinks as a whole when paired with the 18mm. There's no denying that the big, round touchscreen isn't going to work on every wrist, but neither need it be a dealbreaker even if you're not prone to larger watches.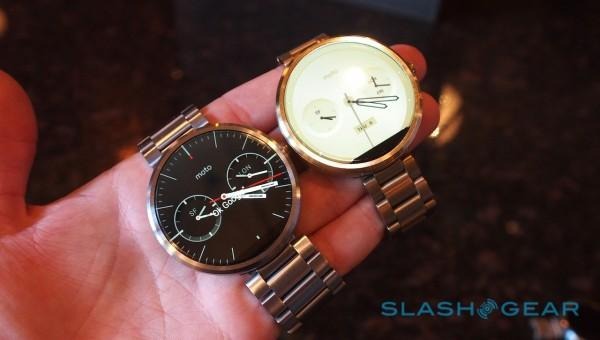 We've seen a few more style-conscious smartwatches in recent months – the Moto 360 and Apple Watch, of course, along with ASUS' cleanly minimalistic ZenWatch – and every sign points to a focus on at least some degree of fashion being needed if the form-factor is to break out of the geek niche and into the mass market.
The gold Moto 360 isn't going to do that on its own, but it's good to see Motorola taking at least a small lesson from the traditional watch industry and spreading its portfolio to appeal to more tastes.