Gigabyte T1125 Core I3/i5 Netvertible Gets Clever Twisty Dock [Video]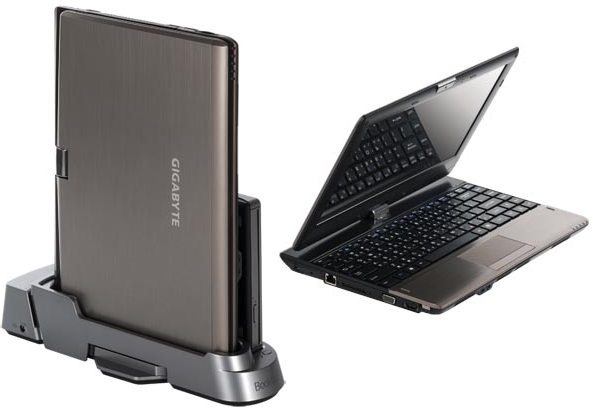 With all the talk of slates, you could easily forget that there's more to touchscreen computing than just keyboard-less tablets.  NetbookNews has been playing with Gigabyte's new T1125 convertible touchscreen netbook, though it's worth noting from the outset that this isn't some Atom-based weakling.  Instead Gigabyte is offering a choice of dual-core, Core i3 and Core i5 chips, along with optional NVIDIA Optimus graphics and an updated docking station with a slot for a removable DVD burner.
The dual-core 1.2GHz U5400 T1125M model is apparently targeted at emerging markets, with everyone else getting the Core i3-380UM T1125N (with optional Core i5-470UM upgrade).  Both have a 11.6-inch 1366 x 768 multitouch display, 2GB/4GB of RAM, 320GB/500GB HDDs and Intel HD graphics, with the T1125N also toting an NVIDIA Optimus-compatible GeForce 310M GPU.
Connectivity includes USB 2.0, HDMI, eSATA, gigabit ethernet, audio in/out, VGA and a multi-format memory card reader, with the T1125N getting a USB 3.0 port as well.  There's also WiFi b/g/n, Bluetooth 2.1+EDR, and an optional 3.5G cellular modem on the T1125N, together with a 1.3-megapixel webcam and a 6-cell battery.
Gigabyte's docking station is particularly interesting, being a more developed version of the simple dock we looked at with Gigabyte's BookTop M1022.  As well as the slot for the removable DVD drive, it can rotate to turn the tablet – in converted orientation – to face you as you work, meaning you can use both an external display and the T1125's own screen simultaneously.
Unfortunately there's no sign of any pricing or specific release dates, with Gigabyte apparently aiming for a holiday launch but a CES 2011 debut in January looking more likely.