This week the teams behind the NVIDIA GeForce Experience have unleashed the Open Beta version of the software, available for download by not just the select few (40,000 users, to be fair), but the greater public – you can grab it now! This Open Beta allows you access to the one and only GeForce Experience, a system where the teams of professionals and undeniably powerfully-minded graphics know-it-alls of NVIDIA's GeForce ranks have for you sets of optimizations for the games you play all the time. In short: your PC games are about to get a whole lot more awesome.
This release has a limited number of games for which you'll be able to get next-level optimization on your own GeForce-toting gaming PC. This release pumps up the availability of optimization beyond what the closed beta offered, with both Core 2 Duo and Core 2 Quad CPU support now ready for action. NVIDIA also added 2560 x 1440 display resolution support this time around – that having not been part of the closed beta release either.
With the GeForce Experience Open Beta you'll see improved game detection logic as well as a collection of 41 games ready to look and work as magnificent as they've ever been on your machine. Having added FarCry 3, Mechwarrior Online, and the battle action heavy Hawken for this release, GeForce Experience is now able to work with 41 total titles. The rest are as follows:
Assassin's Creed 3, Batman: Arkham City, Battlefield 3, Borderlands 2, Call of Duty: Black Ops 2, Call of Duty: Modern Warfare 3, Counter-Strike:GO, CrossFire: Rival Factions, Crysis 2, Deus Ex Human Revolution, Diablo III, Dirt 3, DOTA 2, Elder Scrolls V: Skyrim, F1 2012, Fable III, Fallout New Vegas, Far Cry 3, FIFA 12, FIFA 13, Football Manager 2013, Hitman Absolution, League of Legends, Left 4 Dead 2, Mass Effect 3, Max Payne 3, Mechwarrior Online, Medal of Honor: Warfighter, Planetside 2, Portal 2, Shogun 2: Total War, Star Wars The Old Republic, StarCraft II: Wings of Liberty, Team Fortress 2, The Secret World, The Sims 3, The Sims Medieval, The Witcher 2: Assassins of Kings, World Of Tanks, and World of Warcraft: Mists of Pandaria.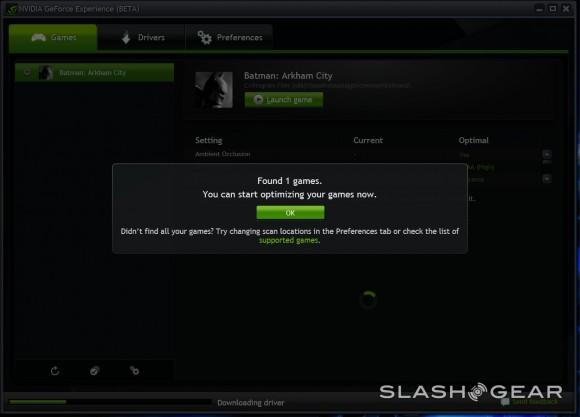 The actual app and usage therein is beyond simple. Once you've got it downloaded and open, you hit the scan button to see if there are any games on your machine that are part of the current list the GeForce Experience works with. The machine we've used here is an Alienware M17x R4 (see our full review here), and on it we've got none other than Batman: Arkham City (see our full review here) which the GeForce Experience software recognizes easily.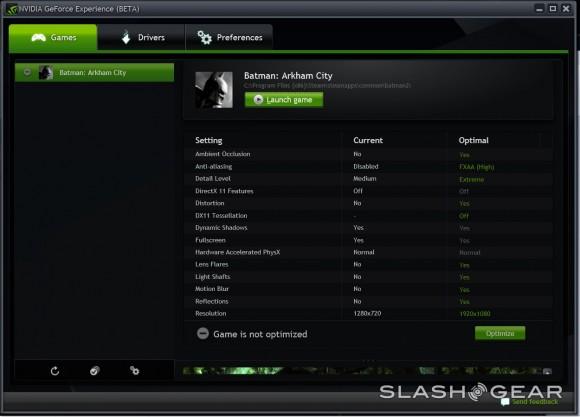 From there it's just a button click or two more before we've got full NVIDIA-approved optimization of our settings, based entirely on the hardware/software combination we've got and ready for the best-case-scenario outcome when we kick out the gaming jams.
And that's it! The simplicity of this app is part of the experience, the GeForce Experience being one that's meant to be beyond simple. This environment makes certain everyone takes the time to optimize their machines with as easy a process as possible so that NVIDIA's GeForce graphics can do their work as well as possible – and everything looks and handles hot!
This release includes upgrades in performance for client startup, game scan, billboard display, and nothing less than straight up communication with NVIDIA as well. If you're all about getting some fantastic support for your games straight from NIVIDA, it's time you headed over to the GeForce Experience Beta download page and had at it. This release works with Windows 7, Windows 8, Windows Vista, and is just 9.16 MB in file size – make it yours!
Bonus! Have a peek at the two videos below direct from NVIDIA – the first was filmed at the CES 2013 event we attended (see the timeline below for more info) with the bossman talking about the release iteration of GeForce Experience. The other video shows the app again in simple terms with fancy graphics flying everywhere – hot stuff!