Garmin HUD offers head-up display directions from your smartphone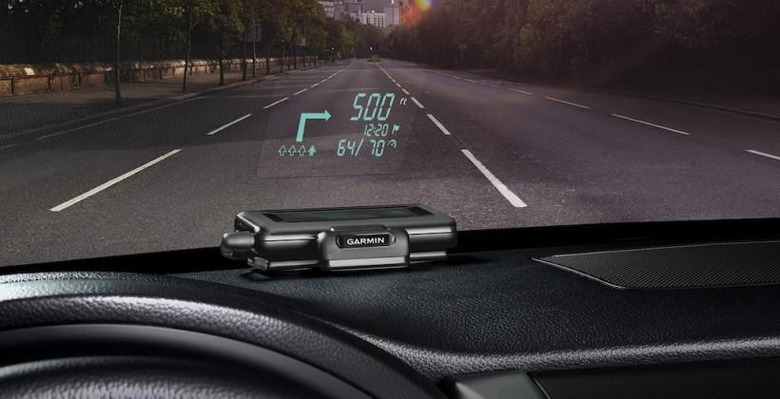 Garmin has outed the latest must-have gadget for the Top Gun wannabe, the Garmin HUD, a head-up display that hooks up wirelessly to your smartphone. Designed to connect via Bluetooth to an iPhone, Android, or Windows Phone 8 device running either the Garmin StreetPilot or NAVIGON apps, and HUD projects navigation directions, speed, and other information onto the windshield, meaning drivers don't have to take their phone out of their pocket, or glance down at it.
The box itself projects onto a sheet of transparent film stuck to the windshield, or onto a reflector lens that can be clipped to the HUD. Whatever the choice, it projects the next turn direction, the distance to the turn, the driver's current speed, the speed limit of the road, and the estimated time of arrival.
Details on the right lane to be in during complex junctions are also offered, and there's feedback on traffic and safety camera locations.
Garmin says that the HUD automatically adjusts its brightness levels based on ambient lighting, and there's a USB connection which can be used to charge a smartphone during the journey. What you don't get is an integrated speaker: instead, either the smartphone's speaker is expected to handle spoken directions, or a Bluetooth link to the car's own audio system.
Head-up displays, while once limited to fighter jets, have slowly made their way into the mainstream. The Cadillac ATS, for instance, offers an HUD as a factory-fit option, while Mazda is doing the same for the considerably more affordable 2014 Mazda3.
The Garmin HUD will go on sale this summer, with an expected price of $129.99. As for the companion apps, they're priced from $29.99 depending on what mapping data is included.