2014 Mazda3 eyes-on: SKYACTIV gets a third outing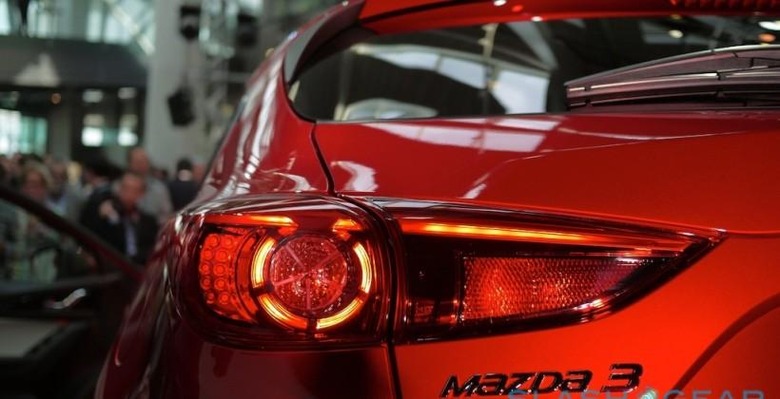 Mazda is on a roll with its KODO design, and latest to get the "Soul of Motion" treatment is the new Mazda3. Historically the best seller in the Japanese company's line-up, and now in its third generation, the 2014 Mazda3 picks up where the sharply swoopy Mazda6 sedan left off, with a more aggressive grille, sleeker headlamps with LED detailing, and a longer wheelbase that pushes the 16- or 18-inch wheels to the corners of the car.
Under the hood there will be a choice of four engines, ranging from a frugal 1.5l petrol with 150Nm of power, through the 2.0l petrol in 120PS and 165PS variants, and then a 2.2l diesel pushing out 150PS at 4,500rpm. They can each be paired with either a six-speed automatic or six-speed manual transmission.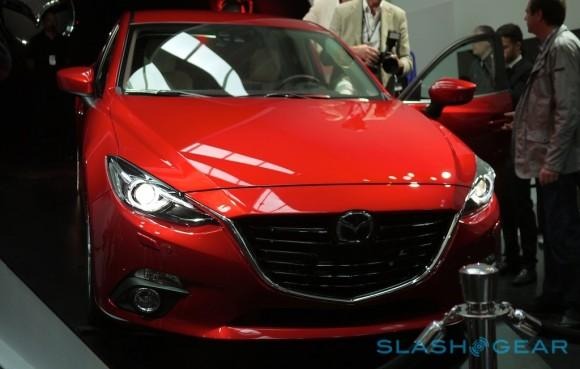 The same SKYACTIV driving ethos is carried over, with higher-compression petrol engines and lower-compression diesel to increase efficiency, while the i-ELOOP regenerative braking system we saw on the Mazda6 is also included. That pushes power created during braking into a capacitor, and then uses it to fuel the electrical systems in the dashboard so that all of the engine's output can be focused on the road.
Mazda3 official images:
Compared to the outgoing model, the new Mazda3 is a claimed 30-percent stiffer and has dropped in kerb weight, too, thanks to lighter body components and engines. There's no shortage of technology, though, with smart brake support to automatically primes the brakes if the gap with the car in front starts to narrow, and smart city brake support that helps augment the braking force at city speeds. Intelligent cruise control, rear vehicle monitoring, and lane departure awareness are also included.
Mazda3 technology:
Inside, there's a new 7-inch WVGA touchscreen atop the center console, along with a new head-up display that flips up from behind the instrument binnacle. Mazda says that keeps the key details – such as speed – directly in front of the driver, meaning they don't have to take their eyes off the road.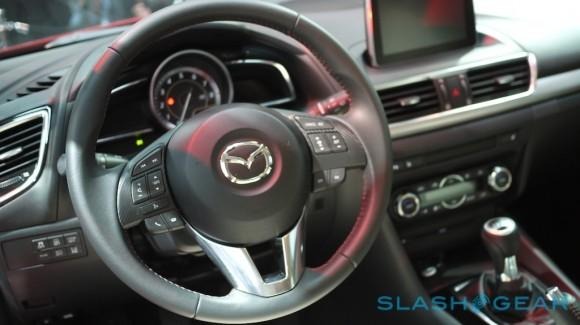 There's also a new version of the rotary controller we saw on the Mazda6, and an optional Bose 9-speaker audio system. Hook up your smartphone via Bluetooth to the new mobile connectivity system, and you can pull up email, text messages, and navigation on the Mazda3's display; there's also support for streaming from 30,000 internet radio stations through Aha. Facebook and Twitter access is also supported.
Mazda3 eyes-on exterior:
It's certainly a striking car, and Mazda's design language has translated nicely to the five-door hatch form. We were impressed by the Mazda6's driving style, too, and though we're yet to test out the new Mazda3, we've got high hopes for road-feel and a sportiness that may belie the small-family-car positioning. Mazda continues to argue that it doesn't need a hybrid, and that there's still room for hitting efficiency goals by improving gas and diesel engines; there's no word yet on exact emissions levels, nor which engines will be offered in which markets, but Mazda is saying the three gas options hit Euro 5 standards while the diesel hits Euro 6.
Mazda3 ethos:
The new 2014 Mazda3 will hit forecourts this fall, Mazda says. Pricing is yet to be confirmed.
Mazda3 eyes-on interior: