Galaxy S6 Avengers Editions Already Exist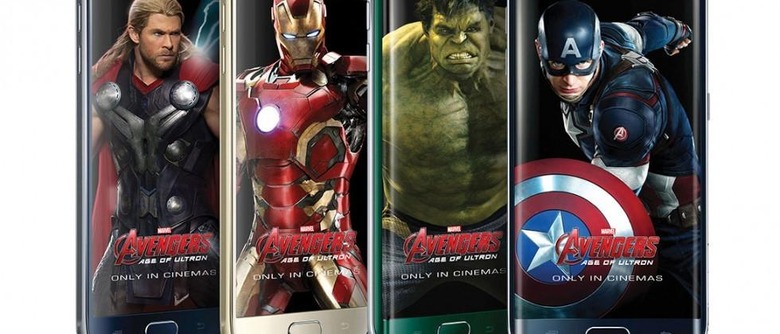 So you're pumped up about the possibility of a Samsung Galaxy S6 or S6 Edge with an Iron Man theme. So you wish you had a red Galaxy S6 with a gold border around it, yes? Imagine your surprise, then, when it's revealed that several of these phones already exist with the theme you do so desire? As it turns out, Samsung is already – really and truly – working with Marvel on an Avengers campaign, and those of you that already have Galaxy devices already have access.
Before you toss your hands up in disgust over the idea that your favorite Avengers-enhanced Galaxy S6 existed without your knowledge, know this – the Iron Man "Hot Rod Red" edition is only just under consideration, for now. It's not out on the market. For every other version you see above – they're out there.
Not necessarily in the United States, but they're out there.
The green version, for example – Samsung has no current plans (no public plans, anyway) to release this version in the United States. But it's out there, internationally.
If you're all about tricking out the Galaxy S6 you already have, lucky you too – Samsung already has a set of themes available for download. All you've got to do to access them is head to the theme store inside the device.
Follow the following steps:
1. Start on a home screen with some space for your finger.
2. Hold your finger down on some empty space until this menu appears (see screenshot one), and tap the Themes button.
3. Head to the Store.
4. Scroll down until you see the Avengers collection.
5. Do as you please.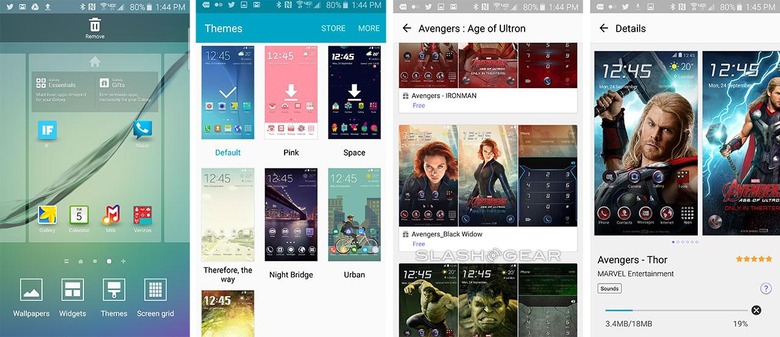 These themes include sounds for your system as well – bleeps and bloops accordingly.
There's also an Avengers Virtual Reality Experience made by Marvel for Samsung too, if you'd like to jump in as your favorite man of metal.
If you're waiting to see whether or not your favorite color Galaxy S6 or Galaxy S6 Edge is released on your favorite carrier – don't wait. Just ask. Chances are your local carrier knows which colors it'll have and when.
It's highly unlikely new versions will appear for your USA-based carrier – any Iron Man special edition will VERY likely be released internationally, if at all.