GALAXY S 4 Nexus edition eyes-on: Hugo Barra's got it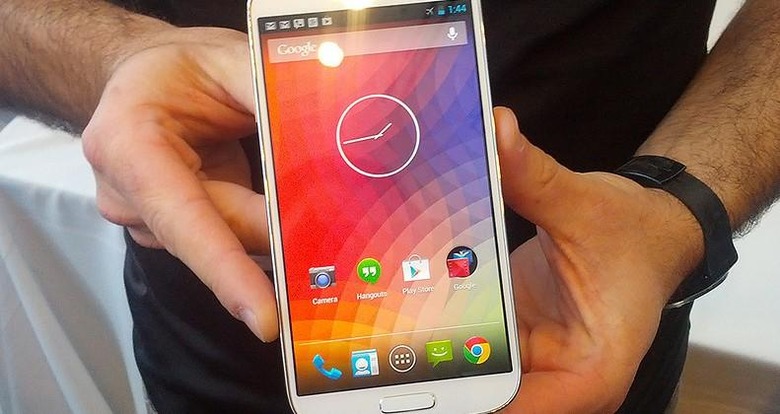 This week we were treated to a rather unexpected surprise: Google's one and only I/O 2013 keynote address revealed a faux-Nexus edition of the Samsung GALAXY S 4. As luck would have it, we caught up with Google's Vice President of Android Product Management Hugo Barra last night – and he happened to have one of these devices in his pocket. Being the friendly fellow that he is, he have us a brief once-over with the device to show how Nexus-like it really was.
This device is, more or less, the equivalent of a hacked Samsung GALAXY S 4 for AT&T/T-Mobile. Inside you'll find an unlocked system displaying Android 4.2.2 Jelly Bean without any additions from any carrier or Samsung itself, coming only with the basics issued by Google.
In this device we're seeing a unique new chapter in Google history. Where previous to this week, any release of a device with as stripped-down and pure as this one pushed by Google was labeled with a "Nexus" brand name, now there's a new category of Google-sold smartphone. Here with the Samsung GALAXY S 4, the company has made clear their acceptance of the dominance of Samsung in the Android device-sphere, keeping the GALAXY branding (as they did with the Galaxy Nexus), this time kicking out the Nexus name altogether.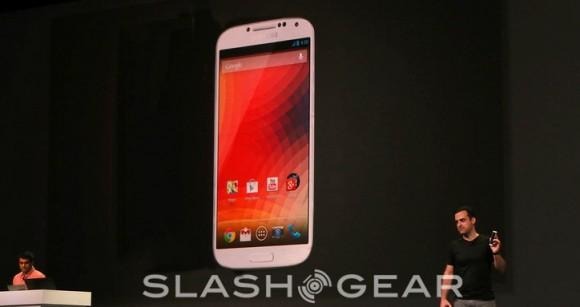 Barra had presented this device on-stage earlier in the day with the following words:
"We continue to be blown away by the hardware that's coming out of our partners — the HTC One, and the Samsung Galaxy S4. Like this Galaxy S4. There's something unique about this S4, that's not available elsewhere. Take a look at my homescreen.

This version of the Samsung Galaxy S4 will be available directly through Google Play, unlocked for both ATT and T-Mobile with LTE support, 16GB internal storage, bootloader unlocked, and it'll receive prompt system updates with every new release." – Hugo Barra
What we've seen up close is a pure Google experience that's as swift or swifter than the original GALAXY S 4 with Samsung's TouchWiz user interface. Barra's device is likely working with an early software build, but we're expecting the final product to be essentially the same: physical home button, 1080p display, Qualcomm Snapdragon 600 quad-core processor and all.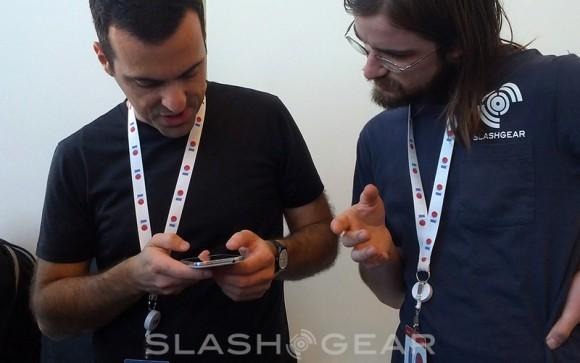 And for those of you wondering: no, he doesn't use any magical super-secret Google-only apps that only the bosses get. Unless, of course, he was using super-secret Android powers to hide them.
You never know!
The device will be available on June 26th for $649 USD without a contract, compatible with T-Mobile USA and AT&T micro SIM cards, 4G LTE included. Sound like a good value proposition to you? This is one of those situations where we're guessing developers will find this build to be best, though it is going to be difficult for this device, no matter how neat – to compete with the Nexus 4 already up for $299, also without a contract. That's hard to argue with.