Galaxy Note III specifications tipped by display leak [UPDATE]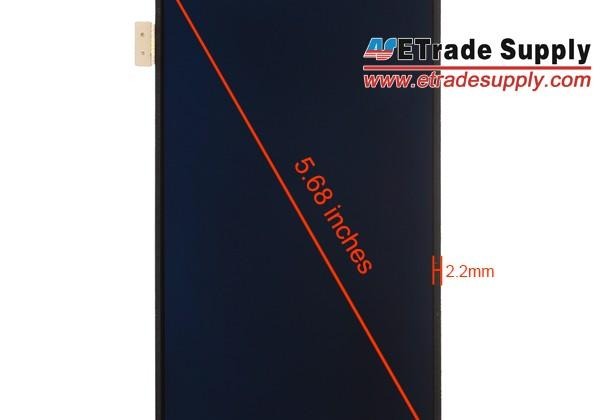 The Samsung Galaxy Note III has been all but confirmed by Samsung in an invitation to a September 4th event, and today's leak of a series of photos of the device's frontside display show what the machine is made of. What we've got here is a set of pictures photographed by eTrade Supply, they claiming the legitimacy of these images as the final piece of hardware we'll need to put the whole picture together. While it may seem that the 5.7-inch display of the Galaxy Note III is ready to roll, we'll still need to wait (on the other hand) for Samsung to give the full run-down on what next-generation software features this device will be appearing with right out of the box.
What we've heard earlier today is that Samsung will be bringing some features to the Galaxy Note III that will be as game-changing as the original introduction of the device to the world of smart devices. With the Korea Times, Lee Young-hee, Executive vice President of Samsung's Mobile Business, spoke up about the Samsung Galaxy Gear as well as the Note III.
"Samsung opened a New Mobile Device Category Smart back in 2011 with The introduction of The first Galaxy Note. Since then, smartphones with large screens have been a mainstream trend. As The Creator of this Category, we introduce Will Our Customers Key to Enhanced Features on Our Galaxy Note Devices." – Lee for Samsung
Meanwhile the devil is in the details with this set of photos, they suggesting that the Galaxy Note III will have a 5.68 (not quite 5.7, but may be marketed as such) inch display with a bezel that's thinner than ever before. This device is shown here to be working with a 2.2mm bezel, while the full thickness of the display (which doesn't come into play all that heavily in the final thickness of the device) sits at a tiny 1.8mm. Impressive to think about, nonetheless.
The Samsung Galaxy Note III has been tipped to be working with a thickness not all that unlike the Samsung Galaxy S 4 while it has a back-facing 13 megapixel camera, a brand new and improved S Pen (with built-in dock), and a couple of different processors, depending on where it's released.
UPDATE: Sonny Dickson appears to have the same front-facing display unit – two appearances of the same display unit in one day can mean two things. One: it's the real deal. Two: it's an elaborate hoax or a new shipment of fake parts for black market devices coming soon. We shall see!
With the Samsung Galaxy Note III released internationally, you'll find the new Samsung Exynos Octa processor put to good use. Inside the USA, the Qualcomm Snapdragon 800 quad-core processor will be rolling hot, complete with multi-carrier LTE compatibility. Stay tuned as SlashGear brings the whole action on September 4th from Berlin!