The release schedule of the Samsung Galaxy Note 4 has been further solidified today as word from China suggests IFA 2014 to be its launchpad. The Samsung Galaxy Note line was born in Berlin at IFA, and there it shall remain – this time coming with a companion that'll rest on the side of your face.
Earlier today we discussed the possibility of the first Samsung-made wearable to take on Google Glass. This device may very well run Tizen and encircle your ear as it's able to be pulled down over your eye. This Samsung Gear Glass device was also patented earlier this year.
The Samsung Galaxy Note 4 will likely take the stage alongside several new Galaxy Tab tablets and will feature new S Pen features as well. The Galaxy Note 4 will feature a display that's the same size or smaller than its predecessor, as well.
Display size: 5.5 OR 5.6-inches, Super AMOLED
Display density: 2560 x 1440 pixels ~ 534PPI
Processor: Qualcomm Snapdragon 805 quad-core 2.5GHz
RAM: 3GB
Internal Storage: 32, 64GB + microSD card slot for 128GB more
Camera (back): 16-megapixels, 1080p @ 60fps, 2160 @ 30fps
Camera (front): 2-megapixels, 1080p @ 30fps
This device will still be larger that the Galaxy S5, working with a display that may very well be denser. The Qualcomm Snapdragon 805 model Galaxy Note 4 will likely be joined by a Samsung Exynos processor with similar processing power.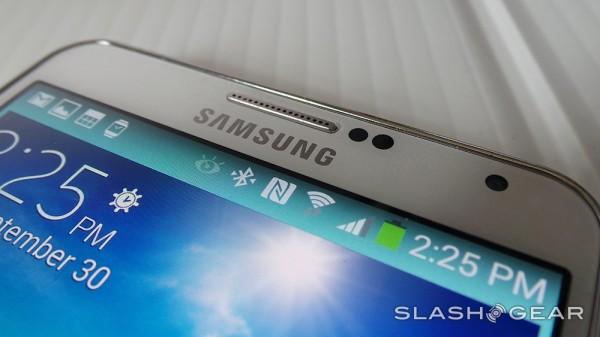 If the Galaxy Note 4 is revealed at IFA 2014, chances are it'll follow the same release schedule as its predecessor. The Galaxy Note 3 was released inside the United States in October of 2013 with AT&T, followed soon behind by other top carriers.
Have a peek at our Samsung Galaxy Note 3 Review to see what this series of devices is all about. The Galaxy Note 3 is the model you're seeing above in images – the next Galaxy Note will look similar, but not identical to previous models.