Galaxy Note 2 mockup both faked and legit at once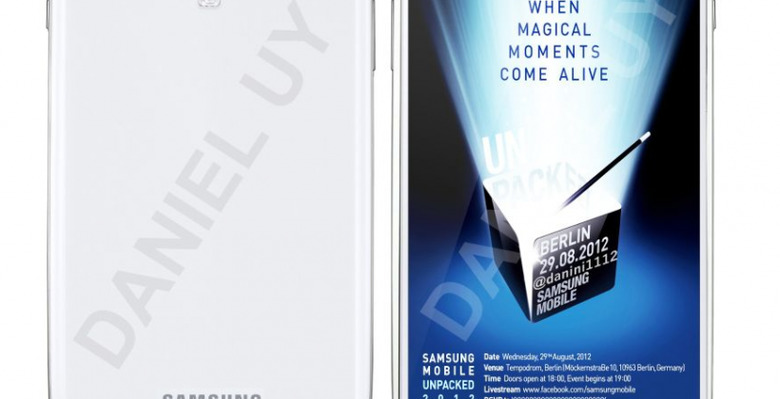 It's nearly time for the next Samsung Unpacked event at IFA 2012 in Berlin, and another image has been leaked showing what they plan on revealing: the Galaxy Note 2. Rather legitimate looking images of the device have been shown today by Daniel UY, a self-proclaimed Samsung addict and rather talented mock-up artist. While it does appear that a real photo of the device has been "leaked" (per our post earlier today), we've now got confirmation from the original artist himself that his own talents have been spread without his consent.
That said, the device is not whipped up out of thin air. Chances are that Samsung will indeed be making a device that's not far from the styling you're seeing above and below. With Samsung bringing on a collection of like-minded devices in the Samsung Galaxy S III and the Galaxy Note 10.1 (see our full review here), there's almost no way on earth that a new Galaxy Note 2 wouldn't have a lovely silver border and white as one color option.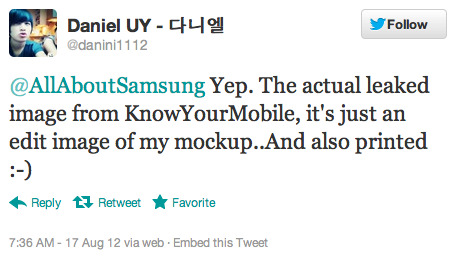 What you're seeing here is a Samsung Galaxy Note 2, a device which takes on the fabulousness of the first Note device revealed one year ago at the same event we'll be attending this year in Germany. IFA 2012 will be host to a device, we expect, called the Galaxy Note 2 with a 5.5-inch display, S-Pen technology, and connections to the rest of the new Samsung Galaxy lineup.
The only difference between this and the real final device we expect might be integrated is a front-facing speaker or two like we saw on the Galaxy Player 4.2 – a nice media player in its own right. Samsung! Bring on the forward-facing fury and let the differentiation continue!